Top 851-900 Audio & Mp3 Programs (from 9398 category titles)
Order programs after downloads or name (currently are listed after downloads)


851) CD To MP3 Ripper 1.0
CD to MP3 Ripper extracts audio CD tracks in high speed to MP3 format. CD to MP3 Ripper is an easy-to-use CD ripper with only 1 step you can extract CD to MP3 audio files. CD to MP3 Ripper has a good-looking and straightforward interface.

---
852) Cool CD Ripper 1.10
Cool CD Ripper is an extremely easy-to-use CD ripper for Windows 9X/NT/Me/2000/XP. It rips audio CD tracks and save them into audio formats MP3, WAV, WMA (Windows Media Audio 9), and OGG Vorbis on-the-fly.

---
853) AudioPlus 2.00c
"AudioPLUS" is a great looking and easy-to-use MP3 Player. The following audio file formats are supported: *.MP3, *.MP2, *.WAV, *.L3, *.L2 and *.ATX. This program lets you easily create and edit playlists.

---
854) Kingdia DVD Ripper Pro 2.3.0
Kingdia DVD Ripper Pro is an powerful and easy DVD ripper application for converting DVDs to VCD(MPEG1),SVCD(MPEG2),AVI,and Divx(MPEG4) with excellent output quality.

---
855) SGaramond Fonts PS 1.31C
Rubicon SGaramond Fonts v1.31c. Postscript Type1 format. Like Stempel Garamond, serif font, accurate and well hinted. Matching font metrics, full char set, euro symbol, kerning pairs. For laser, inkjet, typesetter to 3500 dpi. Shareware, $12.

---
856) iNetFormFiller Free 3.6.03
Stores private data and fills web-forms automatically. Reproduces order of clicks on web-links. Possibility to edit forms without page loading. Subject profiles, intellectual bind of user profile fields to the fields of online forms.

---
857) MP3 Collection Organizer 1.06
MP3 Collection Organizer: a powerful tool allowing serious music collectors to organize collections of artists or music labels work automatically. Tags, renames and generates playlists for your entire collection from discogs database.

---
858) CD MP3 Ripper 1.0
CD MP3 Ripper is a music utility to Rip MP3/WAV from Audio CD, convert MP3 to WAV, WAV to MP3 and as a CD ripper/converter.

---
859) Super Audio Converter 3.2
Super Audio Converter converts audio files between MP3, Wave, WMA (Windows Media Audio), Ogg and Vqf formats. Its user-friendly interface supports both drag & drop and shell operation of Windows Explorer.

---
860) SupportWizard 6
FAQ and isssue tracking software. Winner of the User Choice Award (http://www.userschoiceawards.com/results-2002_ICCM.html). With over 5 years of full production use, SupportWizard raises customer satisfaction and improves retention

---
861) 1st Easy Recorder 2.0
Easy Recorder is a small but efficient Windows sound program that will record any sound generated, or requested, by any other computer program such as Windows Media Player, Quick Time, WinAmp, etc.

---
862) 101 AVI MPEG WMV Converter 2.3
101 AVI MPEG WMV Converter batch converts video formats between VCD, SVCD, DVD, AVI, XDIV, MPEG1, MPEG2, ASF and WMV. It offers support different AVI video/sound codecs and WMV codec, such as DivX, Xvid and MPEG4. CBR and VBR are available.

---
863) DioneSS Playlist Editor 2.2
Multi-function M3U Playlist Editor,ID3 Tag Editor and MP3 Utility.

---
864) X-Spat Controller 1.6.0
X-Spat Controller for A&G X-Spat DSPExpansion, is a MIDI software that provides control over the 202 parameters of X-spat boX, X-Spat Card for Rosetta800 and X-Spat Adapter for Richmond Sound Design AB64. It generates 3D paths, 4 stereo audio sources

---
865) SplitAWav 1.6
Splitawav was written by the author of Addawav.

---
866) Blaze Audio Power Record 1.1
Power Record is a digital audio recorder for scheduled and timed recording of AM, FM, and internet radio. It's like having a VCR to record streaming audio! Convert Real Audio to MP3, record internet radio.

---
867) Sonique 2.0 Alpha
A pre-release version of Sonique 2.

---
868) Smart Wav MP3 Converter & CD Ripper 2.0
Smart Wav MP3 Converter & CD Ripper is a powerful and easy-to-use software converts wav files to mp3 files as well as convert mp3 files to wav files. It also rip audio tracks from CD as wav files or mp3 files.

---
869) NGWave 2.3
NGWave is a fast Audio Editor for Windows. Features include unmatched wave display technology, full 32-Bit internal processing, lightening fast editing, unlimited Undo/Redo, many processing functions, and much more.

---
870) Music2PSP 1.00.102
Musik auf MP3-Player/PSP kopieren durch Klicken+Ziehen. MP3-, WMA-, OGG-Dateien. Freedb-Anbindung, Download Album-Coverbildern, einbinden in MP3-Dateien durch erweiterten ID3-Tag-Editor. Playlistverwaltung, eigene Playlisten mit Abspiel-Reihenfolge.

---
871) JMT Orchestrator 2.1
JMT Orchestrator 2.1 is a powerful auto-arranger MIDI FX Plug-in for SONAR and Cubase based on advanced technologies of Musical Object Morphing.

---
872) AMPHIOTIK ENHANCER PR [Winamp] 1.02
AMPHIOTIK ENHANCER PR (PRofessional), for Winamp, is a powerful 3D-Audio system, for professionals, which processes standard stereo audio and converts it into an enhanced, rich 3D stereo output, increasing the listening experience

---

873) DeepBurner Portable 1.7
DeepBurner Free Portable is free, advanced, and extremely powerful CD and DVD burning package. It removes the hassle of making CDs, DVDs, autoruns, creating labels and booklets and works straight from your removable media (USB flash drive, etc.)

---
874) Audio To MIDI VST (MAC) 1.05
WIDI Audio To MIDI VST plugin for automatic audio track to MIDI conversion. With this plugin, turn an audio record into MIDI, use any musical instrument for real-time control over a MIDI synthesizer, add MIDI-driven effects while playing...

---
875) 123 Alto-Mp3 Maker 4.0
123 Alto-Mp3 Maker is a CD ripper with powerful functions in converting CD to MP3, CD to Wav, Wav to Mp3, Wav to CD..

---
876) TTS Builder 1.0
TTSBuilder allows engineers to create their own Text To Speech Voice or Language using High Quality Open Festival Speech Synthesis Research. A complete step-by-step manual for such a creation is included in the retail version.

---
877) PIPL 2.50 D
PIPL is not only a lean and quick MP3 player and playlist editor, it also has built in peer-to-peer networking and ID3 tag editing. New in this version is the ability to print your MP3 collection.

---
878) Rosoft Audio Extractor 4.1
Rosoft Audio Extractor, is Actually three programs in one. Rosoft Audio Converter, Rosoft Audio Recorder and Rosoft CD Extractor.

---
879) CD Trustee 2.06
Automatically catalogs your music collection, just by inserting your CDs into your computer. Gathers artist, album, song titles and more, automatically! Prints CD jewel cases, CD labels, reports. Catalogs MP3 files.

---

880) HooTech WAV MP3 Converter 4.0.1159
WAV MP3 Converter converts WAV to MP3 and MP3 to WAV, and resamples WAV and MP3 files. It is an ALL IN ONE audio converter that supports more than 150 audio and video files, and keeps ID3 tag when converting. The converter supports batch conversion.

---
881) Fast Volume 1.2b
Fast Volume is an easy-to-use freeware utility, which allow you to change volume level very fast. How it works? Press Hotkey (winkey by default) to see current volume level:mouse wheel up -- increase volume level, -- decrease volume level.

---
882) Glory Media Center 2.02.1
Glory Media Center comes with Cinema, Media library, Web browser, Media Searcher, and Downloader. The Cinema can play different media format (MPEG, AVI, WMV, MP3, WAV, JPG, and GIF).

---
883) Fx-Audio-Editor 4.73
Fx Audio Editor can visually edit, convert. play and record most sound file formats, rip CD's and save as WAV, MP2, MP3, VOX, WMA and most other popular audio formats.

---
884) Ashampoo AudioCD MP3 Studio 3 3.0
The complete digital music solution: Rip, edit, convert, record, repair and burn!

---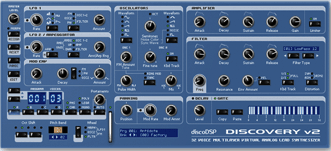 885) Discovery 2.6
Discovery is a Virtual Analog synthesizer inspired by Clavia's Nord Lead for VST hosts featuring: 32 Voice Polyphony (One voice used per triggered layer). 2X Oversampling for hardware quality sounds. More than 3.500 presets in 40 banks.

---
886) Advanced WMA Catalog 1.05xp
Advanced WMA Catalog - fast and easy-to-use utility to catalog all kind of WMA media (CD-ROMS, ZIP and JAZ disks etc) with search, explore and more.

---
887) Cool CD To Mp3 Wav Ogg Ripper 2.16
1.Rip audio CD tracks to audio files of MP3, Ogg Vorbis and WAV format. 2.Convert CD to MP3, CD to Ogg Vorbis, CD to WAV. 3.Support both ID3V1 and ID3V2 MP3 tags. 4.Allow for changing the property of the MP3 Wav, Ogg(such as Sample Rate,Bit Rate)

---
888) Amazing CD & DVD Burner 1.6.2
Easily burn music, video and data CDs and DVDs. Amazing CD & DVD Burner handles all drive types including CD-R, CD-RW, DVD-R, DVD+R, DVD-RW, DVD+RW, and DVD-RAM (SCSI, IDE, EIDE, and USB).

---
889) ACE-HIGH CD Ripper 1.20
ACE-HIGH CD Ripper converts CDs to MP3, WAV, WMA, and OGG Vorbis on-the-fly. It uses Lame encoder 1.91 that supports full MP3 options with VBR properties. It supports ID3V1, ID3V2, Free CDDB, WAV Normalizing, saving CD tracks to playlist of PLS, HTML

---
890) Eudora Automation 2.0
This program parses and puts the emails in Eudora mbx files in an Access database file.With this program you won't have to worry how to backup your mailboxes or sort them.

---
891) MP3G to ZIP 1.0
MP3+G to ZIP pairs the MP3 and CDG files created when you rip a CD+G and creates a single ZIP file from them.

---
892) File Audio Processor 4.1
Complete solution for Multimedia Editing - Management: File Manager, File Renamer, ID3 Tag Manager. Audio Converter & Editor, Visual Audio Editor, CD Audio Grabber, CD-DVD Writer, Multimedia Player, Audio Recorder, Playlist Manager, Media Library...

---
893) Kongsoft MP3 CD Burner 1.04
Kongsoft MP3 CD Burner is a software tool that helps you to create normal audio CDs from your favorite MP3, WMA, WAV, OGG, APE, VQF, MP4 files. You can then play them in your regular stereo or car CD player!

---
894) Better Wave To Text 5.0
Wave To Text is a English Speech Recognition Dictation Pad with a Wave To Text Wizard. This speech utility is the high speed way to convert speech to text accurately, no computer conscious dictation and you also don't miss a word.

---
895) Rosoft Audio Tools 3.7.1.5
Rosoft Audio Tools is a set of programs including Rosoft Audio Recorder, Rosoft Audio Converter, Rosoft CD Extractor and Rosoft Media Player. Turn your audio CDs into an mp3 library or a wma library. Record all you old LPs and tapes

---
896) MIDIView 1.1
MIDIView is a lightweight tool for previewing and printing musical scores imported from MIDI files. The software provides multi-track importing of MIDI files. This tool displays running notes during playback.

---
897) MP3 CD Maker 2.00
MP3 CD Maker helps you burn audio CD directly from MP3 files, print fancy CD covers, make your OWN favorite CD album in minutes. Supports over 1200 CDR/RW drives and 42 languages.

---

898) Fast Audio Converter 1.2
Fast Audio Converter supports the most popular audio files formats; supports batch conversion, the best audio codecs and ID3 Tag v2. Handy user's interface and a fast conversion speed guarantee the best results even for the non-experienced users.

---
899) All Audio Recorder 2.2
All Audio Recorder is a powerful real-time sound recorder software.It enables you to record from any resource such as Midi, MP3, WAV, WMA, RM, OGG,VQF, CD, DVD, MPEG, AVI, MOV, GAME, FLASH, Streaming Audio on Internet...

---
900) Alcyone CD Ripper 1.00
Eye catching skinned interface distinguish Audio Blaster CD Ripper from similar programs. All the basic CD ripping features are included in the program. Using this program one can easily grab and concert a CD to the one of the popular music formats

---


Browse Pages: [1] [2] [3] [4] [5] [6] [7] [8] [9] [10] [11] [12] [13] [14] [15] [16] [17] 18 [19] [20] [21] [22] [23] [24] [25] [26] [27] [28] [29] [30] [31] [32] [33] [34] [35] [36] [37] [38] [39] [40] [41] [42] [43] [44] [45] [46] [47] [48] [49] [50] [51] [52] [53] [54] [55] [56] [57] [58] [59] [60] [61] [62] [63] [64] [65] [66] [67] [68] [69] [70] [71] [72] [73] [74] [75] [76] [77] [78] [79] [80] [81] [82] [83] [84] [85] [86] [87] [88] [89] [90] [91] [92] [93] [94] [95] [96] [97] [98] [99] [100] [101] [102] [103] [104] [105] [106] [107] [108] [109] [110] [111] [112] [113] [114] [115] [116] [117] [118] [119] [120] [121] [122] [123] [124] [125] [126] [127] [128] [129] [130] [131] [132] [133] [134] [135] [136] [137] [138] [139] [140] [141] [142] [143] [144] [145] [146] [147] [148] [149] [150] [151] [152] [153] [154] [155] [156] [157] [158] [159] [160] [161] [162] [163] [164] [165] [166] [167] [168] [169] [170] [171] [172] [173] [174] [175] [176] [177] [178] [179] [180] [181] [182] [183] [184] [185] [186] [187] [188]