Others - Audio & Mp3 Programs from 451 to 500 listed after date (from 685 category titles)
Order programs after downloads or name or date (currently are listed after date)


451) CamShot 2.2.0
CamShot monitoring software is a simple and easy-to-use surveillance software. It can capture the WebCam images and deliver the capture via Internet, you can receive the screen capture image at any time and any where.

---
452) Ease CD to MP3 Ripper 2.0
EASE CD to MP3 ripper is extremely easy to use CD Ripper, It copies the audio digitally-not through the soundcard-which enables you to make perfect copies of the originals. It can rip CD to MP3,WAVE,OGG,WMA. Very easy to use.

---
453) DWG DWF Converter 1.1
AutoDWG DWG DWF Converter a batch converter converts DWG/DXF to DWF without need of AutoCAD. It supports AutoCAD version R9 to latest version AutoCAD 2005.

---
454) Beyond TV Link 4
Beyond TV Link gives you the complete Beyond TV 4 experience from any networked computer in your home. It gives you full and complete access to your library of recorded shows. You can even watch live television broadcasts through Beyond TV Link.

---
455) ClamWin Free Antivirus 0.87
MS Windows front-end to Clam Antivirus (http://www.clamav.net). Includes scheduler, virus database updates, standalone scanner, context menu integration to MS Windows Explorer and Addin to MS Outlook. Also features easy setup program.

---
456) Easy Audio Recorder 2.0
Easy audio recorder (3D MP3 Recorder) is a sound recorder software. with 3D interface that allows you to create digital files from any audio that can be played through your computer's sound card, regardless of the audio source.

---
457) ClubDJ Pro 2.0
Club DJ Pro allows you to mix video, audio, and visualizations (ambience) using a dual deck interface. It has dual display support, realtime pitch/tempo change for video and audio!

---
458) RockNMP3_Editor 7.2
If you wanted to do a bunch of read'n about us bragging how great our audio software is - you've got the wrong URL mister! Simply put, this software is the best audio (WAV, MP3, OGG & CDA) editing/ recording software value on the iNet - no bull.

---
459) CSMD (Computerised Sound Mixing Desk) 1.52
Mixes audio files easily. Mix Mp3s, Wav Files and other format. Record the output or play though an amp. Playlists can be setup for ease. Looks and feels like a real mixing desk.

---
460) Convert to Ringtone Wizard 1.2
Create polyphonic ringtones of WAV, MP3, MMF format directly from WAV, MP3, WMA, OGG, FLAC, APE music files. You can convert whole files or any part you prefer and send created ringtones to your phone without cables.

---
461) Easy MP3 Mix 2005
It's so easy to mix my music with Easy MP3 Mix. New 2005 version allows, Auto mix your music, Skip bad music files, rename music files, delete music files.

---
462) Dat32 1.00
Some features of MPEGPlayer Downsized Jiao dat and mpeg video player MPEGPlayer is a MPEG,VCD and Movie Player. This release can play MPG,VCD,or other movie files (s Digital Format Conserves Trees Digital Format Is Flexible - Read at Home, at

---
463) Beyond Media 1.0
Transform your PC into a media center. Beyond Media is an all-in-one media player for your DVDs, music, photos and videos. Full-screen interface makes it easy-to-see and navigate with a remote control. One-click access to online content providers.

---
464) Blaze Audio Overdub! 1.0
Record Voiceovers or overdub tracks quickly and easily. Create your own soundtracks, advertisements, and Voiceovers with Overdub! Multitrack recording and mixing with complete control over final mix. Set your punch in and punch out markers!

---
465) DAL Flute VSTi 2.0
DAL FLUTEĀ is a hybrid flute emulator combining multi-samples of real flutes with a Digital Signal Processing (DSP) engine. Offers control over several parameters allowing you to sculpt new and interesting sounds.

---
466) DVD Slideshow 7.1
dvd-slideshow makes a DVD slideshow video with menus from a text file listing of pictures, effects, and audio tracks. You can add some nice effects like fades, crops, scrolls, or Ken Burns effects. It will hopefully become a command-line clone o...

---
467) Collectorz.com MP3 Collector 2.2.4
Catalog your MP3, Ogg Orbis, WMA, APE, FLAC and WAV files. Edit ID3v1, ID3v2, Vorbis, WMA and APE tags in batch or manual mode. Rename your files automatically using tag data. Browse your audio file collection by artist, album, genre, location, etc..

---
468) DAF/FAF Assistant for Windows 1.1
DAF/FAF Assistant can be used by people who have stuttering problem to control their speech fluency, increase their confidence level and develop carryover fluency when techniques are used on a regular basis.

---
469) Clone Download Killer 1.0
Clone Download Killer is an internet tool help you check identify of URL before really downloadt. CDK would check the duplicate of file name , file size and content snippet. It checks files in high speed and monitor downloads and IE clicks.

---
470) dupeGuru 2.0.1
dupeGuru is a tool to find duplicate files on your computer. It can scan either filenames or content. The filename scan features a fuzzy matching algorithm that can find duplicate filenames even when they are not exactly the same.

---
471) CD Wave Editor 1.94.4
Split WAV files from any source. Supports up to 24-bit multi-channel. Automatic and easy manual splittin. Records audio from any source, open existing files, DAE, and write MP3/OGG/FLAC encoded files. CUE sheet editor for CDRwin. Schedule recordings.

---
472) Babble Rock 1.0
Babbling vitual pet rock! Babbles from a database of BABBLES that the world creates! You have no idea what this thing might say. Unmoderated

---
473) ACE-HIGH CD Ripper 1.20
ACE-HIGH CD Ripper converts CDs to MP3, WAV, WMA, and OGG Vorbis on-the-fly. It uses Lame encoder 1.91 that supports full MP3 options with VBR properties. It supports ID3V1, ID3V2, Free CDDB, WAV Normalizing, saving CD tracks to playlist of PLS, HTML

---
474) Amazing CD Ripper 1.1.2
Amazing CD Ripper is a powerful and easy-to-use software for ripping audio CD tracks and save them into audio formats MP3 ,WAV ,WMA, APE (Monkey's Audio), or OGG Vorbis.

---
475) Audio Tools - AudioKit 1.33
Convert CDA RA MP1 MP2 OGG WMA MP3 WAV AC3 VOB(DVD) AAC M4A FLAC AU AIF APE MPC G721 G726 VYF MP4 RM WMV ASF MPG DAT(VCD) AVI to MP3 WAV WMA OGG APE FLAC AAC M4A CD converter

---
476) 123 Super MP3 Recorder 2.5
Super MP3 Recorder records your computer's audio streaming into MP3 or WAV audio formats. It supports recording sound source from microphone, Internet audio streaming, Winamp, Windows Media Player, Quick Time, Real Player, Flash, Games, etc.

---
477) ABS AudioRoom CD Recorder and Editor 3.2.9
Records CD quality stereo audio from live performances or any audio source, imports and exports to other file formats (wav, mp3, and ogg vorbis), edits audio tracks, makes audio CDs, and dubs tapes and records to CD.

---
478) Automatic Shell MP3 Tagger 1.15
The automatic MP3 tagger (ASMT) is a simple easy to use tool for music collectors. It integrates directly into windows explorer for easy use, and connects to discogs to match CD and vinyl information.

---
479) Auto Recorder 3.0
Multichannel (up to 6 channels) MP3 recorder carries out independent recording of the audio signal for each channel. It serves for the storage of speech information received by telephone, microphone, radio stations, voice modem.

---
480) AtomixMP3 1.12
This ultimate MP3 mixing tool for DJ introduces an exclusive automatic beat matching algorithm. Powerful enough to content a professional DJ, but simple enough to be used by a beginner, everybody says AtomiXmp3 to be the solution for computer DJing

---
481) Atomsmith Molecular Exploration Kit 1.4
Atomsmith is an easy-to-use, Windows-based program for exploring models of molecules. Scientists and high school and college-level students and teachers use Atomsmith to study the 3D structure and behavior of molecules.

---
482) Audio MP3 Sound Recorder 1.50
Audio MP3 Sound Recorder is used to record any audio streaming through your sound card into audio formats MP3 or WAV file. As long as the sound through your sound card, it could be captured and saved to MP3/WAV file.

---
483) 123 MP3 to WAV Converter 1.1
123 MP3 to WAV Converter converts MP3 to WAV. The 123 MP3 to WAV Converter is an ideal tool to convert batches of mp3 files into wav files for burning on CDs. It's easy to use, high speed, very good output quality, converting in batches.

---
484) 123 Audio Record Wizard 2.1
This Recorder Software offers the professional record features. ARW can record almost all sound from your sound card with good quality. And, ARW can record to mp3 file directly. So, You can record every sound you like to the popular format music file

---
485) ArtWonk 2.0
ArtWonk is an interactive program for creating MIDI music and graphics algorithmically. Not a set of canned me-too riffs or rules, but an open ended palette of composing modules to powerfully boost your creativity.

---
486) Ambience 2.0.18
Ambience is a MIDI player for Windows 95/98/ME/NT/2000/XP that runs in the system tray

---
487) Abander MP3 Image Extractor 1.1
Abander MP3 Image Extractor is a free and easy-to-use MP3 Tag Editor and MP3 Image Extractor. Support: ID3v1, ID3v2 tags (artist, album, title, track, year, genre, conmment and image [APIC ID3v2 frames]) and MPEG information (bitrate, sample rate)

---
488) Advanced Audio CD Ripper 2.2.0.4
Advanced audio cd ripper able to Convert tracks from audio CDs or DVDs to WAV,OGG Vorbis, MP3,WMA and more. Features Fast direct conversion with fast encoding engine, jitter correction, multiple/variable bitrate support.

---

489) Audio-Mp3 Convert Expert 1.23
One of those must have utilities, indispensable for converting audio files from one format to another. Audio-Mp3 Convert Expert is a powful audio formats converting software.

---
490) AutoMixer 1.1
The program AutoMixer is intended for automatic control of volume level. This program can be used for hearing MP3-music, radio of viewing TV or playing games. The flexible tuning will allow you effectively use by the program in all cases.

---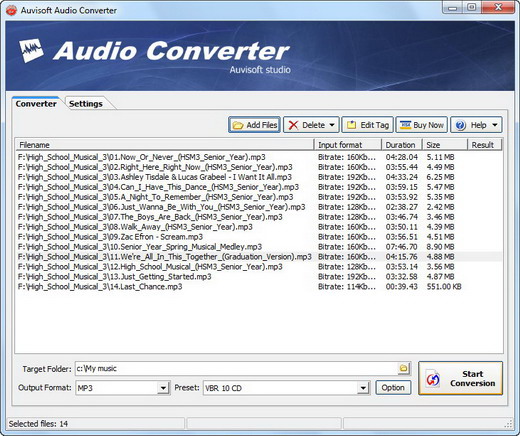 491) Auvisoft Audio Converter 1.20
Converts audio formats MP3, OGG, WAV, WMA from one to another, such as converting MP3 to WAV and WMA, WAV to MP3 and WMA.

---
492) Active WMA Studio 1.2
Active WMA Studio is the audio conversion utility with Explorer-like interface, It allows you to encode WAV, MP3 and OGG files to WMA (Windows Media Audio).

---
493) AudioMagic 2.42.0
Simple and easy to use digital audio recording software. Real-time MP3 recording, auto track-split for songs, auto saving, sound activated recording, loop recording, timer recording, command line option, etc.

---
494) Advance mp3 sound Recorder 1.2
Advance Mp3 Sound Recorder,record sound and audio from any source : mp3, stream,cd,VCR,movie,microphone, Game. capture sound from sound card digital mixer, easy to convert wave to mp3,include a mp3 ID3 tag Editor.

---
495) Auto Azan Player 2.0
Auto Azan Player as name say it all.it play AZAN(Muslims prayer call) for 5 times a day,just set the time as in your country it plays it automatically.

---
496) All CD Burner 4.2
Acting as a mp3 to cd burner, WMA to MP3, AVI, DIVX, DVD, MP3 to WAV converter.burner and ripper, is a handy tool for you to make audio CD, mp3 CD or make mp3 files with almost all kinds of media files.

---
497) AimOne Audio/Video to MP3/WAV Converter 1.01
Batch convert/extract audio from AVI, VCD, DVD, MPEG, WMV, WMA, DAT, AC3, RM and other formats to MP3 or WAV format

---
498) AudioTT 1.4.2
AudioTT supports 39 items of ID3v2 (Pictures, Official web site of band/artist,...), mass editing etc. It dynamically creates MP3 statistic and shows in-depth MP3 information. Application is written in Java (cross-platform) and is also multilingual.

---
499) Acidizer 2.3.7
Acidizer is an add-on tool for users of the Sonic Foundry ACID suite. It is used to add extra information to wave audio files so that ACID will automatically recognize the file as a one-shot, a loop, or a disk-based audio file.

---
500) ARPTON Lite - Synthesizer-Arpeggiator 1.2h
All-in-one MIDI musical instrument with Arpeggiator and MIDI / MIDI Karaoke Player (Lite version). Works with any synthesizer installed in your computer. Allows to play piano on PC keyboard with any MIDI file and sing at the same time.

---


Browse Pages: [1] [2] [3] [4] [5] [6] [7] [8] [9] 10 [11] [12] [13] [14]