Top 501-550 Software Development Programs (from 6212 category titles)
Order programs after downloads or name (currently are listed after downloads)


501) Access-to-MySQL 3.5
Access-to-MySQL is a program to move MS Access databases to MySQL server. All MS Access data types and attributes are supported. The program has easy-to-use wizard style interface and works with all versions of MySQL server.

---
502) StarForce ProActive SN100 1.1
Licensing and protection solution including 100 release licenses to protect a software product. The licenses are customized according to your company's licensing and and distribution policy. Various activation and delivery methods for your product.

---
503) PhotoController 1.3.0214
PhotoController is a cool and powerful assembly process an Image with specialized effects and is designed for .NET; easily use in .NET window application or ASP.NET application.

---
504) EMS DBISAM Manager 1.6
EMS DBISAM Manager is powerful GUI tool for DBISAM Server administration and management. Its GUI allows you to easily and simply create/edit all DBISAM database objects, run SQL scripts, visually build SQL queries and supplies many more features.

---
505) Aspose.TextBox.Web 2.2
Aspose.TextBox.Web component is a visual ASP.Net server control that provides your users with a customizable, full-featured WYSIWYG rich-text content editor.The latest version 2.2 added moving Licensing to a separate class ; fixing Caching bug; ect.

---

506) Windows Std Serial Comm Lib for C/C++ 5.0
C/C++/.NET RS232/RS422/RS485 serial communications software. Control multiple ports simultaneously. Includes line status/control, modem control, ANSI emulation, ASCII/XMODEM/YMODEM, virtual ports, Bluetooth serial, hardware/software flow control.

---
507) RBarCode 1.1
Barcode java bean and servlet. Supports all major 1D & 2D symbologies: EAN, UPC, code 128, code 39, PDF417, codabar ,RSS14, maxicode, aztec, micro and macro pdf 417, datamatrix....

---
508) NumEdit 1.0
A very powerfull and simple to use numeric editor. It allows you to edit any file in any base between 2 and 255 including binary, octal, decimal and hexadecimal. NumEdit includes tools to convert values from one base to another.

---
509) Nevron Chart for .NET Q3 2006
Nevron Chart for .NET is a professional charting component for WinForms and ASP.NET. It features numerous business, scientific and financial charting types, VS design time support, empty data points, built-in toolbar, flexible axes, and more.

---

510) Proximity Functions for MS Access 1.1
"Proximity Functions" is a set of MS Access modules, forms and controls that you can use to easily add professional functionality to your MS Access application without programming.

---
511) BytesRoad.NetSuit Library 2.0
BytesRoad.NetSuit library is a free network library for the .NET platform. Enhance your .NET application with FTP client functionality and/or use the library for low-level networking over proxy servers (Socks5, HTTP proxy).

---
512) NETCheck 1.0
NETCheck is a utility that .NET developers can use within their own application to verify if the required version of the .NET framework is installed and allow the user to download it.

---
513) DeskewHelper 1.0
DeskewHelper allows automatic skew detection and correction.

---
514) MS SQL Sync Toolkit Lite 2.3
MS SQL Sync Toolkit is a powerful tool which you can use to compare and synchronize the structure of SQL Server databases.

---
515) SkinEngine 1.11
SkinEngine is a library of components which allows to change visual appearance and behavior of your application with use of the powerful skinning engine and a set of 2000+ ready skins. SkinEngine allow easy skinning your GUI to your application

---
516) MyNeoReport .Net Reporting Tool 0.12
MyNeoReport is a little reporting engine and designer for .Net applications, for programmers who want a tool to make reports that is really simple and doesn't cost hundreds of dollars.

---
517) BioCert Biometric Authenticator Lite 1.0
The BioCert Biometric Authenticator Lite Edition 10 Users is designed to simplify Biometric Identification in any VB compliant application using a simple ActiveX drop in. The toolkit has two components: The server and the client toolit.

---
518) EWMedia play ActiveX 1.5
It can help you to develop a cool video/audio playback system.The EWMedia movie player ActiveX include aspect ratio control,Scrolling banner text on video.It have full sound control and include good audio Equalizer(EQ 10 segment) to adjust sound.

---
519) FastCRC Library 1.50
Fast, highly optimized implementation of popular checksum algorithms: CRC32, CRC16, CRC16C (CRC-CCITT). The library allows to calculate checksums for files, memory blocks, strings, streaming data.

---

520) Ufasoft Common Lisp 4.0.17
Common Lisp development system. Includes console and IDE Lisp interpreter and compiler. Possibility of creating EXE-files. Supports CLOS. It is smallest implementation of standard Lisp, just 1MB of binary code.

---
521) PVL - Print Preview Library source codes 2.0.0.0
PVL is an easy to use graphics library primarily intended for C++ developers who need to build the print preview for their applications in a one-touch.

---
522) RHiTech Excel Component 1.0
This component is intended for working with MS Excel books. (Borland C++ Builder, Borland Delphi, Microsoft Visual Basic)

---
523) GPS.NET Global Positioning SDK 1.5.4.1
Develop precise, efficient, and reliable GPS software in record time with this multithreaded component for desktop and mobile devices, including PocketPC, Tablet PC and now Smartphone!

---
524) PDF Creator Pilot 4.3.3072
Library for reading, creating and rasterizing PDF from VB, ASP, Delphi, VC++

---
525) SQLyog MySQL GUI 7.02
SQLyog is an easy to use, compact and very fast graphical tool to manage your MySQL database anywhere in the world. SQLyog is a tool that allows you manage MySQL database.

---
526) Izenda Ad Hoc 3.5
Empower your users to quickly design and customize reports from a web browser. Izenda Ad Hoc is an AJAX enhanced ASP.NET component written in C# that connects to Microsoft SQL Server 2000, MSDE and Microsoft SQL Server 2005.

---
527) Virtual Serial Port SDK 2.0
Create and manage virtual serial ports from .NET and Visual Basic (ActiveX) All windows platforms supported. Windows Mobile/Pocket PC, Windows XP/2k/NT and Windows ME/98. Samples in C#, VB.NET and VB6

---
528) AdvaSaR Ed 5.05
The program has the professional text editor for work with various types of documents, such as, incoming texts of programs, web - documents, log files, ini files, etc. It can work with files of any coding (ANSI, ASCII, UTF-8, Unicode, ...).

---
529)
GUIPDFTK 0.4
---
530) Texturizer 1.92
Texturizer is a powerful, yet simple to use text editor with lots of advanced features, such as complete Macro support, a configurable toolbar, Cliptext lists, customizable keyboard shortcuts, clean Tab interface, lots of options and much more.

---
531) SMSC Relay VCL SDK 2.3
SMSC Relay VCL SDK library is a VCL library for SMS/EMS communication with the SMSC through TCP/IP. Protocols SEMA, CIMD2, UCP and SMPP. Send and receive SMS, EMS, logos, ring-tones, 7-bit text, 8-bit binary data and Unicode (UCS2) messages.

---

532) EasyPattern Helper 2.8
Design perl patterns using point and click! Just highlight the variable text and the text to capture, and EPHelper does the rest! EasyPatterns are a cool new way to describe text patterns. They're English-like, powerful and easy to understand.

---
533) GameVision SDK 2004 1.0.0
GameVision SDK, a 2D rendering API for PC's running Microsoft Windows. This release is aimed specifically at Direct3D with 3D hardware. The GameVision SDK is feature complete and can easily create any type of 2D game with D3D for rendering.

---
534) WinCHM [help authoring tool] 2.3
A html help authoring tool that help you create help file easily and quickly.

---
535) DTM Schema Reporter 1.16.00
DTM Schema Reporter is a reporting tool for database schema. The program creates reports in RTF, XML, HTML, PDF, CHM (Windows HTML Help), Excel or plain text formats and supports all common database interfaces - ODBC, OLE DB, or Oracle Call Interface

---
536) Balmsoft Polyglot 1.7
Balmsoft Polyglot contains components for localization your Delphi application. It contains IDE extension for generation files with localizable items and components for applying files with localization. It is FREEWARE

---
537) DreamenSysInfo library 1.3
DreamenSysInfo Library is a powerful system information detection library that detects CPU,Caches,Features,Mainboard,BIOS,HardDisk,Memory,Video Adapter,Monitor,Network,Mutimedia,OtherDevices,OS,Software,Process,System Services and System Resource inf

---
538) EZTwain Pro Toolkit 3.08
If you need to add scanning to your application, EZTwain will reduce the time, uncertainty and frustration of using TWAIN. Our Code Wizard will have you scanning in minutes, our rich feature set won't limit you. No unit royalties.

---
539) WinDriver USB Device 8.11
WinDriver Device enables manufacturers of USB peripherals to easily generate firmware that defines the desired USB interface, using an intuitive Graphical User Interface (GUI).

---
540) HWDIRECT 1.20
HWDIRECT is an advanced low-level hardware register access software utility for Windows. It allows user to read and modify PC system hardware registers. With current latest version, HWDIRECT encapsulates nine separate tools.

---
541) Docklight RS232 Terminal - RS232 Monitor 1.6
Docklight is a test, analysis and simulation tool for serial communication protocols (RS232, RS485/422 and others). * Simulating serial protocols * Logging RS232 data * Detecting specific data sequences * Responding to incoming data

---
542) Virtual Serial Port Driver 9x 2.0
Virtual Serial Ports Driver (VSPD) is a Windows device driver. Using it you can create two virtual serial COM ports in your system which will be virtually connected to each other.

---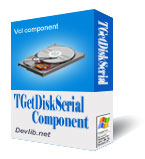 543) TGetDiskSerial Component 3.0.0
The TGetDiskSerial is a VCL component. You can use it to read the serial number of hard disk easily.

---
544) 4TOPS Access to Word Mail Merge XP/03 5.0
Word Link lets add data from the Access database in Word documents such as standard letters, invoices and reports.

---
545) ActiveGanttCSN Scheduler Component 2.6.2
Add Scheduling capabilities to your Application. This component makes it easy to build rosters, TV/movie scheduling, classroom scheduling, equipment/location rental, payroll, assembly line production, and many other applications. VB6, MFC & .NET

---
546) Javascript Clock 1.0
Javascript Clock is a Javascript-producing design tool for creating clock script which will display current time at the lower-right corner of the web browser.

---
547) OmegaChart 4.0
OmegaChart 4.0 is a flowchart generator. This package converts source codes to their flowchart equivalence. The generated flowchart is viewable through Microsoft Excel, Microsoft Internet Explorer or Microsoft Visio.

---
548) DBF-to-MySQL 2.1
DBF-to-MySQL is a program to move DBF databases to MySQL server. All DBF types and attributes are supported. The program has easy-to-use wizard style interface and works with all versions of MySQL server.

---
549) FileDrag 3
When you drag an unknown file type file to this program it show's to what program this file could belong.

---
550) JDataGrid Database Edition 1.7
JDataTable provides a Java data grid component for database, support ResultSet and RowSet, column sorting, print and print preview and export file for multiple format and more.

---


Browse Pages: [1] [2] [3] [4] [5] [6] [7] [8] [9] [10] 11 [12] [13] [14] [15] [16] [17] [18] [19] [20] [21] [22] [23] [24] [25] [26] [27] [28] [29] [30] [31] [32] [33] [34] [35] [36] [37] [38] [39] [40] [41] [42] [43] [44] [45] [46] [47] [48] [49] [50] [51] [52] [53] [54] [55] [56] [57] [58] [59] [60] [61] [62] [63] [64] [65] [66] [67] [68] [69] [70] [71] [72] [73] [74] [75] [76] [77] [78] [79] [80] [81] [82] [83] [84] [85] [86] [87] [88] [89] [90] [91] [92] [93] [94] [95] [96] [97] [98] [99] [100] [101] [102] [103] [104] [105] [106] [107] [108] [109] [110] [111] [112] [113] [114] [115] [116] [117] [118] [119] [120] [121] [122] [123] [124] [125]