Components & Libraries - Software Development Programs from 501 to 550 listed after name (from 1298 category titles)
Order programs after downloads or name or date (currently are listed after name)


501) GdTwain Pro SDK Twain ActiveX Control 1.1.0
GdTwain Pro SDK is a TWAIN ActiveX control for developers to display and acquire images from TWAIN devices. With GdTwain Pro you can fully control the image acquisition process and display the resulting image into a High Quality Viewer Control.

---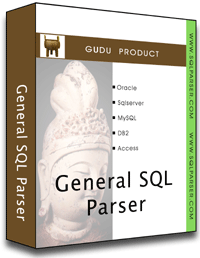 502) General SQL Parser .NET version 1.6.5
General SQL Parser is developed to help people who want to check syntax of SQL statements, pretty print out SQL statements, and parse SQL statements into parse tree in their program.

---
503) GetDiskSerial.DLL 3.0.0
The GetDiskSerial.DLL is a standard 32-bit DLL file.You can use it to read the serial number of hard disk easily.

---
504) GIS.NET 1.1.3
Develop high-performance mapping with GIS.NET. This component uses state-of-the-art vector rendering technology to draw complicated maps of anywhere in the world. Supports desktops, PocketPC, Tablet PC, Smartphone, and Windows Mobile 5!

---
505) Google Calendar and Contacts Component 1.0
Google Calendar & Contacts Delphi Component is a component that allows you to work with Google Calendars and Contacts using Delphi. The component supports Delphi 7 and higher and works directly using official Google Calendar and Contacts API.

---
506) Google PageRank for Delphi 1.2.0
GPRD is set of two components to implement into Delphi applications the revealing and showing Google PageRank value. Full sources available when purchasing.

---
507) GPS.NET 2.1.3
Develop precise, efficient, and reliable GPS software in record time with this multithreaded component for desktop and mobile devices, including PocketPC, Windows CE, Tablet PC, Smartphone and now Windows Mobile 5!

---
508) GPS.NET Global Positioning SDK 1.5.4.1
Develop precise, efficient, and reliable GPS software in record time with this multithreaded component for desktop and mobile devices, including PocketPC, Tablet PC and now Smartphone!

---
509) GPS.NET User Controls Plug-In 1.1.3
Take your GPS applications to the next level with this high-performance plug-in for GPS.NET! These crisp, accurate user controls make your GPS application easy to read. Add a compass, altimeter, real-time GPS satellite tracker, signal bar and more!

---
510) GrFinger FREE 4.1
GrFinger is a powerful fingerprint scanning/matching library in DLL/ActiveX format. Sample source is provided in many languages. Many fingerprint readers are supported. Two end-user applications comes in the package. Free for non-commercial use.

---
511) Habanero 2.3.2
An Enterprise Application Framework for .Net that produces an agile application from the data layer through to the front-end. Free open source under the LGPL license, it includes ORM and UI generation to create one application for the desktop & web.

---
512) Habanero Pro v1.1
Habanero is an object-relational mapping (ORM) architecture for .Net that maps object-oriented code to relational databases. It persists data to and from the database and generates user interfaces to edit the object's properties.

---
513) hbTapi Components 1.7.2
hbTapi Components is a collection of easy to use Delphi VCL components allowing object-based access to Microsoft's Telephony API (TAPI). It supports multiple phones, lines, addresses and calls.

---
514) Hierarchical Data Control Library 2.0
Windows Forms .NET control library that allows displaying and updating hierarchical data using a tree-grid, based on indent levels

---
515) Hierarchical Data Library 3.0
Hierarchical data related WPF components as the TreeListView control

---
516) Hierarchical Data Library 2.0 2.0
Hierarchical data related Windows Forms components as the DataTreeGridView control

---
517) HierarchyTree 1.04a
You can use HierarchyTree package to visually build the hierarchies. Easy way to show relations between various items.

---
518) HierCube OLAP library for VCL 4.48
HierCube Library is a set of Delphi components designed to create fast, handy, and powerful OLAP-applications in different IDE. The build-in OLAP-engine provides your app. with new OLAP functionality and reports. Get your OLAP-reports fast and easy!

---
519) HIME: Huge Integer Math and Encryption 1.04
Library with encryption functions (public key/secret key) and huge integer math functions. RSA public key, AES (Rijndael) secret key encryption, SHA-256 hash function, PRNG: Blum-Blum-Shub and RSA, Diffie-Hellman. For every programming language.

---

520) HotXLS Delphi Excel Component 1.2.0
HotXLS Excel Read Write Library is a high-performance excel read-write library & component for Delphi & C++Builder, it can writing new Excel spreadsheets, as well asĀ  reading and modifying existing Excel xls files without Excel installed.

---
521) HS COM 1.1
HS COM is a software library (with full C source code) that allows a calling user application to access serial communication ports (COM devices) under 32-bit MS Windows operating systems. It allows to transmit data, receive data and control the line.

---
522) HS FTP Client C Source Library 1.0
HS FTP is a software library in C (supplied with full source code) which implements the client side of the File Transfer Protocol over TCP socket layer according to RFC 959

---
523) HS GPSDLL Library 1.0
HsGpsDll is a Windows Dynamic Link Library which provides access to any NMEA-183 compliant GPS receiver via a serial communications port. HsGpsDll is designed for use from Visual C, Visual Basic or other programming languages.

---
524) HS NTP C Source Library 1.2
HS NTP is a software library in C (supplied with full source code) implements the client side of Network Time Protocol (NTP) over UDP socket layer according to RFC1769 and RFC1305. HS NTP Library allows to synchronise system time to NTP server time

---
525) HS POP3 Lite 1.0
HS POP3 Lite is a software library in C (supplied with full source code) which implements the client side of Post Office Protocol Version 3 (POP3) over TCP socket layer according to RFC 1939.

---
526) HS SMS DLL (GSM 07.05) 1.0
HsSmsDLL is a Windows DLL enabling applications to send, receive, read and delete SMS messages via a GSM modem attached to COM port, according to GSM 07.05, 03.40. The library comes with integrated encryption AES,DES,3DES,ARC4,CAST128,Blowfish,2fish

---
527) HS SMTP 1.2.1
HS SMTP is a software library in C (supplied with full source code) which implements the client side of Simple Mail Transfer Protocol (SMTP) over TCP socket layer according to RFC 821. Supports transfer of text and file attachments.

---
528) HS SMTP Lite 1.2
HS SMTP LITE is a software library in C (supplied with full source code) which implements the client side of Simple Mail Transfer Protocol (SMTP) over TCP socket layer according to RFC 821. Supports transfer of text and file attachments.

---
529) HS TFTP .NET Class Library 1.0
HS TFTP .NET class library is a .NET component which implements TFTP server and client functionality over UDP socket layer according to RFC 1350 (Trivial File Transfer Protocol)

---
530) HS X.25 (with RFC1613 XOT) C Source Library 1.3.0
HS X.25 is a software library in C (supplied with full source code) which implements ITU-T recommendation X.25. Includes RFC1613 Cisco XOT module for X.25 over IP applications.

---
531) HsCipherSDK Encryption Library 1.0
HsCipherSDK is an Encryption Library providing an API to a suite of symmetric cryptographic algorithms and digital signing functions. The library includes block and stream cipher modules: AES, 3DES, ARC4, CAST-128, Blowfish,Twofish, MD5, SHA-1.

---
532) HTML Encode ActiveX 2.0.0
Free HTML Encode / Decode ActiveX Component

---
533) HTML Scripting Pages 8.4
HTML Scripting Pages is a client side, ASP compatible scripting plug-in DLL for Internet Explorer and the Microsoft Webbrowser ActiveX control.

---
534) HTML-to-RTF Pro DLL .Net 2.0.5
HTML-to-RTF Pro DLL .Net converts HTML, XHTML into good-looking Word, RTF with tables, images etc. Output rtf file is smaller than input HTML. The DLL component doesn't require any word-processors. Works in C#, VB.Net, ASP.Net.

---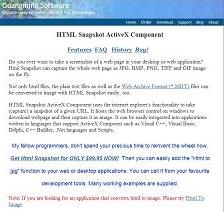 535) Html2image Linux 2.0.2010.425
Convert html to bmp, png, jpg and jpeg on Linux Support command line parameters Support jpeg compression quality control Support saving the whole html page to image without scrollbars. Support batch convert a lot of url to images

---
536) HTMLLabel for Windows Forms 1.03
Designed to replace the standard Windows Forms Label, the HTMLLabel from Gobicode offers far greater flexibility when rendering rich text by supporting standard HTML tags. Easily achieve super/subscript, full text justification and in-line images.

---
537) HXTT Excel 1.0.003
Pure Java Type 4 MS Excel JDBC(1.2, 2.0, 3.0) driver packages for Microsoft Excel version from 95, 97, 98, 2000, 2002, to 2004, supports transaction, embedded access, remote access, memory-only database, compressed database, and url database.

---
538) IBXExTrees lib 5.0
IBXExTreeView/List/ComboBox components for work with Interbase/Firebird/Yaffil tables with use IBX database access library

---
539) IDAutomation ASP.NET Barcode Web Control 7.2
Add barcodes simply to ASP.NET web applications with this web control. Barcodes dynamically appear in the web browser as high-quality images. Supports Linear and 2D types including Code 128, UPC-EAN, I 2of5, Code 39, OneCode, PDF417 and DataMatrix.

---
540) IDAutomation RFID Component Encoder 1.0
The IDAutomation RFID Component is a DLL that enables easy printing of barcodes and encoding of RFID smart labels and tags at the same time from custom .NET software applications. Supports the EPC UHF GEN 2 specification for Electronic Product Code.

---
541) IDAutomation Universal Barcode Font 8.4
Create several different barcode types with this single advanced barcode font. Supports multiple operating systems and locales including Double Byte versions of Windows. Includes examples for VB, Microsoft Word, Excel, Access and Crystal Reports.

---
542) IDAutomation XML Barcode Webservice 1.2
Easily generate dynamic barcodes for applications that support Web Services. Our Webservice supports XML and SOAP standards and produces several barcode types including Code 128, Code 39, UPC, EAN, ITF and Postnet. The demo is fully functional.

---
543) iGrid.NET 2.50.0021
iGrid.NET is the most flexible, fastest and easiest grid for the .NET Framework. Use iGrid.NET either as a ListView and .NET DataGrid substitution, or as a full-featured unbound grid control.

---

544) Image comparison algorithm 1.1
We are proud to present you our unique image comparison algorithm implemented as standalone dll file. It has only one exported function with two bitmap pointers in and similarity percentage out. Or we can make a custom comparison solution for you.

---
545) Image Converter DLL 1.2
Image type conversion, resizing and thumbnail image creation. Supports BMP,JPG, GIF, TIFF and PNG. Needs no installation and no registration in the system registry.

---
546) Image to PDF Dynamic Link Library 1.41
Convert JPG,TIF,PNG,GIF,BMP,PCX,TGA images to PDF documents royalty free using DLL which can be used with most development environments. Supports clickable image stamps (eg company logo), bookmarks and can create simple full screen PDF slideshows.

---
547) Image Upload Column fo SharePoint 1.0
Image Upload component is intended to upload and display pictures for list item. It provides ability to directly select a picture in file browsing dialog, upload and display it in the list view.

---
548) Image2PDF Add-on 1.40
Image2PDF Add-on is a library that helps you to convert images to PDF using PDF Creator Pilot. All major image formats, such as BMP, JPEG, GIF, TIFF (including multipage), TGA, filters and transformations are supported.

---
549) ImageButton.net 1.0
ImageButton.net gives you the possibility to create easy nice graphical Buttons like known from pcGuardIT User interface. Don't waste time in creating you own solution. Simply add ImageButton.net into your VisualStudio.NET Toolbox... that's it.

---

550) ImageDraw SDK for .NET 2.0
Use all the potential of GDI+ to dynamically create composite images with lots of useful built-in Imaging Effects. Deliver real time generated composite images such as picture thumbnails, image buttons or any other graphical application.

---


Browse Pages: [1] [2] [3] [4] [5] [6] [7] [8] [9] [10] 11 [12] [13] [14] [15] [16] [17] [18] [19] [20] [21] [22] [23] [24] [25] [26]