Components & Libraries - Software Development Programs from 101 to 150 listed after downloads number (from 1298 category titles)
Order programs after downloads or name or date (currently are listed after popularity)


101) PDF Viewer for Delphi 1.0
Synactis PDF Viewer for Delphi is a VCL component capable of printing PDF files and displaying them on your Delphi forms. Easy to operate. Freeware !

---

102) PrintDialogEx 1.0.2
PrintDialogEx contains an extended Print Dialog component for Delphi. TPrintDialogEx displays a PrintDialog with an additional ComboBox to select: - All Pages - Odd Pages - Even Pages. PrintDialogEx includes all source code!

---
103) Teroid Grid Control 1.0
A .NET grid control with easy-to-program collections of rows, columns and cells

---
104) CDBFAPI.DLL - powerful DBF access tool.
CDBFAPI.DLL - it's a set of functions for working with DBF files. Does not require any database drivers such as ADO/BDE/ODBC. CDBFAPI.DLL is used in all our DBF programs. The library contains more than 120 functions. If you need a support of DBF files in your program, then CDBFAPI.DLL can decide this task very well. You can keep in DBF-file different strings for localization of the interface of your programs..

---
105) Magic UDF (Universal Disc Format) Burner 1.0.1RC1
Magic UDF (Universal Disc Format) Burner v1.0.1RC1 (VCL) - UDF CD/DVD burning components for Borland Delphi/C++ Builder developers.

---
106) RuleLab.Net Business Rules Engine (BRE) 1.5.0
Business Rules Engine (BRE) enables the separation of business logic from application code through building the business rules in XML. Create, share, manage, and store your Rule files online; integrate them into your system via the BRE component.

---
107) Demo toolbar for Microsoft Outlook (MSODemoToolbar). 1.0.
This demo program allows to add a toolbar into Microsoft Outlook. Developers can use the source code as a framework for their own toolbars.

---
108) OstroSoft Winsock Component 2.2
COM library for Visual Basic 6, providing an easy access to the network layer of operating system (UDP and TCP sockets).

---
109) MailBee Message Queue 1.3
MailBee Message Queue is a queue-based email-sending system that operates as a Windows NT service intercepting "send e-mail" requests from MailBee.SMTP objects and then sends email in a background.

---
110) SMImport suite for Delphi/CBuilder 2.27
SMImport suite allow to load the data from: -Excel, Lotus 1-2-3, QuattroPro spreadsheets -MS Excel, MS Word, MS Access (DAO/MS Jet) -Text (fixed or CSV) -HTML, XML -Paradox/DBase files - ADO connections

---
111) PhotoController 1.3.0214
PhotoController is a cool and powerful assembly process an Image with specialized effects and is designed for .NET; easily use in .NET window application or ASP.NET application.

---
112) Aspose.TextBox.Web 2.2
Aspose.TextBox.Web component is a visual ASP.Net server control that provides your users with a customizable, full-featured WYSIWYG rich-text content editor.The latest version 2.2 added moving Licensing to a separate class ; fixing Caching bug; ect.

---

113) Windows Std Serial Comm Lib for C/C++ 5.0
C/C++/.NET RS232/RS422/RS485 serial communications software. Control multiple ports simultaneously. Includes line status/control, modem control, ANSI emulation, ASCII/XMODEM/YMODEM, virtual ports, Bluetooth serial, hardware/software flow control.

---
114) BytesRoad.NetSuit Library 2.0
BytesRoad.NetSuit library is a free network library for the .NET platform. Enhance your .NET application with FTP client functionality and/or use the library for low-level networking over proxy servers (Socks5, HTTP proxy).

---
115) DeskewHelper 1.0
DeskewHelper allows automatic skew detection and correction.

---
116) MyNeoReport .Net Reporting Tool 0.12
MyNeoReport is a little reporting engine and designer for .Net applications, for programmers who want a tool to make reports that is really simple and doesn't cost hundreds of dollars.

---
117) BioCert Biometric Authenticator Lite 1.0
The BioCert Biometric Authenticator Lite Edition 10 Users is designed to simplify Biometric Identification in any VB compliant application using a simple ActiveX drop in. The toolkit has two components: The server and the client toolit.

---
118) FastCRC Library 1.50
Fast, highly optimized implementation of popular checksum algorithms: CRC32, CRC16, CRC16C (CRC-CCITT). The library allows to calculate checksums for files, memory blocks, strings, streaming data.

---
119) RHiTech Excel Component 1.0
This component is intended for working with MS Excel books. (Borland C++ Builder, Borland Delphi, Microsoft Visual Basic)

---
120) GPS.NET Global Positioning SDK 1.5.4.1
Develop precise, efficient, and reliable GPS software in record time with this multithreaded component for desktop and mobile devices, including PocketPC, Tablet PC and now Smartphone!

---
121) Izenda Ad Hoc 3.5
Empower your users to quickly design and customize reports from a web browser. Izenda Ad Hoc is an AJAX enhanced ASP.NET component written in C# that connects to Microsoft SQL Server 2000, MSDE and Microsoft SQL Server 2005.

---
122) Virtual Serial Port SDK 2.0
Create and manage virtual serial ports from .NET and Visual Basic (ActiveX) All windows platforms supported. Windows Mobile/Pocket PC, Windows XP/2k/NT and Windows ME/98. Samples in C#, VB.NET and VB6

---
123) SMSC Relay VCL SDK 2.3
SMSC Relay VCL SDK library is a VCL library for SMS/EMS communication with the SMSC through TCP/IP. Protocols SEMA, CIMD2, UCP and SMPP. Send and receive SMS, EMS, logos, ring-tones, 7-bit text, 8-bit binary data and Unicode (UCS2) messages.

---
124) GameVision SDK 2004 1.0.0
GameVision SDK, a 2D rendering API for PC's running Microsoft Windows. This release is aimed specifically at Direct3D with 3D hardware. The GameVision SDK is feature complete and can easily create any type of 2D game with D3D for rendering.

---
125) Balmsoft Polyglot 1.7
Balmsoft Polyglot contains components for localization your Delphi application. It contains IDE extension for generation files with localizable items and components for applying files with localization. It is FREEWARE

---
126) DreamenSysInfo library 1.3
DreamenSysInfo Library is a powerful system information detection library that detects CPU,Caches,Features,Mainboard,BIOS,HardDisk,Memory,Video Adapter,Monitor,Network,Mutimedia,OtherDevices,OS,Software,Process,System Services and System Resource inf

---
127) EZTwain Pro Toolkit 3.08
If you need to add scanning to your application, EZTwain will reduce the time, uncertainty and frustration of using TWAIN. Our Code Wizard will have you scanning in minutes, our rich feature set won't limit you. No unit royalties.

---
128) Virtual Serial Port Driver 9x 2.0
Virtual Serial Ports Driver (VSPD) is a Windows device driver. Using it you can create two virtual serial COM ports in your system which will be virtually connected to each other.

---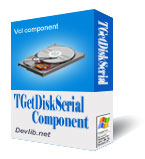 129) TGetDiskSerial Component 3.0.0
The TGetDiskSerial is a VCL component. You can use it to read the serial number of hard disk easily.

---
130) LidorSystems.Collector 1.5
LidorSystems.Collector is the most comprehensive .NET class library for designing complex application workspaces with docking and floating tool windows, tabs and tabbed MDI documents. Emulates visual styles like VS 2005, VS 2003, Office 2003, WinXP.

---
131) Editor.NET 1.45
Editor.NET is an advanced code editor allowing integration of a highly flexible edit control in your .NET applications.

---
132) VersyPDF 2.4
High-quality, industry-strength PDF library meeting requirements of the most demanding and diverse applications. Using VersyPDF you can write stand-alone, cross-platform and reliable commercial applications that can read, write, and edit PDF file

---
133) Image to PDF Dynamic Link Library 1.41
Convert JPG,TIF,PNG,GIF,BMP,PCX,TGA images to PDF documents royalty free using DLL which can be used with most development environments. Supports clickable image stamps (eg company logo), bookmarks and can create simple full screen PDF slideshows.

---

134) Windows Std Serial Comm Lib for dBase 5.0
Visual dBase serial port RS232/R485/RS422 communications component library. Control multiple ports simultaneously; line status/control,modem control,ASCII/XMODEM/YMODEM, virtual ports (USB to serial, Bluetooth serial, hardware/software flow control.)

---
135) NMath Matrix 2.1.0
NMath Matrix is an advanced matrix manipulation library that extends the general matrix classes of NMath Core to include structured sparse matrix classes and factorizations, general matrix decompositions, advanced least squares solutions, and solutions to eigenvalue problems.

---
136) JOpt.SDK - route optimization library 1.0.3
JOpt.SDK is a route optimization and planning Java library for automatic resource scheduling and transportation planning. It uses specialized genetic algorithms to calculate an optimized allocation of orders and stops to mobile resources.

---
137) VistaDB 3.0
Managed and typesafe embedded SQL database engine developed in C# for Microsoft .NET, Compact Framework and Mono. Small 600KB footprint, ASP.NET and WinForms support, SQL Server 2005 compatible, data management tools, free distribution and more.

---
138) Licence Protector 3.0
Licence Protector generates Demo- and time limited versions, extensive software copy protection, supports concurrent user testing, Web activation, electronic Software Distribution, protects multiple modules per application, multiple languages

---
139) Form Designer 3.8
Greatis Form Designer - Runtime Form Designer.Greatis Form Designer - Runtime Form Designer.An extremely convenient component for moving and resizing any control on your form at runtime.

---
140) AwC++ 3.3
The Awave Streaming C++ Audio Converter library, or AwC++ for short, is a C++ software development kit that provides functions for converting between different audio file formats. It supports a customizable and easily extendable list of file formats.

---
141) SMExport suite for Delphi/CBuilder 4.68
SMExport suite allow to export a data into: -Excel, Lotus 1-2-3, QuattroPro spreadsheets -MS Excel, MS Word, MS Access (DAO/MS Jet) -Text (fixed or CSV), SYLK, DIF -HTML, XML -RTF (Rich Text format) -SQL-script -Paradox/DBase files

---

142) Win/CE Std Serial Comm Lib for eVB 3.3
The Windows/CE Standard Serial Communications Library for eVB (WSC4eVB) is a serial port communication library for Embedded Visual Basic (eVB) programs for the Pocket PC (PPC) and the Handheld PC (HPC).

---
143) COMM-DRV++ 1.0
Easy to use professional serial communication C++ class library for Windows XP, Windows 2000, Windows Me, Windows 98, & Windows 95. Includes the ZModem, YModem, & XModem file transfer protocols. Supports Microsoft Visual C++ & Borland C++.

---
144) DataMatrix 2D Barcode ASP Component 3.0
Integrate DataMatrix 2D barcode image with your ASP web project with our DataMatrix ASP component.

---
145) MailBee WebMail Lite 3.1
MailBee WebMail Lite is a FREE set of ASP scripts that organize email web-interface. Users can receive, view, manage, compose and send email through web-interface (using POP3 and SMTP protocols). Multiple attachments, ESMTP, skins, source code, more.

---
146) CryptoTools 3.0
CryptoTools is a multi-language suite of encryption libraries that provides DES and Triple DES (3DES) encryption, as well as Base64 and MD5 encoding . CryptoTools supports C, C++, COM, VB6, Java, C#, VB.NET, VBScript, Java Script, Delphi and more.

---
147) HS SMS DLL (GSM 07.05) 1.0
HsSmsDLL is a Windows DLL enabling applications to send, receive, read and delete SMS messages via a GSM modem attached to COM port, according to GSM 07.05, 03.40. The library comes with integrated encryption AES,DES,3DES,ARC4,CAST128,Blowfish,2fish

---
148) Barcode ASP.Net Web Form 3.0
Integrate 1D barcode image with your ASP.Net web project with our Barcode ASP.Net Web Control.

---

149) Alvas.Audio 7.1
Alvas.Audio for .Net is an audio library written in C#. The collection allows C# and VB.Net developers to create applications that record, play, edit, convert and display uncompressed and compressed audio data. Encode and decode Dialogic .vox data.

---
150) HTML Encode ActiveX 2.0.0
Free HTML Encode / Decode ActiveX Component

---


Browse Pages: [1] [2] 3 [4] [5] [6] [7] [8] [9] [10] [11] [12] [13] [14] [15] [16] [17] [18] [19] [20] [21] [22] [23] [24] [25] [26]