Top 6601-6650 System Utilities Programs (from 10947 category titles)
Order programs after downloads or name (currently are listed after downloads)


6601) XtraTools 2008 1
XtraTools 2008 - a set of applications consisting of more than 20 independent system utilities that are complimentary to the standard MS Windows utilities. XtraTools increases productivity and makes working with MS Windows easier.

---
6602) OnePass 1.5
An easy-to-use password creator application for Windows OnePass Generator is easy-to-use password creator application for Windows. Using OnePass Generator you do not have to think about creating and keeping new passwords.

---

6603) iPod Deleted Data Recovery Tool 3.0.1.5
iPod corrupt disk mode recovery software is a non-destructive and read only tool that recovers your lost pictures, mp3, m4v music, songs from all types of apple iPod like mini, shuffle, nano, classic etc. Utility supports all versions of windows OS.

---
6604) Auto Registry Repair 5.8.18.604
RegCure, the Advanced Registry Cleaner. Windows Errors Have Met Their Match! RegCure offers the most comprehensive feature set on the market. RegCure is the PC fix preferred by PC users. Scan your computer for errors, FREE! - FREE DOWNLOAD.

---
6605) CascadePoint 2.10
CascadePoint is a real-time backup and archiving program. Every time you open a document to edit or save changes to a document, it creates a copy of the original document in an archive. CascadePoint can also do scheduled backups of open files.

---
6606) Convert NSF to PST Software 7.6
Convert NSF to PST software is a powerful Lotus Notes conversion utility that easily exports Notes emails, contacts, calendars, journals, tasks, to do list to Microsoft Outlook PST file. NSF to PST tool is designed to convert NSF file to PST file.

---
6607) AfterCall 1.0
AfterCall helps you to organise your call info. Exactly after the call the message window appears with all the needed info with the list of actions to be performed to the number. You can send SMS or MMS message, add new contact or a calendar task

---
6608) ReiserFS Recovery Software 2.1
Best ReiserFS recovery software is proficient data recovery software for Linux operating system to instantly recover lost or deleted precious photos, important documents, favorite songs, video games & other valuable data from ReiserFS volumes.

---

6609) vCard Export 4.0
SysTools vCard Export is a PST Contacts Conversion tool that Export vCard contacts to some other file format. It means that you can Convert PST Contacts to VCF,WAB & NSF file format.

---
6610) Office Outlook Password Recovery 3.0.1.5
Outlook express password recovery software show server port information with users email news group account passwords. Password revelation tool restore identity password and unmask asterisks character textbox of all Microsoft office outlook version.

---

6611) PDA Surveillance Software 2.0.1.5
Pocket PC forensic software dig out PDA phone details include hardware configuration files database OS registry phone Information. PDA forensic utility display inbox/outbox text messages IMEI model number phone book contact number along with name

---
6612) Windows File Recovery Software 1.1
Windows file recovery software is a great windows recovery tools for recovering lost data from corrupt FAT & NTFS file system of Windows OS. This file recovery software for windows easily recovers lost data from re-formatted windows file system.

---

6613) FAT Partition Salvage Software 3.0.1.5
Windows FAT files recovery tool support rescue of data from virus affected hard disk drive. Windows FAT partition data salvage application recovers deleted FAT MBR or root directory also restores data from bad sector affected storage media.

---
6614) PC Information Viewer 2.0.2.0
PC examiner software provides details that mainly include information about mouse and keyboard, memory status, drive, socket data like user name, date, time, version and currency etc. Computer analyzer gives you virtual and physical memory status

---
6615) Geek In A Box - Vista 2.7
Geek In A box is a system control board, designed for beginner computer users. With this software a person with absolutely no computer knowledge will have the ability to make changes or adjustments to their computer.

---

6616) #1 Smart PDF Creator Pro 4.11
Easy and fast conversion from DOC, XLS, HTML, JPEG, TIFF, TXT and RTF to PDF and vice versa. This program offers user friendly interface, batch conversion, flexible advanced options and step by step instructions. It will run on all Windows systems.

---
6617) Toast 3.0.0
Extract any email addresses from text files. Validate, sort and remove duplicates

---
6618) Folder Size 1.0.0.0
Folder Size will analyze your hard drives and display the file and folder sizes so that you can easily check the distribution of your disk space.

---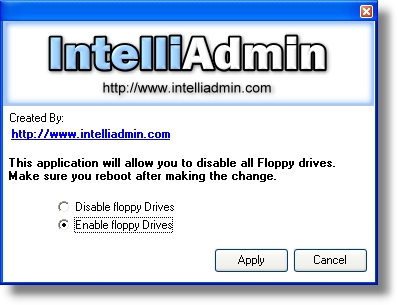 6619) Floppy Remote Drive Disabler 2.0
Allows you to easily enable or disable floppy drives on your Windows 2000, 2003, or XP systems - across your LAN

---

6620) Restore Pen Drive Files 2.0.1.5
Memory stick deleted files folders restoration software recover restore not detected inaccessible USB drive removable media external disk Floppy Disk Pen Drive files damaged thumb drive images mp3 songs pictures data

---
6621) Access Folders 2.11
Access Folders is a fine Windows enhancement that keeps all of your directories and sub-directories within easy reach. The program integrates into Windows' standard Save As/Open dialogs which are used by most applications.

---
6622) Advanced Registry Fix 2.0
Advanced Registry Fix is an extremely easy to use tool designed to safely scan and repair Windows Registry problems with a few simple mouse clicks!

---
6623) Need3Space 1.5.3.42
Need Free Space is a comprehensive set of tools which helps you control and manage your disk space, while also gathering free space, for any drive. You can find duplicate files, temporary files, junk files, empty files and folders.

---
6624) Html Color Cube 1.0
The Html Color Cube gives you the right html color code everytime. Simply click on a color and the code appears in the box click copy and then paste into your project. It's a great time saver.

---
6625) ZipItFast 2.0
A commercial-quality free archiving utility that features a Windows drag-and-drop interface.

---

6626) Alien Registry Viewer 1.0.186
Alien Registry Viewer is similar to the RegEdit application included into Windows, but unlike RegEdit, it works with standalone registry files. Alien Registry Viewer works with registry files copied from other computers.

---
6627) On-Time Atomic Clock Sync 1.2
Synchronize your PC's clock with internet atomic clock servers

---
6628) Multiple File Rename 1.1
Rename multiple files in a directory based on file extension. Has undo function to correct any mistakes. Can also rename all files in sub-directories recursively. Free to try, the trial version can rename twenty files.

---

6629) Registry Fix and Cleaners 2007
Registry Fix can Restore Windows Registry Files, Repair DLL Error Messages and Fix General Protection Fault Errors. Scan your system for invalid file and system references that cause instability, PC errors, crashes, and general system slowdowns FREE.

---
6630)
KazStamp 9.0
---
6631) Snip-Its 1.00
Snip-Its allows you to store your notes, emails, texts, hyperlinks - any kind of text data - in a hierarchical manner. Ideal for writers wanting to gather facts, bibliographical entries, notes. Can be used to create to-do lists, daily logs.

---

6632) iPod Recovery Utility 2.0.1.5
iPod shuffle data rescue utility fetch iTunes m4v m4p m4b audio mpg mpeg video files retrieve accidentally formatted apple mp3 songs pictures software restore deleted nano photos undetected mini m4a mp4 wav aif undelete corrupted images music

---
6633) DialogDevil DD-1.06.8
DialogDevil is three desktop automation tools in one all sharing the same interface. You drag a small icon from DialogDevil to another program and DialogDevil intelligently auto-clicks, auto-fills, or auto-positions the window when it appears again.

---
6634) SpotFreePC Registry Cleaner 4.0
Increase your PC's stability and performance with SpotFreePC. SpotFreePC cleans your registry, manages startup programs, manages IE plugins, uninstalls applications and much more. Give SpotFreePC a try now and get your PC back in shape.

---
6635) MistyMenu
MistyMenu - MistyMenu is a java based Menu system. MistyMenu has the ability to display multiple level menus using the same rectangular area. MistyMenu can be customized using different text and abckground colors, images.

---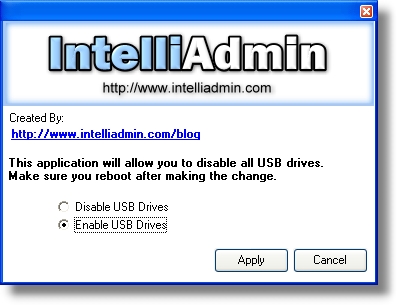 6636) USB Drive Disabler 2.0
Allows you to easily enable or disable USB drives on your Windows 2000, 2003, or XP systems

---
6637) Pocket DVD Wizard for Palm
Pocket DVD Wizard for Palm devices - Watch your DVDs on your Palm Handheld.The Pocket DVD Wizard for Palm will allow you to convert standard DVD video into files suitable for your Palm handheld device

---
6638) ! RegistrySmart ! 5.9.514
RegistrySmart is the intelligent choice in 1-Click PC error diagnostics and repair. All corrupt files, paths, and registry keys are analyzed and automatically repaired so that your PC functions just as when first you purchased it. Try it for Free!

---
6639) Select Folder Express 1.5
Select Folder Express helps you instantly jump to your frequently used folders in the Windows Explorer, in standard Open/Save as/Browse dialogs,the desktop and the Start Button.It can runs automatically as part of your context menu in them.

---
6640) Acronis Disk Director Suite 10.0 with 08 10.03
Acronis Disk Director Suite 10.0 adds new key features making it easier than ever before to modify your partition structure

---
6641) PC RegCure Registry Fixer 6.7.064
PC RegCure, the Advanced Registry Cleaner. Windows Errors Have Met Their Match! RegCure offers the most comprehensive feature set on the market. RegCure is the PC fix preferred by PC users. Scan your computer for errors, FREE! - FREE DOWNLOAD.

---
6642) Keep It (a) Secret! 2002B
Keep all your passwords, userid's, codes, etc. safe and secure in just one place. - In todays world there are so many codes, that you have to remembers - now you just have to remember one, and all the other will be revealed. Use "Keep It (a) Secret".

---
6643) Disk Doctors Data Sanitizer 1.0
Disk Doctors Data Sanitizer eliminates or erase data file(s) in different directories with a stroke of a key shredding sensitive data beyond recovery and offers 9 sanitisation standards for disk wiping

---
6644) Describer 5.4.3
This small and handy tool will let you organize files and folders by adding notes to them. Viewing and editing is simple as never before: select a file in Windows Explorer window and your comments - in your own words, will appear.

---
6645) Software License Manager 1.0
A safe and secure way to store important information about your applications. Information such as serial numbers, software information, vendor information, license information, billing information and much more...

---
6646) Acronis True Image Home 2010
Acronis True Image Home 2010 provides home users reliable and timeless backup and recovery of systems, applications, settings and personal files. From an intuitive graphical interface, users can easily define where and how often to backup a PC.

---
6647) Photo Nose Image Recovery Software 2.0
Photo Nose recovers deleted or damaged photos and digital audio files from camera memory cards, hard drives, portable music players and just about any other kind of storage device. Just connect your device and let Photo Nose get your files back.

---

6648) FAT Drive Recovery 2.0.1.5
FAT partition recovery software restores file allocation table virus infected hard disk video pictures zip files audio songs folders recover corrupted file lost data due to unexpected shut down malfunction or virus attack support FAT32 FAT16 VFAT

---
6649) Undelete Server and Professional 4.0
How valuable is the data on your servers and PCs? What if you or your users lost a critical accounting file, a major report, or even digital snapshots of the family? The Recycle Bin doesn't catch every deleted file - Undelete does!

---
6650) Fast WinSpot 1.2a
This application loads an icon on the system tray and lets you configure its menu items from it, beeing them applications, documents or 'system actions', like rebooting windows, shutdown system, power off etc...

---


Browse Pages: [1] [2] [3] [4] [5] [6] [7] [8] [9] [10] [11] [12] [13] [14] [15] [16] [17] [18] [19] [20] [21] [22] [23] [24] [25] [26] [27] [28] [29] [30] [31] [32] [33] [34] [35] [36] [37] [38] [39] [40] [41] [42] [43] [44] [45] [46] [47] [48] [49] [50] [51] [52] [53] [54] [55] [56] [57] [58] [59] [60] [61] [62] [63] [64] [65] [66] [67] [68] [69] [70] [71] [72] [73] [74] [75] [76] [77] [78] [79] [80] [81] [82] [83] [84] [85] [86] [87] [88] [89] [90] [91] [92] [93] [94] [95] [96] [97] [98] [99] [100] [101] [102] [103] [104] [105] [106] [107] [108] [109] [110] [111] [112] [113] [114] [115] [116] [117] [118] [119] [120] [121] [122] [123] [124] [125] [126] [127] [128] [129] [130] [131] [132] 133 [134] [135] [136] [137] [138] [139] [140] [141] [142] [143] [144] [145] [146] [147] [148] [149] [150] [151] [152] [153] [154] [155] [156] [157] [158] [159] [160] [161] [162] [163] [164] [165] [166] [167] [168] [169] [170] [171] [172] [173] [174] [175] [176] [177] [178] [179] [180] [181] [182] [183] [184] [185] [186] [187] [188] [189] [190] [191] [192] [193] [194] [195] [196] [197] [198] [199] [200] [201] [202] [203] [204] [205] [206] [207] [208] [209] [210] [211] [212] [213] [214] [215] [216] [217] [218] [219]