Top 301-350 System Utilities Programs (from 10947 category titles)
Order programs after downloads or name (currently are listed after downloads)


301) System ScreenSaver 2.2
Run any command or application as Windows screen-saver.

---
302) RegCleaner 2008.068
RegClean - Fix your PC Errors! RegCLEAN will scan your registry, finding all of the errors causing your PC problems, and will then repair those errors instantaneously. - FREE DOWNLOAD

---
303) PC Doctor by PCSecurityShield.com 2005
Is your computer running slow? Does it crash? If so, then you have errors in your registry. Don' worry, PC DOCTOR is here to help. PC DOCTOR will scan your entire computer and remove errors, speed up your pc and stop crashes!

---
304) SynchronEX Backup & FTP 2.14
File and directory synchronizer, backup, ZIP, incremental FTP upload, finding duplicate files in applications like laptop/server-synchronization, multi-point authoring with collision detection, super and nested syncs. Integrated into Windows Explorer

---
305) DBF Viewer PRO 4.0.1
DBF Viewer Pro is a viewer and toolbox for DBF database files. Designed primarily as a tool for Delphi developers who use Vista Software''s Apollo database engine, this toolkit will also appeal to any programmer who wants on-the-fly access to DBFs.

---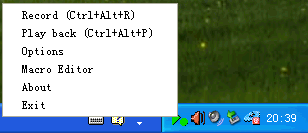 306) Easy Macro Recorder 3.75
Easy Macro Recorder is a handy utility that makes your computers automatically do work for you. It records all operation of mouse and keystrokes and saves them as macros, then Easy Macro Recorder can play back recorded macros to automate your work.

---
307) aDsl Voyager Prof 1.0
Software for full Dsl traffic control and stats, it supports all dsl traffic speeds and megabytes packages.

---
308) The Error Killer 2006
ErrorKiller is a Windows Registry Cleaner, Kernel32 DLL Error Message Fix and Access Violation Repair Software. Repair Errors related to missing startup and dll files, invalid device drivers, application paths, shortcuts and associations. - FREE SCAN

---
309) Axife Mouse Recorder Demo 4.01
Axife Mouse Recorder lets you record mouse movements, clicks, keystrokes and replay them. Do you have repetitive tasks to accomplish with your keyboard and your mouse? Then Axife Mouse Recorder is what you need!

---
310) PlacesBar Constructor 1.2
With this tool, you can customize the shortcuts displayed in the placebar on the left hand side of Window's open/save dialog window

---
311) File Ace 1.01
File Ace is the ultimate file management utility suite. It simplifies complex and time-consuming file tasks by providing tools that are powerful yet flexible and efficient. File Ace will increase your productivity several times over.

---
312) Xp Tweak Mechanic 1.7
XP Tweak Mechanic is the best tools designed to improve the performance of your windows XP operating system by speeding up the startup process and making the process of shutdown faster.his powerful software includes a lot of features.

---
313) Keyboard Guardian 1.02.0056
Keyboard Guardian is an advanced key logger that helps thousands of people worldwide safely monitor their PCs day and night. Unlike other key loggers, Keyboard Guardian can operate in the stealth mode, and it can email recorded keystrokes.

---
314) VolID(Disk Drives Serial Modifier) 4.0.1
With VolID you can modify your disk drive's serial number which is also called Volume ID (not hard disk's physical serial which you can find at back of your hard disk) , the format of volume ID is: XXXX-XXXX (X maybe 0,1,2,3,4,5,6,7,8,9,A,B,C,D,E,F).

---
315) Crap Cleaner 2.0
Crap Cleaner is a 100% free computer speed up software can help you renew your computer by cleaning your activity history and surfing traces, sweeping and protecting your privacy, cleaning up junk file that has taken hard drives.

---
316) Free Keylogger King 1.3
With Free Keylogger King, you will never lose any of your text, whether it was typed in an e-mail client, a text editor or an on-line form. This free program logs everything you type. Get your passwords, registration keys and other info safely logged

---
317) PC SMART FIXER 2008.068
The only tool you'll need to keep your PC running Fast, Smooth, and Error-Free. Use the new SmartFixer 2007 to automatically diagnose and fix hundreds of problems with hard drives, system components, installed software, hardware, and more.

---
318) Repair Registry Pro 1.2
While you're busy working at your PC, Windows® is hard at work trying to destroy it!

---
319) Free Up Ram 1.15
Free Up Ram is a simple, yet robust memory optimizer. Free Up Ram was designed to allow you to quickly free up physical memory taken up or used by applications and processes no longer in use by your computer.

---
320) Handy Tools 2005 for Sony Ericsson 1.0
Suite of 6 "must have" applications for Sony Ericsson P910 / P900 / P800 (Symbian UIQ): Handy Day 2005 Professional, Handy Safe, Handy Book, Handy Expense, Handy Explorer and Handy Databank.

---
321) MonitorTest 3.0
Investigate the quality and performance of computer monitors and LCD flat panel screens using a series of 25 different test patterns displayed at various resolutions. Allows simultaneous testing of Multi-monitor configurations.

---
322) Windows XP Service Pack 2 (SP2)
Microsoft Windows XP Service Pack 2 addresses the latest updatest and fixes for Windows XP.

---
323) Digital Photo Recovery 1.23.6
Recover lost or deleted digital pictures from anywhere. Formatted or corrupted memory cards, hard disks, USB flash drives and digital cameras are supported directly. D-Photo Recovery supports many image formats including digital SLR RAW files.

---
324) Evidence Nuker 2008.068
Almost every action you make is recorded and can be easily retrieved by anyone, not just by a computer geek but by an average computer user such as your spouse, boss, friend, or anyone who has access to your PC. Cover Your Tracks! - FREE DOWNLOAD

---
325) UFS Explorer Business Network 3.2
The fast and comprehensive Windows data recovery and undelete network program for most popular file systems and broken RAID arrays.

---
326) Print2PDF 8.0.10.0125
Easy Adobe PDF conversion and PDF/A archiving from any application. Batch convert documents from Microsoft Office (Word, Excel, PowerPoint), AutoCAD and plain-text into PDF. Supports PDF merging and digital signing from the Windows Certificate store.

---
327) DVD2AVI Ripper FREE 1.1.0.14
DVD2AVI Ripper is a powerful and easy-to-use tool that lets you make backups of your home DVD movies

---
328) Mikey 1.0
Mikey keeps track of your login usernames, user ids, passwords, web page logins, email accounts; you name it. Now you only have to remember one password for Mikey to keep your information private. You can also print, export and search all entries

---
329) WinBackup 1.86 1.86
The backup and recovery solution that awards 100% reliability and superior performance at a click of a button.

---
330) Shutdown Lock 1.5
Get Shutdown Lock and enable hibernate and stand by feature in application, like FlashGet, Use Windows XP fast user switching feature more safety, prevent unexpected system shutdowns or restarts that could immense and sensitive data loss.

---

331) Cresotech PocketLANce 1.15.50
Cresotech PocketLANce is a unique application allowing Pocket PC users to browse and manage LAN resources on their PDA devices. Access your corporate or personal LAN resources using your Pocket PC both outside and inside of your office!

---
332) Advanced Office Password Recovery 3.04
Recover lost or forgotten passwords to documents created in Microsoft Office components and other Microsoft Software: Word, Excel, Access, Outlook, OneNote, Money, Project, PowerPoint and much more. All versions are supported, up to Office 2003.

---
333) AutoView 4.0
AutoView is a CD Autorun program designed to add convenience and professionalism to the CDs you create. It is very easy to use and enables you to quickly create Autorun CDs for html, PowerPoint, PDF and other types of CD presentations.

---
334) Router IP Console 3.3.0.407
Router IP Console is a simple in usage SNMP-based tool intended for management and control of active network equipment (such as IP routers, repeaters etc). "Router IP Console" can raise an alarms via email on critical situations. And more...

---
335) WinXP Manager 5.2.3
All-in-One utility to optimize, tweak, clean up Windows XP. It bundles more than 30 different utilities in one! Get access to hundreds of hidden options, clean registry and junk files, speed network, uninstall smartly and many other utilities.

---
336) Flobo HDDBadSectorRepair 1.5
performs repairing of the bad sectors of Hard Disk Drives regenerating HDD surface. This is not a CHKDSK or ScanDisk like utility! It does not mark the bad sectors in the file system and hidden them! It regenerates magnetic surface!

---
337) RECOVER Floppy Pro 1.0
Completely Automated Disk level data recovery software for Floppy Disks recovers files from inaccessible and need-to-be-formatted floppy disks. Recovers files from reformatted floppy too. A single recursive run recovers all files. Supports LFN files.

---
338) Personal Computer System Information 1.0
Personal Computer System Information displays important information such as the CPU Speed, MAC Address, Ports, Memory (RAM), Disk Space, Video Card, Windows version, and applications installed. You can then save this information.

---
339) Keystroke Converter 4.795
Keystroke Converter can customize your keyboard layout, change any key on the keyboard to other keys, replace keyboard shortcuts, execute micro or windows action.

---
340) NS Keylogger Personal Monitor 5.0
NS Keylogger records everything that is entered from the keyboard, to an log file. Documents, e-mails, chat conversations, typed URL addresses, passwords, Internet forms, etc will be recorded neatly.

---
341) ComparatorPro 4.101
ComparatorPro vergleicht, zum schnellen aktualisieren von Backupsicherungen, Dateien, Ordner und Unterordner, bevor Sie wichtige Arbeitsdaten verlieren. Für eine perfekte Übereinstimmung werden die Dateien synchronisiert.

---
342) ANALYZER for RECOVER Fixed/Floppy Disk 0.3
ANALYZER for RECOVER Fixed/Floppy Disk V0.3 visually reports on bad sectors in system area of disk. You can check if Boot Sector, FAT 1, FAT 2, and ROOT FOLDER sectors are good or bad. You find how much of remaining file system can help recover files

---
343) Performance Pinging 2.0.0
Performance Pinging, a tool for testing availability, response times and performance using ICMP. Writes data to a text file for later interpretation with e.g. Excel.

---
344) Magic File Renamer 5.3b
Magic File Renamer is a powerful tool to rename multiple filenames at once. It offers an extensive set of 30 advanced filters which you can use to perform almost any renaming task you could think of.

---
345) Recovery for Word 3.2.0925
Recovery for Word fixes corrupted Microsoft Word document files. Supports all modern file versions, including Word 2007/2003/XP/2000/97/95/6.0 documents. Recovers text. Restores formatting. Recovers password-protected files (if password is known).

---
346) RegRestore PC TuneUp 5.0
Scan, detect, and repair windows registry problems. Remove unneeded and unwanted registry entries, minimize system crashes, and tune up your pc

---
347) WinZip Professional Edition 11.1
With WinZip you can quickly and easily compress and decompress files, folders, and entire folder trees to save storage space and reduce e-mail-transmission time, as well as encrypt and decrypt your sensitive documents.

---
348) Activity Indicator 1.0
This small software shows your working activity during the day in a small XP styled window that could be placed anywhere the screen. Also you can set it's transparency level so it will not divert you from work.

---
349) #BKFRecovery 2.0
BKFRecovery is a data recovery software to recover files from corrupt or damaged BKF files. These files are normally restored using NTBackup.Exe or Veritas Backup Exec.

---
350) ExtractNow 4.13
ExtractNow is a simple utility that allows you to extract multiple files quickly and easily.

---


Browse Pages: [1] [2] [3] [4] [5] [6] 7 [8] [9] [10] [11] [12] [13] [14] [15] [16] [17] [18] [19] [20] [21] [22] [23] [24] [25] [26] [27] [28] [29] [30] [31] [32] [33] [34] [35] [36] [37] [38] [39] [40] [41] [42] [43] [44] [45] [46] [47] [48] [49] [50] [51] [52] [53] [54] [55] [56] [57] [58] [59] [60] [61] [62] [63] [64] [65] [66] [67] [68] [69] [70] [71] [72] [73] [74] [75] [76] [77] [78] [79] [80] [81] [82] [83] [84] [85] [86] [87] [88] [89] [90] [91] [92] [93] [94] [95] [96] [97] [98] [99] [100] [101] [102] [103] [104] [105] [106] [107] [108] [109] [110] [111] [112] [113] [114] [115] [116] [117] [118] [119] [120] [121] [122] [123] [124] [125] [126] [127] [128] [129] [130] [131] [132] [133] [134] [135] [136] [137] [138] [139] [140] [141] [142] [143] [144] [145] [146] [147] [148] [149] [150] [151] [152] [153] [154] [155] [156] [157] [158] [159] [160] [161] [162] [163] [164] [165] [166] [167] [168] [169] [170] [171] [172] [173] [174] [175] [176] [177] [178] [179] [180] [181] [182] [183] [184] [185] [186] [187] [188] [189] [190] [191] [192] [193] [194] [195] [196] [197] [198] [199] [200] [201] [202] [203] [204] [205] [206] [207] [208] [209] [210] [211] [212] [213] [214] [215] [216] [217] [218] [219]