Utilities - System Utilities Programs from 1701 to 1750 listed after date (from 2804 category titles)
Order programs after downloads or name or date (currently are listed after date)


1701) ! - M8 Multi Clipboard for Windows 6.00
The M8 multi clipboard captures everything that you cut or copy from any program, text or graphics. It holds up to 300,000 clips, has a form filling mode and can start your most used programs.

---
1702) Mahalosoft BionicSpider 2.0.0
BionicSpider v2.0 gives you absolute and complete control over every opened window.

---
1703) Plug-and-Play Monitor 1.0 (Build 6.2)
Plug-and-Play Monitor is an experimental tool which displays plug-and-play notifications from the system. To start monitoring, select a device type from the drop-down list or tick Monitor all device types and click Start.

---

1704) ChilkatZip Self-Extractor 1.0.0
Create self-extracting ZIP files optionally with unbreakable AES encryption.

---
1705) Stealth KeySpy 2.0.0
Provides you with: · A reliable way to protect your kids online. · A powerful encryption utility for all your e-mails and personal documents. · A secure "real time" data back-up system. · An automated utility that records all PC activities.

---
1706) Win Sound Randomizer 1.0
1. Hear New Sound Each time when Windows Starts 2. You can Specify the sound files which will be played 3. The sound files selected will be played randomly each time when windows starts. 4 . Easy to use.

---
1707) IntelliPointer 4.0
IntelliPointer is ergonomic mouse software that reduces hand movement and strain. Allows easy and precise movement of the pointer to anywhere on the computer screen with a small, slow movement of the hand.

---
1708) CheckQuota Standard 2.0
CheckQuota is the professional monitor program for directories. If a directory exceeds a specified limit CheckQuota sends an mail alert and can lock the write access for specified users or groups.

---
1709) Software Update Service StandAlone 1.004
New Features: -DU switch (remove declined updates), input/output support for all switches. Restart Remote Registry if stopped.

---
1710) Link Spy 1.4
Link Spy is a small, fast and easy to use spy-utility, which is placed into your system tray. Link Spy detects all links and e-mail addresses copied into clipboard or dragged onto special targets.

---
1711) Visual TimeAnalyzer for time tracking 1.4
Visual TimeAnalyzer automatically tracks all PC activities, working time, pauses, projects, costs, software and Internet use. The time tracking software presents detailed, richly illustrated reports. Parents have control over their children's PC use.

---
1712) FoldMonkey 1.46
Monitor a folder for new or incoming files. Rename files. Create directories based on names, extensions, creation, last accessed and modified dates. Make folders from custom text. Create folders by todays date. Move files to a new directory.

---
1713) PDFSprite PDF Driver advanced version 8.0
"PDFSprite PDF Driver advanced version 8.0" For Windows NT/XP/2000 Supporting compression,fontembed,multi-language Supporting Text Watermark,Icon Watermark,Security,Document Information,OpenAction,Bookmark and Link for PDFWORD etc.

---
1714) Diamond Calculator 3.0
Diamonds Calculator takes over where the Rap Sheet leaves off. Calculates weight shapes sizes cuts of mounted and unmounted to Market price. Calculates the Round Marquise Emerald Oval Heart Pear Princess Trillion Triangle and the Radiant Diamond.

---
1715) Easy Tray 3.03
Open various program combinations, documents, and webpages, simultaneously with one mouse click from your system tray. You can also open any website directly from your system tray.

---
1716) Ip Madness 1.0.27
Every machine on the Internet has a unique identifying number, called an IP Address. A typical IP address looks like this : '216.27.61.137'. When you dial/connect to the internet, your isp assigns an IP address for your computer to make it visible to

---
1717) NookNak 2004 V1.0.0
You can use it to quickly mute music when you want to talk to someone or hide confidential information quickly. You can also use NookNak to disable and re-enable screen saving easily and start your favorite program. Have music while you work.

---
1718) ClickyMouse, Standard Edition 6.30
Create macros working in any Windows application and trigger them by defined mouse action Key features: 150+ commands, macro debugger, visual macro editing, application specific macros, password protected macros and more.

---
1719) Floating Clock 2.0
Floating Clock PS is a freeware clock, calendar program designed to run on the top of your desktop. There are ten settings you can choose to run, from Long Date to Long Time and all the settings in between. This is a no-thrills, no-frills program,

---
1720) Task Lock 6.3
Task Lock provides simple and effective password security for specified applications for Windows no matter how they are executed.

---
1721) Advanced Hide Folders 4.6
Advanced Hide Folders is powerful security program. It allows to hide folders or files and is very useful to keep your personal data away from others. Others will not know where your personal data exists and they will not be able to view or delete it

---
1722) Careful Backup 1.5
Careful Backup (tm) is the easiest way to backup your most important data to another folder or any type of removable media including floppy disk, ZIP, JAZ, MO, CDR/CDRW media and more.

---
1723) Linspect Info 1.1
Linspect Info allows you to retrieve various information out of a Linux/Unix server without knowing much about the system. It uses a secure SSH connection. Runs under any Windows.

---
1724) ProcRecon 1.50
A robust, efficient, extremely fast and full-fledged task manager replacement utility which enables processes to be terminated with extreme ease. It is fully scalable with features such as auto-detection of new process, etc.

---
1725) ToolBar 2000 6.6
ToolBar is a small utility that lets you launch your favorite programs from the Windows desktop. Click the left mouse button to launch an application or the right button to define a new ToolBar button. You can also drag and drop a file icons.

---
1726) Active Captions 1.51
Active Captions is a handy utility that extends window's caption buttons with additional features. Right mouse button click on minimize button minimizes the window into the system tray.

---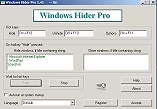 1727) Windows Hider Pro 1.51
Windows Hider will allow you to hide specified groups of windows just by pressing a single Hotkey (or a combination of Hotkeys). Most of the time, program works in the hidden mode, not making anyone know that it is there.

---
1728) ScreenLock 9.0
ScreenLock is an excellent PC & file security program providing easy, yet secure access to your computer while denying other's attempts to access your computer. Keep children, intruders and unwanted visitors from using the Internet or your computer.

---
1729) System Inspector 1.1
Keep your PC running faster, cleaner, and error free! Protect your privacy and improve your PC's performance! Scan all your harddisks for obsolete files and optionally remove them Clean Recycle Bin, Temporary folder, Cookies, & more!

---
1730) ECS (Event Control System) 2.3.14
All-purpose/object-oriented automation for residential, commercial, and industrial environments. Extremely powerful, yet elegantly simple. Automated tasks may be implemented via simple time-based schedules and/or English-like scripts.

---
1731) LBlueCalculator 1.0.0.0
The Download Estimator and the Space Converter features from LBlueCalculator can always help you downloading files from the internet...

---
1732) EF Euro 1.00
Hier ist ein praktischer Eurorechner, der Beträge zwischen allen Euro-Währungen und natürlich auch zwischen anderen Währungen umrechnen kann. Dazu ist der EF-Eurorechner einfach und intuitiv zu bedienen. Shareware, 5 EUR, Updates kostenlos

---
1733) AnyWhere Pro 6.3
AnyWhere 6 Pro allows you to right click on files and folders to copy, move, zip, rename, and securely delete them. Copying filenames to the clipboard, replacing text within many files and making groups of files and folders writeable is just as easy.

---
1734) Fomine NetSend 1.4
Fomine NetSend is a package that contains two utility tools for sending messages via SMB protocol. This first tool NetSend.exe is a console application. The second utility tool NetSendGUI.exe has a simple and user-friendly visual interface.

---
1735) ThmIndxr 01.22
ThmIndxr(tm) creates thumbnail index pages of graphics image directories. It automatically writes all of the HTML code required for building a Web page, and creates the thumbnail images that are a key part of building a page that will load quickly.

---
1736) Recent Documents 2002 2.0
Recent Documents will save you time and frustration by keeping track of documents you have been working with, and will help you find them again easily. It automatically keeps track of the names and locations of documents/files as you work with them.

---
1737) RegWorks Lite 1.3
RegWorks Lite is an advanced registry editor with a lot of additional features such as: key comparison, undo history, copy-cut-paste operations, multithreaded search.

---
1738) StormWindow XP 7.01
Cetus StormWindow [TM] for Windows XP will allow the authorized user to add several types and degrees of security to the desktop and system of any shared Windows XP PC.

---
1739) Virtual Serial Port Driver XP4 4.0
Using Virtual Serial Port Driver XP4 you can create virtual serial COM port pairs which are virtually connected to each other via virtual null-modem cable and for other Windows applications seen as real serial ports connected via null-modem cable.

---
1740) Atomic Clock Sync 2.6
Keep your local computer up-to-date with the exact current time.

---
1741) TW3Monate 1.1
3 calendar, 3 almanac

---
1742) SYT Save Your Time 3.0
One place for all your favorites: the right-click menu. Quick access to favorite resources anywhere on your computer, your network or on the internet. Keep favorite shortcuts to files, folders, programs, documents, web addresses, ftp locations.

---
1743) StormWindow 98 5.14
Cetus StormWindow [TM] for Windows 98 will allow the authorized user to add several types and degrees of security to the desktop and system of any shared Windows 98 PC.

---
1744) ArcSet 1.0.1
ArcSet is used for batch clearing of Read Only Attributes on files copied off a CD-rom to Hard disc drive.

---
1745) dots Pilot 2.0
Start with almost any file format and print professional booklets, business cards, flyers etc. Use 2,3,4,6,8,9,10,12 or up to 32 pages per sheet. NO ACROBAT REQUIRED! Our approved wizard suits the beginner well.

---
1746) IT JPEG-Tester 1.24
The program is able to find invalid jpegs, to remove unnecessary information out of the files and to find duplicate jpeg-files.

---
1747) Xtractor Plus 3.6
Archive extraction utility for Zip, Rar, Ace, and Arj type archives. Can extract multiple Zip files in one step. Features also include drag and drop support, favorite folders, powerful file management from within the program and much more.

---
1748) TWKalender 1.4
Nie wieder vergessene Termine. Terminplaner !

---
1749) Cartagio Pro 1.0.3.86
A must for all business applications where internet research costs money, Cartagio Pro provides powerful tools to efficiently collect, collaborate on and manage web information. A full featured web browser for power users and business professionals.

---
1750) EugeneShutdown 1.00
EugeneShutdown is a system utility for Windows 9x/ME/NT/2000/XP operating systems that allows to automatically shutdown, power off, reboot or log off current user at a specific time on your local computer and initiate shutdown of remote computer.

---


Browse Pages: [1] [2] [3] [4] [5] [6] [7] [8] [9] [10] [11] [12] [13] [14] [15] [16] [17] [18] [19] [20] [21] [22] [23] [24] [25] [26] [27] [28] [29] [30] [31] [32] [33] [34] 35 [36] [37] [38] [39] [40] [41] [42] [43] [44] [45] [46] [47] [48] [49] [50] [51] [52] [53] [54] [55] [56] [57]