Utilities - System Utilities Programs from 201 to 250 listed after downloads number (from 2804 category titles)
Order programs after downloads or name or date (currently are listed after popularity)


201) Comm-Logger 1.0
Comm-Logger is a very easy to use serial communication data logger. It can log data directly from the serial port to a standard file. Up to 32 ports may be logged concurrently.

---
202) 1st Javascript Library 3.0
1st Javascript Library(Coocool Stupid Web Tricks Tool) lets your imagination run wild. You can create amazing homepage effects to spice up your web-site without any knowledge of Java or Javascript.

---
203) CopiXP 5.0
CopiXP is A powerful clipboard utility providing 10 Windows system clipboards, and copy hidden PASSWORD and miscellaneous information from normal Dialogs and Web pages. Supports Windows 9X/ME/NT/2K/XP.

---
204) OutSource-XP 2.0.6
Unfortunately Outlook 2002 / 2003 does not include any option to save and restore all your important personal files, settings, templates, and eMail accounts. This is where OutSource-XP helps you.

---
205) Hotkey Assistant 1.5
Powerful and easy-to-use hotkey manager. It provides you with additional means to control applications, files, folders, windows, and other system components. Additional functions for mouse buttons.

---
206) 3D Calculator 1.00
A multipurpose software calculator, compute complex arithmetic expressions including matrices and user defined variables, Plot 2D 3D animated functions and is provided with a high level programming language.

---
207) Audit Tool 1.1
A client software component which scans, audits and maintains a database of all hardware & software on stand alone or networked PCs to ensure legal software compliance, avoid theft and monitor updates and changes.

---
208) Find Unused Files 1.5
Have you ever wondered how many files are unused on your disk for the last 300 days? The "Find Files" feature of Windows Explorer doesn't help there. But, Find Unused Files can show you a report of such files.

---
209) DynaDeskXP 1.0
Innovative and easy to use window manager with a map of the desktop. DynaDeskXP includes full support for multiple monitors and the multi-monitor extended desktop.

---

210) Turbo Browser 9.3
Open over 200 file formats, from editable documents, pictures, and HTML to CAD and MIME. Organize everything with the searchable catalog. Print groups of documents in batch, or print a thumbnail contact sheet of your photos. All in one place!

---
211) Eyes Care 1.0
Eyes Care is designed for the computer users to protect eyes while using computers, especially for those who usually keep sitting in front of a computer for more than 1 hour.

---
212) Reduce Exe 1.3
Reduce Exe is an easy to use tool for correcting Windows Portable Executable files

---
213) Careful Backup 1.5
Careful Backup (tm) is the easiest way to backup your most important data to another folder or any type of removable media including floppy disk, ZIP, JAZ, MO, CDR/CDRW media and more.

---
214) IDAutomation Code 128 Font Advantage 5.1B
Our Code 128 Font Advantage Package is much more than a few barcode fonts. With this package you get 18 different font versions in 6 different font formats for Windows, Macintosh, UNIX and a variety of other operating systems.

---
215) Windows Registry Repair Pro 3.0
Registry Repair Pro scans the Windows registry for invalid or obsolete information in the registry. When you fix this information it will make your PC run faster and will make your PC error free.

---
216) WanSpy 1.6
Today's computer networks doesn't just confined to LAN, it is distributed over wide area across building, cities and countries through WAN Link. WAN link is still expensive and may be point of bottleneck many a times.

---
217) Remote task manager 1.4
remote process,shutdown,system information, send message , event log ,services

---
218) Active NTFS Reader for DOS 1.0.2
NTFS Reader is a data recovery tool that provides read access to NTFS drives from MS DOS environment. The FREEWARE utility allows you to preview files on NTFS and copy them from NTFS to FAT volumes or network drives.

---
219) WinASO Registry Optimizer 4.0.5
Speed-up your System. WinASO Registry Optimizer repairs Windows registry problems with a few mouse clicks. Scanning and clearing the history of the use of programs and applications in your system

---
220) Tracking Manager 2.2.5
Tracking Manager Program - Stores UPS, USPS, FedEx and Airborne Express tracking Numbers.

---
221) HiCalendar 2.0
See an animated noodle dance to the Macarena.

---
222) Diskeeper Home Edition 10.0
Diskeeper 10 Home Edition is the easy, most cost-effective way to keep your PC running like it did when it was new, without the need for slow, time-consuming manual defragmentation.

---
223) TotalPDFConverter 1.01
Total PDF Converter converts pdf to text, csv or images. The advantage of this utility is that Total PDF Converter converts a current pdf file, as well as a batch of pdf files at one time.

---
224) MemoryBoost Pro 2.5
MemoryBoost frees unused memory, making your computer run faster and more reliably. Windows lets closed programs stay in memory; that's why you have to reboot your computer to keep the performance up. MemoryBoost solves this problem.

---
225) APrintDirect 5.1.3.1
APrintDirect lets you to print or save a customizable listing of the contents for any folder on your computer. Set numerous filters specifying which files you would like included or excluded. The processing of subfolders is also one of many features.

---

226) Tempo 2.12
Once installed, Tempo starts automatically with Windows. To create a note double-click on Tempo icon in the taskbar. With "Type of note" you can define repetitive alarms notes. A sortable list of notes can be consulted, with access on each note.

---
227) Paragon Hard Disk Manager 8.5
Hard Disk Manager is easy, complete and reliable toolset for hard disk management: partitioning, disk imaging backup, boot management, data and system security, simple recovery. Convenient and clear interface, smart wizards. Now supports Vista!

---
228) Family Keylogger 4.0.1.5
Family Keylogger tool benefits you by monitoring all keyboard related secret activities of external users in your absence. Keystroke capturing software easily detects all chat records, typed URL, login, password, file operations in encrypted log file

---
229) Oracle SafetyNet 1.01
A free program that will allow small and medium shops running Oracle on Windows based servers to automate the regualr backup and export of data from their databases, enabling them to recover from problems with the database.

---
230) Hide Folders XP 2.9
This ground-breaking folder hiding and protection software allows you to protect all the private information on your hard drive once and for all! Only a person who knows the password will be able to reveal hidden folders! Download FREE trial now!

---
231) Registry Medic 3.0
If so, you need a professional registry cleaner and repair tool - Registry Medic is the answer!

---
232) HDC Pop 1.0
HDC Pop is a mails analyser for Windows. It retrieves, analyses, alerts, logs, displays all your mails from Pop mailboxes. There are many customisable options available.

---
233) DLOCK2 2.01
DLOCK2 is a simple command line file encryption/decryption utility program that uses the free Diamond 2 Encryption Algorithm. Full source code included. Version 2.01 is the same as the original DLOCK2, except recompiled for the Win32 command line.

---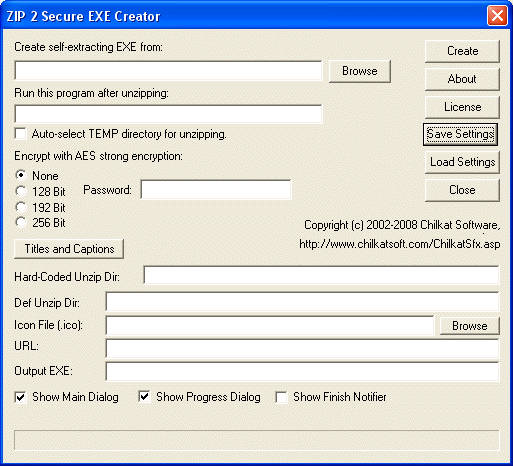 234) Chilkat Zip Self-Extractor 8.1.0
Create self-extracting ZIP files optionally with unbreakable AES encryption.

---
235) 12Ghosts Startup 8.11
Did you ever wonder why some programs are already running when Windows starts up? Now you can manage these programs easily. No matter from where the program is started. To remove any entry just select it in the list and hit DELETE.

---
236) FirmTools AlbumCreator Lite 3.4
AlbumCreator is a software to create fine albums from your digital photos using our occasional FLASH and HTML templates which are regularly updated. They are highly customizable and give you full control over the look-and-feel of your photo album.

---
237) rsEdit 2.3.2
rsEdit is a free replacement for the Windows Notepad editor that comes with all versions of Microsoft Windows. It supports multiple files, large files, syntax highlighting, search/replace, undo/redo, bookmarks, macros and much more.

---
238) WareHouse 1.0
Store registration info for software, hardware, or services, including serial numbers, software unlock codes, and product support contact information. Assign categories and subcategory to any record in the database, create custom views of the data.

---
239) ARPCache Viewer 1.01.01
ARPCache is a secret, undocumented section of the registry used to store information for Add/Remove Program items in the latest versions of Windows. This tool allows you to see what is in your ARPCache and lets you remove items from it.

---
240) Ezypage 2.5
Ezypage is the easiest way to design and develop a complex web page to how you like it, and to how you want it. No more learning complex HTML commands and using those other complex and expensive HTML editors that do not live up to the job.

---
241) Backer 6.5
Back up, synchronize, archive and transfer your directories and files by media like USB sticks, CDs and DVDs, network, another hard disk, cable, Internet, VPN, dial-up and leased lines. Backer keeps all your computers and disks up to date.

---
242) Heavyload 2.4.1
HeavyLoad is a benchmark tool that stresses all resources of a PC (like CPU, RAM, hard disk, operating system, etc.).

---

243) Adolix PDF Converter PRO 4.4
Adolix PDF Converter PRO is professional PDF writer software that will convert your file into a brand new PDF. Files can be protected with strong security and password. Now you can split and merge PDF files in Windows Vista.

---
244) EndTask Pro 3.1.39
Detect potential spyware by monitoring its behavior and block pop-up ads without losing any pop-up you want.

---
245) Thinstall Studio 1.94
Thinstall allows developers to securely pack an entire application suite into a single EXE file that is able to run directly without decompressing to disk. Software Developers can use Thinstall to protect and hide their data files from prying eyes.

---
246) ShutdownTray 1.3.2
ShutdownTray 1.3.2 allows quick and easy access to all of your system's power options (shutdown, restart, standby, log off, and more).

---
247) ESP 1.0
ESP literally puts every file you care about at your fingertips. Simply provide ESP with a list of directories (local or network drives) and then begin typing the name of what you want! As you type, ESP presents a list of files matching your query.

---
248) WinSplit 7.00
Are your files too big for a standard disk? Or does your eMail box restrict the size of an individual eMail? Then WinSplit is your tool of choice! It splits your files into chunks of the size you need and puts them back together again.

---
249) RamCleaner 7.0.4
Are you tired of crashes, slow applications that run out of resources every 5 minutes? RamCleaner makes it easier than ever before to free up unused RAM, prevent crashes and increase performance. It's as good as adding more RAM to your computer.

---
250) ProduKey 1.03
Displays the ProductID and the CD-Key of MS-Office, Windows, and SQL Server installed on your computer. You can view this information for your current running operating system, or for another operating system/computer - by using command-line options.

---


Browse Pages: [1] [2] [3] [4] 5 [6] [7] [8] [9] [10] [11] [12] [13] [14] [15] [16] [17] [18] [19] [20] [21] [22] [23] [24] [25] [26] [27] [28] [29] [30] [31] [32] [33] [34] [35] [36] [37] [38] [39] [40] [41] [42] [43] [44] [45] [46] [47] [48] [49] [50] [51] [52] [53] [54] [55] [56] [57]