File Management - System Utilities Programs from 1101 to 1150 listed after downloads number (from 2571 category titles)
Order programs after downloads or name or date (currently are listed after popularity)


1101) AB Safe Deletion 2.08
A small utility that allows you to delete securily any file with sensitive data. Once the file is deleted, he cannot be recover with any tool. You can erase one or more files or a directory with all the subdirectories and files contained.

---
1102)
Little RGB Color Picker 2.0
---

1103) GoodSync 3.4.4
GoodSync uses an innovative synchronization algorithm to synchronize your data between desktop PCs, laptops, USB drives and more. GoodSync combines bulletproof reliability with an extremely easy to use interface.

---
1104) OfficeRecovery Standard 2005.0628
OfficeRecovery Standard is a software suite for damaged Microsoft Office files. Components include data recovery tools for Word (.doc), Excel (.xls), PowerPoint (.ppt) and OneNote (.onr). All the tools are easy to use, no special skills required.

---

1105) DiskInternals Linux Reader 1.0
Quick and easy access to Ext2/Ext3 file systems from Windows? DiskInternals Linux Reader is all you need for this. A list of advantages includes a well-known Windows Explorer style, read-only mode, pictures preview, etc.

---
1106) PHOTORECOVERY for Digital Media 1.0
Compatible with SmartMedia, CompactFlash, MMC, Memory Stick, Microdrive, SD, xD Cards, PCMCIA, VideoCD, DVD, etc, PHOTORECOVERY® recovers images, documents, video, music or just about anything that can be written to digital media device.

---

1107) Kernel Recovery for SCO OpenServer 4.01
Kernel SCO OpenServer is a quick unix data recovery software, recovers lost data from HTFS & EAFS file system created using SCO Openserver operating system. Using QFSCI technology, It automatically recognizes lost volumes, files and folders.

---
1108) 3A PDF to Word Bch Converter 2.0
3A PDF to Word Batch Converter is the fast, affordable way to convert PDF document to the popular Word file format, Its easy-to-use interface allows you to create Word files from PDF documents by simply few clicks.

---
1109) SwiftCompare 1.2
SwiftCompare is one of the most powerful Compare and Merge utilities, both for Files and Folders, in one. Compare Files/Folders to analyze the important Differences between them, and Merge/Synchronize these Differences the way you like.

---

1110) Kernel Outlook Express - Email Recovery Software 4.0.2
Kernel for Outlook Express recover emails from deleted, damaged, corrupt mailbox files. It can successfully recovers mails from [Outlook Express 4.0 .MBX Files] and [Outlook Express 5.0 and Above .DBX Files].

---
1111) Rename All 1.0
You can rename all your files within a directory or select files from multiple directory and then rename all of them with a single click.

---
1112) Softick Blue Files 1.08
Launch Softick Blue Files, and your memory card will be accessible over Bluetooth wireless link! You will be able to manage files at your Palm Powered device from any desktop PC, using Bluetooth software shipped with your Bluetooth adapter or operati

---
1113) DimFil FuleUtil dos 1.0
Columns on panel - 2+2, 1+1, 2+1, 1+2 [!!!] Sort by name, ext, date and size [!!] Lists for folders [!!!] Two streams of copying and moving [!!!]

---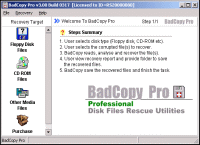 1114) BadCopy Pro v3.9 build 0712 3.9
BadCopy Pro is a leading data recovery tool for floppy disk, CD-ROM, CD-R/W and other storage media. It can effectively recover and rescue corrupted or lost data from damaged, unreadable or defective disks.

---
1115) SI Cataloguer 1.0
Stop wasting your time looking for files on CDs and DVDs! No need to insert the disks one by one to locate a single file. SI Cataloguer will automatically index your disks and remember their content for instant search.

---
1116) Unistal MS Outlook Recovery 12.0
MS Outlook Recovery Software is best Outlook PST Repair Software to repair corrupt pst files & recover outlook emails. MS Outlook Email Recovery Software to recover corrupt pst file with all email attachments from outlook 98/2000/2002/2003/2007.

---
1117) Unistal Word Recovery 11.01.05
Unistal Word Recovery Software is a Professional Word File Recovery Tool to fix & repair corrupt word documents. Word Recovery Software successfully repair corrupt word file of MS Word 97/2003/XP.

---
1118) PHP Content Rotator 1
PHP Content Rotator. Rotate any type of web page files at the lowest prices! PHP content rotators daily, by day of the year, by hours, minutes, seconds, and in order. A PHP random content rotator included also! Javascript Content Rotators as well.

---
1119) Advanced Process Controller Free Version 5.0.0.1
Advanced Process Controller Free Version allows you to view all processes currently running on your system and to manage them. You are able to kill selected processes in a snap, which can not be realized by the classic Task Manager.

---
1120) Original File Splitter 1.0
Your can use the Original File Splitter for breaking a file into segments to fit on multiple diskettes, CD, DVD or USB sticks. You can split a large file into smaller files so that they can be easily sent via e-mail. Any file type is supported.

---

1121) PST to VCF 4.0
Migrate Outlook Contacts PST File to VCF File using PST to VCF converter Tool. Export MS Outlook Contacts to Windows Address Book WAB file & MS Excel. It is one of the stop solution for conversion of Outlook Contacts to vCard, WAB, MS Excel file.

---
1122) Hard Disk Data Shredder 3.0.1.5
Hard drive cleanup tool erases unused clusters which are not currently linked with any file system. Data cleaning application permanently deletes history, confidential records, cookies, typed URL, internet files and auto fill from volume drive.

---
1123) DiskScout Home 2.0
DiskSCOUT is especially designed to track the historical development of your hard disk space usage from past to present

---
1124) DimichSoft Advanced File Tracer 1.5
With DimichSoft Advanced File Tracer you can make SnapShots of drives and Trace file system changes. Benefit of fast drive scan and quick image compare. Great comfortable user interface makes it even easier to use the program.

---
1125) E-Stack Room 3.75
E-Stack Room is an excellent assistant which is specifically designed to efficiently gather documentations, code, pictures from internet or your local directories, and integrate them into the ideal format that meet the highly personalized need.

---
1126) Control3 File Manager 5.1
Control3 is a comprehensive file management program for copying and moving files between drives and directories, for deleting, viewing, or editing files, executing programs, .ZIP file processing, and for quickly navigating complex directories.

---
1127) Urfin 1.1
Urfin helps you to find files in your local Windows network. It has all information about files located in shared directories on computers in your office. Using any browser users can access Urfin as a usual Web site.

---
1128) Duplicate Checker 3.0
Duplicate file finder and remover. Duplicate Checker is a powerful tool for finding duplicate images, photos, mp3 and any other file types. Using this utility you can organize files on your hard disk. Image preview, thumbnails bar, mp3 bar.

---
1129) RageWork 2.6
RageWork is a cross-platform file manager. It includes a Virtual Folders, FTP, FTPS, SFTP, Network Share client, a Multisource Search in Documents Content (MS WORD, PDF, ...) and much much more

---
1130) Text To PDF COM/SDK Unlimited License 2.2
Ap Text To PDF ( txt2pdf ) is a program to convert ASCII texts into PDF format with a minimum loss of formatting information. supports batch convert, encryption, page orientation, font setting , document info, bookmark and viewer preferences,etc.

---
1131) Undelete Server Edition 5.0
Undelete 5 Server Edition provides real-time data protection that allows files to be recovered instantly in the same state they were at the time they were deleted.

---
1132) RightTime 1.00
With RightTime you can make all files in a directory tree on hour older or younger. This is useful if a time difference has evolved on a drive, for example due to a DST change. File times may be important for file or e-mail synchronizations.

---
1133) Intelli-SMART 3.0
LC Technology International introduces the first real-time application available for the Microsoft Windows 95/98/Me/NT/2000/XP environments that will predict up 70% of disk failures before they happen based on the S.M.A.R.T. data provided by the manu

---
1134) HandyFileSearch 0.9.3
Easy to use feature rich file searching utility. Fast search, accurate results. Search using variety parameters: file name, file size, file time, file extension, etc. Search within ZIP archives, by EXIF fields or by ID3 tags. And much more!

---
1135) PDF Sorter 1.1.0.55
Organize your PDF documents in the same way as documents in your office. Prograce PDF Sorter will free you from routine work and put your documents in order. Free Trial.

---
1136) Quick Recovery for IncrediMail - A Data Recovery Software 12.01
Quick Recovery Incredimail is a do-it-yourself non-destructive Mail Recovery Software, supports Win 9x/ME/NT/2K/XP and Incredimail, FAT16, FAT32, NTFS, NTFS5 file systems, and recovers mail from your corrupt mailbox files from disk crash, and inaccessible disks.

---
1137) WhoHasNT 2.0
WhoHasNT allows the administrator or regular user to quickly check who is using a file/directory on an NT/2000/XP/2003 machine (server or workstation). The new version removes the need for elevated rights - Can be given to non privileged users.

---
1138) DFS Explorer 1.0
Explore DFS Namespaces with the explorer style GUI. Open any DFS namespaces in the entire Active Directory forest and bowse it's contents. Examine link parameters and share permissions. Open links in Explorer to view it contents.

---
1139) Tiff to PDF converter 1.0
Tiff to PDF Converter is a unique tool to convert several single and multi-page tiff files into single and multi-page PDF files. Tiff to PDF converter has easy to use interface to convert tiff files into PDF files hassle free.

---
1140) Find Files By Word or Phrase Within Software 7.0
Search for files on your computer and return only those that contain words or phrases that you specify. You have the option to match case and search in subfolders.

---
1141) Dr.Preventor 5.5.0
Dr. Preventor is an easy, fast and reliable tool to permanently erase deleted computer files. Hackers and identity thieves won?셳 be able to recover your confidential data if your computer or memory stick is stolen or resold.

---

1142) NoClone Home - Find Duplicate Files 4.0.46
NoClone - Find and Delete TRUE duplicate files by byte-to-byte comparison. Smart Marker helps to clean up hard drive.

---
1143) Search GT 1.0
Search GT is a replacement for Windows "File Search" - based on a new, extremely fast and light search engine. Completely integrated into the Windows Explorer, Search GT looks like the standard search tool, but is up to 100 times faster.

---
1144) O&O DiskStat Professional Edition 1
O&O DiskStat is a high-power tool for analyzing the used disk space on your storage volumes. With an easy-to-use interface, you can take a closer look at the file and folder structure of your internal and external drives.

---
1145) Sync Last Files Professional 2.0
Sync Last Files Professional designed for folders synchronization. This application can apply these filters to files: list of file masks, file age, maximum file size. Program can create backup copies of replacing and deleting files.

---
1146) Clone Remover - duplicate finder 2.4
Clone Remover is a convenient and simple file duplicate search program. It will find file duplicates on your hard drive and also on network drives.

---
1147) docNext 2007 FE - Free Edition 1.3
docNext > the simplest and safest way to encrypt, store, find and share your electronic documents.

---

1148)
Personal Document Manager 4.6
---
1149) Unistal Novell Data Recovery Software 11.06.07
Unistal Novell Data Recovery Software is a Novell file recovery tool to recover lost or deleted data from NWFS, Net386 File Systems of Novell Operating System. Unistal Novell Data Recovery recovers data from corrupt Novell hard drives.

---
1150) Stamp Pdf Server (server license) 1.00
Stamp Pdf Server will help you to stamp various PDF documents quickly and easily, does NOT require an Acrobat installation.

---


Browse Pages: [1] [2] [3] [4] [5] [6] [7] [8] [9] [10] [11] [12] [13] [14] [15] [16] [17] [18] [19] [20] [21] [22] 23 [24] [25] [26] [27] [28] [29] [30] [31] [32] [33] [34] [35] [36] [37] [38] [39] [40] [41] [42] [43] [44] [45] [46] [47] [48] [49] [50] [51] [52]