File Management - System Utilities Programs from 301 to 350 listed after downloads number (from 2571 category titles)
Order programs after downloads or name or date (currently are listed after popularity)


301) TrackerV3 4.00
Advanced File System Explorer: tabbed browsing, extended file find, file system reports, font/image/audio/video preview, icon extraction, browse-history, favorites, time-stamping, dir-print, multiple file rename. Uninstall removes it completely.

---

302) LFNit! 3.6
Backs up your long filenames so that you can still use old 16 bit utilities. After 16 bit software has compressed, backed up, copied, moved or tranferred your files, use LFNit! to restore the long filenames with the completely portable .BAT file!

---
303) NotesImp 1.5.2
NotesImp is handy and low resource consuming organizer with tree like hierarchical structure of notes and ability to protect your data using encryption algorithm.

---
304) HandyFile Find and Replace: Text Aid Kit 3.2.5
Search and replace text in as many files as you want. Save a lot of time that you spend daily for updating your files. Vast search attributes and regular expressions give you full control over processing text in all the desired files quickly.

---
305) Easy Remover 2004 Lite v3.0
Easy Remover 2004 Lite is a real easy-to-use software for Uninstall Applications, StartUp Manager, Task Manager and Privacy Manager.

---
306) Kernel Outlook Express - Mails Recovery Software 4.02
Kernel for Outlook Express recover emails from deleted, damaged, corrupt mailbox files. It can successfully recovers mails from [Outlook Express 4.0 .MBX Files] and [Outlook Express 5.0 and Above .DBX Files].

---
307) Mac Photo Recovery 3.6
Mac Photo Recovery recover lost or deleted photos, pictures and images from digital media, hard drive, memory cards, flash card and digital cameras.

---
308) BurstCopy 2.700
BurstCopy is a hard-drive accelerator that significantly increases file transfer speed. Reliable, through Retry and Skip functionality; versatile, through Pause/Resume options, transfer rate display, skinnable interfaces, and more.

---
309) Ap PDF Stamp 3.1
PDF Stamp is an advanced product that enables you to stamp content into a PDF document. Besides images, texts and graphics, PDF Stamp is able to add links and notes.support command line.

---
310) Active Folder 1.0
Add your most visited folders and files to Active Folder's list and get access to them directly on a right click in Explorer, Open/Save dialog, or simply on its systray icon. You can add new items easily, anytime, use alternative names and more.

---
311) Automation Commander 1.03
Configure repetitive and routine tasks once and then launch them either by scheduler or manually.

---
312) Swipe Pro 1.0
Swipe uses two scientifically proven methods designed by the US Defense Department and Defence Signals Directorate, as well as proprietary methods to securely overwrite and destroy information from hard drives. Also includes built in history eraser!

---
313) Media Manager 1.2.19
Take control of your Multimedia collection whether on Hard Drive, CD, DVD or any other format. If accessible to a PC then the program will automatically extract information on the file. E.g. EXIF picture data, MP3 tags & more. Import IMDB data tool.

---

314) Advanced Hash Calculator 2.33
Calculater hash with this handy software. Just drag and drop files in this calculator and hash string for the files will be immideately displayed. Supported cryptographic hash calculation algorithms include CRC32, GOST hash, MD2, MD4,MD5, SHA-1, SHA2

---
315) Changes Saver 2.0
Changes Saver is intended for saving the files modification history. At each file modification, its copy, that is its version, gets created. A user can view and use any previous file version at any moment. Access to versions through Explorer.

---

316) Quick File Renamer 2.0
Rename thousands of files at a time. Change the file names, file extensions, or both! Auto-increment file numbers! A must have for digital camera users!

---
317) R-Word Recovery 1.2
R-Word is Microsoft Word Document Recovery software that extracts text even from heavily damaged *.doc files. The recovered documents can be saved as Word *.doc or plain text *.txt files.

---
318) Image To PDF Command Line 3.3
Image To PDF can directly convert dozens of image formats, such as TIF, JPG, GIF, PNG, BMP, PSD, WMF, EMF, PDF, PCX, PIC and so on, into PDF format.

---
319) Catalog Max 1.66
Catalog Max is a tool to help you to create catalogs and reports for your floppy disks, hard drives, optical disks, CD-ROMs, or just a single folder.

---
320) UnZip Me 2.0
UnZip Me is a Free, simple to use utility for extracting and creating Zip files. Designed with the novice in mind, all one need do is locate the Zip or your files and UnZip Me does the rest.

---
321) FileTiger 1.32
FileTiger 1.32 Dual-Window Synchronizer and backup tool for 32-bit Windows(XP, Me, 98/SE, 2000). Emphasizes speed, by providing two folders side by side, for moving, copying, backing up, and getting organized. From Science Translations Software.

---
322) Advanced Explorer 2.6
Advanced explorer is: a file manager and archiver, a text editor, a text and image viewer, a webmaster assistant, a burner assistant. It is free and require Java 1.3 to run.

---
323) Final Folder Security(NEW)
Hide and Protect Your Files and Folders.Get your own personal data store on your computer.

---
324) SplitFile 1.2
Splits (chop) big file in smaller segments to be able to store them in floppy disks or CD (these are just examples). support huge files. highly configurable

---
325) Archiver 3.0.18
Archiver is an easy to use program with explorer-like interface which allows you to catalog the drives: floppy disks, hard drives (including network ones), optical disks, CD-ROMs, ZIP disks and other media.

---
326) File Deleter 1.12
File Deleter is an easy-to-use tool for delete files permanently. It can erase all data of deleted files physically without any chance to recover and protect your privacy effectively.

---
327) USB Info 1.01
It's Finally Here!!! USB Info - The Ultimate USB Software Utility and Tool for USB Devices. Now you can View, Browse, Explore and Performance Test your USB Devices including related devices such as USB Drives.

---
328) Stellar Phoenix FAT 9.1
Stellar Phoenix 9.0 Disk Recovery Software is a unique hard disk data recovery tool that helps you to recover data from FAT partitionafter data loss caused by hard disk crash.

---
329) ZipWorx Explorer Wizard 2.1
ZipWorx Explorer Wizard v2.1 is a Free Add-On with the purchase of ZipWorx Explorer registration, version 2.0 and upUsing this Wizard you can Zip/UnZIP Files with ease, plus free support and more great features

---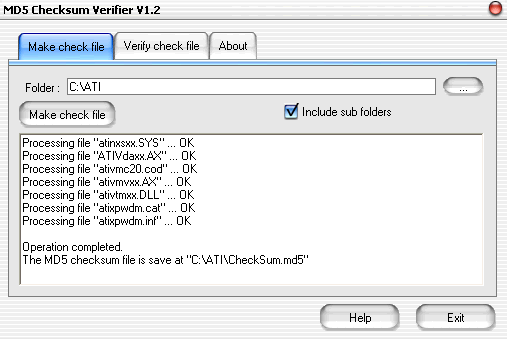 330) MD5 Checksum Verifier 3.2
MD5 Checksum Verifier is files integrity checker based on the time proven MD5 algorithms. With it you can easily create checksums of files and verify their integrity in the future.

---
331) StarWin
This software package combined with StarPort working as a client allows you to - share CD/DVD burners over the network and use your favorite CD/DVD burning applicationto burn CD/DVD remotely - share tape drives over the network and use your favorite tape backup application to backup to tape drive remotely - share hard disk drives over the network for fast storing large amounts of data (replication) at block-level rather then doing this at file-level - backup whole server storage subsystem over the network w/o putting machine down - work with the virtual volumes, dynamic volume snapshots, incremental backups - create extremely fast RAM disk drives for temporary data storing - mount standard ISO and MDS images into created Virtual DVD drives.

---
332) 3Dfm 1.0
3Dfm displays files and folders in an interactive, 3D display. You can rotate, pan and zoom the view, change folders, easily compare file and folder sizes, quickly search for files based on name, content, or size, view images, etc.

---
333) EOL Converter 1.0.0
EOL Converter is an utility to convert text file line endings to Windows/Dos(CRLF), Unix/Linux(LF) or Macintosh(CR) format. It is very useful for writing and reading text files in different OSes.

---

334) File Renamer Deluxe 2.4
If you need to rename multiple files, folders or set the tags of MP3, OGG, FLAC, APE files, this program will do the job quickly. Features include file mover, command line support, search music album online and right-click Windows shell extension.

---
335) AdScan32 1.3
AdScan32 is an advanced text search utility. Full text search can be combined with selective searches within user-defined data fields established around the regular structure of documents, if any. Extremely fast!

---
336) NoClone - Delete Duplicate Files 3.2
NoClone - Find and Delete TRUE duplicate files by byte-to-byte comparison. Smart Marker helps to clean up hard drive.

---
337) FileWorks 3.0
FileWorks XP is a well designed file manager and Windows Explorer replacement.

---
338) BadCopy Pro 3.60
BadCopy Pro is a floppy disk repair and cd data recovery tool to rescue corrupted or lost files from damaged floppy disk, CD-ROM/CD-R/CD-RW and any other local disks.

---
339) DiskState 3.11
Powerful duplicate file analyzer can help clean up e.g. MP3s, image files. Get rid of that space wasted from program crashes and normal use. Safe with recovery. Get reports, find changes to folders, address privacy records and more.

---
340) SizeMe 1.8.4
SizeMe makes it possible to scan a directory and compare it to how many floppy/zip/CD-R/DVD-discs you need. It tries to fill each disc up as much as possible. After that you can then drag the files/directories into your favorite burning software.

---
341) FolderJump 1.45
The Master Cluster's FolderJump is a simple and handy extension for the standard context menus of Windows Explorer and Open/Save Dialogs. With FolderJump, it is easy to change the current folder to another one picked from the predefined list.

---
342) DDFileCatcher 2.5006
Copy file infomation to the Clipboard and into Microsoft Word tables and Excel spreadsheets. Runs stand-alone or as an addin launched by Word or Excel. Gets files from multiple folders or searches in Windows Explorer.

---
343) MagiName 1.2 build52
A tool to rename photo file, rename photo, rename photos, batch photo rename, batch rename photo, digital camera software, rename digital photo files, digital photo software, file rename, rename digital camera photo files, photo album.

---
344) QuickWiper 7.6.3
QuickWiper is a disk and file wipe utility. With QuickWiper you can wipe free disk space and wipe sensitive files from you hard disk. QuickWiper provides quick and secure file wiping. You can use system cleaner to clear cache with one-click.

---
345) Block Attribute Modifier 2.0
With Block Attribute Modifier (BAM) you can easily automate the process of modifying block attribute values in AutoCAD drawing files. Use BAM to delete attributes, clear attribute values, replace attribute values, and find and replace attribute values. BAM runs very quickly and can process thousands of drawing files with the click of only one button!

---
346) Ap Text To PDF 2.2
Text To PDF ( txt2pdf ) is a program to convert ASCII texts into PDF format with a minimum loss of formatting information. support command line, batch convert, encryption, page orientation,font setting etc.

---

347) DupeTrasher 1.2
Here's the deal: you find the faster and more optimized duplicate file finder, and we will give you the DupeTrasher licence for free! DupeTrasher will help you to get rid of the duplicated files from your system, fast & easy.

---
348) Better File Attributes 1.3
Better File Attributes is Windows Explorer enhancement that allows file dates to be changed at will. It can manipulate entire file hierarchies.

---
349) PDF Text Converter 1.2.5
Pdf Text converter converts pdf files - text, text ->pdf, pdf ->word, views text in pdf files, and converts pdf files in batches. Scan pdf folders recursively .Text Columns ok. Encrypted pdf converted. Pdf information extracted . Page ranges used

---
350) Duplicate File Remover 2.2
Duplicate File Remover is a powerful tool to locate file duplicates on your computer (dedupe). It scans the computer and lists duplicate files based on Byte for Byte Comparison, which ensures 100% accuracy.

---


Browse Pages: [1] [2] [3] [4] [5] [6] 7 [8] [9] [10] [11] [12] [13] [14] [15] [16] [17] [18] [19] [20] [21] [22] [23] [24] [25] [26] [27] [28] [29] [30] [31] [32] [33] [34] [35] [36] [37] [38] [39] [40] [41] [42] [43] [44] [45] [46] [47] [48] [49] [50] [51] [52]