Website Promotion Tools - Web Development Programs from 1 to 50 listed after downloads number (from 144 category titles)
Order programs after downloads or name or date (currently are listed after popularity)


1) 1st PHP Banner Exchange Script 2.00
A Banner Exchange with advanced features such as statistics and realtime graphs, referral downline builder, a template system that makes it easy to personalise, integrated with Paypal and complete control with a simple yet powerful control panel.

---
2) AzDGDatingLite 2.1.4
Free dating script working on PHP and MySQL. Multilanguage, Multitemplate, 35 registration fields, 3 photos, quick/simple search, feedback with webmaster, Admin maillist, Photo of the day, who is online, statistics, and more...

---
3) Easy Submit Website 1.0
Simple and easy to use search engine submission software.

---
4) The Search Engine Submission 1.0
Search Engine Submission is the most efficient, powerful, and completely automated way to promote your website to over 700,000 Search Engines, Directories, Link Pages, Online Malls, Classified Sites! 100% Automated

---
5) Free CCIE 350-001 Practice Test Question 14.1
350-001 Practice Questions, 350-001 Practice Test , 350-001 Study Guide, 350-001 Braindumps.

---
6) 1st PHP Traffic Exchange Script 2.00
Offer a valuable traffic exchange service and build a busy community interested in web promotion. A WalkerSoftware Traffic Exchange Script is an advanced web based promotion tool that allows you to create a membership community quickly and easily.

---
7) TheDowser Professional 5.3.0
No longer do you need to mess around with several different keyword research tools or visit different websites for your keyword research. EVERYTHING you need to research keywords and manage your keyword lists and sub-lists is provided in TheDowser.

---
8) Aid Submission Genius 3.0
Submit your software to 400 software sites using new submission principle - an online submission robot, the most accurate auto-submission system. All you need to do is to fill one form or enter your PAD URL, all the rest will be done automatically.

---
9) Jumpstart-it Easy Online Forms Software 2.0
Create Online Forms for your Website and Process Registrations easily. Credit cards, Email, Word, Excel. Send emails and letters automatically. Book payments. Full integration with Word and Excel, CSV, XML. Jumpstart-it does the boring work -perfect!

---
10) Keyword Page Generator 2005.03.11 (13)
Generate search engine and visitor friendly keyword pages. Have as many keyword pages as you have keywords you want to target. Get just the visitors you want based on your targeted keywords. No longer be limited by just a few keywords.

---
11) BackLinks Master 1.0
Use BackLinks Master to find all the backlinking sites in a fast, easy way. You can check a link's anchor text, its status, if it's direct or indirect, and export all info in a CSV report for further analysis.

---
12) Metty Meta Tag Maker 1.31
Generates HTML meta tags, which can allow your web pages to be properly indexed by search engines.

---
13) Conde SEO Tool 7
Submit Your website to more than 1.2 Million Search Engines, Directories and Link pages Link Popularity Tracking Tool Keyword Builder - find and use the best keywords to drive traffic to your site Make sure your site is ready for search engine indexing

---
14) Directory Dominator 1.0
An easy to use directory submission software tool used to help build one way links to your website. Find niche categories within directories that accept fast website inclusions.

---
15) Replace and Rename 1.3
Replace and Rename allows you to perform both file renaming AND text replacing in one easy batch file from one "keyword" import file. The software works with files from directories and subdirectories.

---
16) Promoter 1.05
Search Engines Adder

---
17) M6.Net Link Checker 1.00
The M6.Net Link Checker is an extremely easy to use, free link checker tool that allows you to check other sites for your link or text. A highly useful and essential tool for webmasters to make sure that your reciprocal link is still up on a site th

---
18) RSS Planter 1.0.121
Submit rss feeds easily to quality RSS directories. Find niche news categories within RSS directories that accept fast RSS feed inclusions.

---
19) 007 Link Exchange Easy 2.21
Link Exchange Easy: Find, suggest, add and exchange cool reciprocal links to improve your web site link popularity and google page rank. Find cool links by keywords and backlinks by site. Find backlinks to all the top ranking sites by keywords.

---
20) M6.Net PR Quick Check 1.00
The M6.Net PR Quick Check is a extremely easy to use, free Page Rank checker tool that allows you to check the PR of a page or a web site and compare it with the previous PR of the same page. A very useful tool for webmasters.

---
21) Rank Gazer 2.2
Controlling your marketing investments is now easier than ever. Rank Gazer will help you to track the results of your SEO campaigns. The program retrieves your site position from search engines, etc.

---
22) Pixel Ads for Website 1.0.3
Pixel Ads For Website provides Pixel Advertising Solutions to help our clients promote thier web sites. pixels ads will be visible for at least 5 years.

---
23) Site Statistics 2.1
Site Statistics is a professional Web analytics solution for analyzing Web resource activity. The program comprises best features of both a counter and a log analyzer and provides a set of additional tools for Web site optimization

---
24) Blog Planter 1.0
An easy to use blog submission software tool used to help distribute your blogs to blog directories. Find niche blog categories within blog directories that accept fast blog inclusions.

---
25) Article Distributor 1.1.2
Article Distributor helps authors quickly distribute articles to article directories so they can get more traffic.

---
26) 007 Web Optimization Angel 3.1
Web Optimization Angel 3.1: Top search engine ranking optimization tool for single keyword, two words phrase and three words phrase. Help you improve website search engine ranking, leaves competitors behind, brings more visitors and more sales.

---
27) Pixel Advertising for Homepage 2.0
Pixel Advertising for Homepage provides pixel advertising solutions to help our clients promote thier web sites and drives traffic to websites.Your pixel advertising will be published on our homepage for at least 5 years.

---
28) Keyword Ranker 1.1
Get more money making traffic from Google by tracking your keyword ranking. Simple Excel spreadsheet lets you generate reports and make notes. Easy to use search engine optimization software.

---
29) Maj Cash 5.3
Maj Cash is the documented works of billionare Maj Chen, who made his fortune on the world wide web.

---
30) Maximum Traffic 2.2.2171
Maximum Traffic is used to generate content-heavy pages that can be used to drive a lot of traffic to some websites. With a simplistic interface for ease of navigation new and experienced webmasters find this software both easy to use and powerful.

---

31) Link Checkup 1.3
Having trouble keeping track of your advertising and reciprocal links? Link CheckUp makes it easy! You can monitor Web sites that you have exchanged links with, or purchased links from, to make sure that the sites are still linking back to your site.

---
32) Fake Referrals 2.1.0
Why do you need Fake Referrals? Have you ever seen sites with 'last 10 referrers' area? Just go to Yahoo! and input this query string 'link:http://cialis-online-buy.surf.to'. Just withit any of those results. You will see referrer window there.

---
33) Meta Tag Promoter 1.1
Meta Tag Promoter is a professional and handy tool for building and editing Meta tags. Meta tags play an important part in determining your Web site ranking. Get help in Meta tags management using this program and improve you Web site`s position

---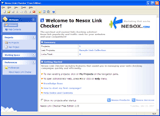 34) Nesox Link Checker Free Edition 2.0
Nesox Link Checker is a professional bulk web link validator, pagerank, link popularity and website traffic rank checker.

---
35) Internet Cash 5.3
Internet Cash is a program that makes the fundamentals of the internet convert into money in your pocket.

---
36) AllSubmitter 1
AllSubmitter - professional directory submission software.#1 Directory Submission Software.All Submitter is the most complete directory submission software package on the planet; plus, our SEO software offers more for free than any other software

---
37) QuidProQuo 1.04
Multithreaded QuidProQuo quickly scans through your site to locate your link partners and spiders through your link partners sites to verify reciprocal links back to you.

---
38) Cyberfetch Website Submitter 1.1.12
Cyberfetch Website Submitter is one of the easiest Web promotion tools to use on the market by filling in three simple forms. Fully automated. Easily submit multiple Web sites to thousands of places all over the Internet.

---
39) 1st PHP Text Exchange Script 2.00
A Text Exchange with advanced features such as statistics and realtime graphs, adsense styles, a template system that makes it easy to personalise, integrated with Paypal and with a simple yet powerful control panel.

---
40) #1 Web Position 3.5 Platinum Build 553
WebPosition 3.5 Platinum is a breakthrough in search engine optimization. Offering the complete SEO process, from keyword research to page design and optimization to conversion and revenue tracking.

---
41) SiteByter Pro 1.2
SiteByter Pro is an intelligent search engine optimization program and top ranking web site creator. It helps you automatically find and manage popular keywords and create optimized sites using custom templates.

---
42) Global Positioning Submitter 2.01
Global Positioning Submitter is a country specific foreign search engine submission software package. Developed to target search engines in a specific country, thereby facilitating the promotion of web sites.

---
43) Netxpression Webinar Builder 3.7.5
Build Your Own Web Presentations in just minutes with NetXpression. Create powerful marketing presentations, train employees or develop e-learning systems all with one easy to use solution. Netxpression.

---
44) Restauration 2.5.14
Restauration portable is a powerful toll to undelete files that were removed from any storage device, usb-Stick, iPod, Flash card or hard disks (recycle bin or directly deleted from within Windows)

---
45) Search Engine Commando 3.1
Build Traffic! SUBMIT your pages and KNOW where they rank in 400 of the world's top search engines. PROTECT your domain names with the new Domain Name Monitor. Search Engine Commando's proven technology will increase traffic to your web site.

---
46) SiteByter 1.0
SiteByter is an intelligent search engine optimization program and top ranking web site creator. It helps you automatically find and manage popular keywords and create optimized page content using your and the information from the Internet.

---
47) NabStuff Extractor 1.00
NabStuff Extractor Extract is not limited to web searches like ordinary spiders. Search for email, urls and phone numbers from files, folders or the web using a powerful spider. Use a filter to focus your searches and limit the depth of your search.

---
48) Log Analyzer 1.1
Log Analyzer is a professional log file analysis and spider visits tracking tool. The program analyzes Web server log files and presents your Web site usage statistics in comprehensive graphs and tables

---
49) Traffic Tsunami 1
Get more traffic, get more back links and a higher search engine rank with this easy to install script. The viral component can multiply your traffic and sales by placing your ad on tens of thousands of web sites. Watch your traffic multiply overnite

---
50) Advanced Link Manager 2.1
Advanced Link Manager is a tool that helps manage your web site incoming links.

---


Browse Pages: 1 [2] [3]