Applications - Business & Finance Programs from 451 to 500 listed after downloads number (from 1694 category titles)
Order programs after downloads or name or date (currently are listed after popularity)


451) Visual Asset Manager 2004
Do you know what you own? Do you know where it is? Do you know what it''s costing you? We recognize that every company has its own approach to asset management and have developed Visual Asset Manager with an architecture that can be easily customized.

---
452) VueChat Enterprise Server 1.3
VueChat is a Customer Service software for the Government and Corporations, web based, featured with live video chat, VoIP and Customer Relationship Management (CRM) functions.

---
453) Web TimeSheet 3.2.1
Web-based tool for timesheet automation, billing automation, expense management, employee attendance automation, project management and task management. Free downloadable and hosted (ASP) version.

---
454) MiniOffice 5.2.21
Quante volte ti e' capitato di cercare un CAP, oppure di dover calcolare un codice fiscale, o avevi bisogno di un prefisso telefonico?

---
455) CSC Date Calculator 2.1
CSC Date Calculator counts the days before, after and between selected dates. Professional precision and super speed. Avoid the angst of counting and recounting days on your desk calendar and spend the time you save with your newspaper instead.

---
456) Invoice 5.05
Easy to setup, and easy to learn program with powerful features.

---
457) Visual Vendor 1
If you have an Internet-based business, Visual Vendor will help you make more money. It shows all of your important information at a glance: sales, marketing, web visitors, downloads and more. It's like a microscope aimed at your business.

---
458) DEKSI HelpDesk 2.1
DEKSI HelpDesk is a powerful and feature rich web based help desk and customer support system that provides organizations with a helpdesk, inclusive discussion forum, and the research capabilities of web surveys.

---
459) Price Changer 1
Simple and easy to use price changing tool for Amazon book sellers. If you need an easy to use tool to help you keep your book prices at Amazon competitive, this tool is for you.

---
460) ! - Free Multi Clipboard by M8 Software 6.00
M8 Freeclips is the simplest of all multi-clipboard programs. Just have it running minimized and it captures everything you cut or copy from other programs. It keeps the last 30 clips. When you want to paste one back, all you have to do is restore M8

---
461) QuickStore 2005 Standard Edition
QuickStore 2005 SE is complete Inventory Control, Accounting, Customer control, and Point of Sale Software.

---
462) XL Report Builder 2.1.0
The Program XL Report Builder is a powerful and flexible tool for creating reports of any level of difficulty in the form of the Microsoft Excel Book.

---
463) Adoc2PDF 1.0
Adoc2PDF use native Microsoft Word engine to convert DOC to PDF (Portable Document Format) and also provide a versatile PDF editor with merge, insert pages, extract pages/images, rotation, and watermark functions. Users can easily convert multiple do

---
464) Bill Maker 1.0
Create Bills, Invoices. Manage Customers, Suppliers Manage Inventory(Product quantity, sale etc) Design Your own Bill format(Draw your bills) Set of reports(Daily, Monthly, Customer, Supplier) Scheduler Phonebook.

---

465) Personal Archive Creator 4.0
This catalog software gives you the ability to build product catalogs on a CD-ROM, Web, print, or PDF. Using pictures, descriptions, and prices for each product in your catalog. Plus an automatic shopping cart and order form printing.

---
466) GoldScrap 1.0
By using the GoldScrap software you will be able to analyze your precious metal scrap selling/purchasing/commitment/melting operations. The program maintains a customer database and saves all purchasing/selling transactions you carry out with them.

---
467) VersaERS Employee Rostering System 2.1.2
versaERS is a flexible and easy to use, but powerful, Web Based Browser delivered Employee Rostering solution. versaERS has no limits on the number of rosters, locations or staff you can record in the system.

---
468) Barcode Reporting with PEERNET Reports 2.0
PEERNET's barcode, reporting and labeling solution plays a pivotal role in ERP, quotation, ticketing, warehousing, shipping, stores, manufacturing, identification, banking, postal systems or any other system where bar codes are critical to success.

---

469) Abacre Paperless Office 1.0
Scan documents, drag-n-drop scanned images in Abacre Paperless Office and create paperless office files. It introduces new portable file format: APO. Share documents with colleagues by email or via web site. Search and print files when it's needed.

---
470) Prime Option 2.2.1
Prime Option is used to measure what is important and to select the best option. It can be used to choose products, software, development options, shares, funds, staff, features and design points.

---
471) Dynasoft Cybercafe SurfShop Free 2.00
Why pay for your cybercafe programme? Cybercafe SurfShop Free is the world s first real cybercafe freeware offering an intuitive interface and powerful security, centralised management and reporting features.

---
472) BrainStorm 3.5.2
BrainStorm enables high-speed thinking, planning and organizing. You can capture, store, modify and rearrange ideas and other info in a free-form tree-like and hyperlinked model. Publish and email these 3D models as HTML or export as text outline.

---
473) HighControl PRO 1.09
HighControl PRO is full life cycle system, to manage your Stock Control, create your Sales Orders and Invoices and organise your sales contacts, aimed at Wholesale/retail distribution and Mail Order business models with numerous business features.

---
474) MyCheckPro 2.0.87
MyCheckPro is a check payment system for Microsoft Windows. Using MyCheckPro, you can print a substitute of your customer's check using an inkjet or laser printer. This substitute check can be deposited in your local bank!

---
475) SLInvest 1.3
SLInvest is used to evaluate the financial efficiency of investment projects. SLInvest allows you to calculate main financial indicators of investment projects, which makes it possible to choose the most optimal and profitable investment

---
476) MPSBarcode 3.90
Simple and easy to use program. Print barcodes in Bookland, Codabar, Code128, Code39, Code93, Code11, EAN-13, EAN-8, Industrial 2of5, Interleaved 2of5, MSI, UPC-A and UPC-E formats.

---
477) EMS IB/FB Manager Lite 3.9
EMS InterBase/FireBird Manager Lite is an excellent freeware tool for InterBase and FireBird administration. It has minimal required set of instruments for those users who are new to InterBase server and needs only its basic functionality.

---
478) AnyOrder Pro II: Mail Order Business Kit 9.41
AnyOrder Professional II is designed for small mail or phone order businesses. Simple and easy to use, it prepares invoices, does billings, tracks inventory, generates sales reports, handles returns & back-orders, plus much more. (32-bit)

---
479) Evidence 6.21.16
Whether your `Evidence Room' is just a small secured closet or a large, dedicated building, you need to have an accurate inventory of items in a manner that survives a determined court challenge.

---
480) Fax UserControl for WinFax/TalkWorks 1.5
Fax UserControl allows you to select from an unlimited amount of user (or company) names and switch names instantly! If you have several users (or businesses) on one PC sending faxes, you would need to constantly change the sender name in the Setup.

---
481) ScanOrientator 1.0.1
ScanOrientator automatically levels roughly scanned documents. ScanOrientator speeds up leveling roughly scanned documents considerably. Forget about image editors - ScanOrientator will do all for you.

---
482) Employee Project Clock 6.00
Employee Project Clock is a employee time recording system. Employee Project Clock is an ideal solution for companies that must keep track of several employees' project time on one or more workstations.

---
483) SoS 1.311
Calculates speed of sound against temperature, both Centigrade and Fahrenheit. The programme can be used to convert between Centigrade and Fahrenheit.

---
484) Bid-n-Invoice Office Cleaning 2.2
Bid-n-Invoice Office Cleaning is an Estimate and Invoice program for the Office Cleaning professional. No expensive forms to buy just use blank computer paper. This software program allows you to print estimates, Invoices, Work Orders, Credit/Refund

---
485) Appointment Book 2.3.1
We are the global leader in providing scheduling software to individuals, small, medium and large organisations.

---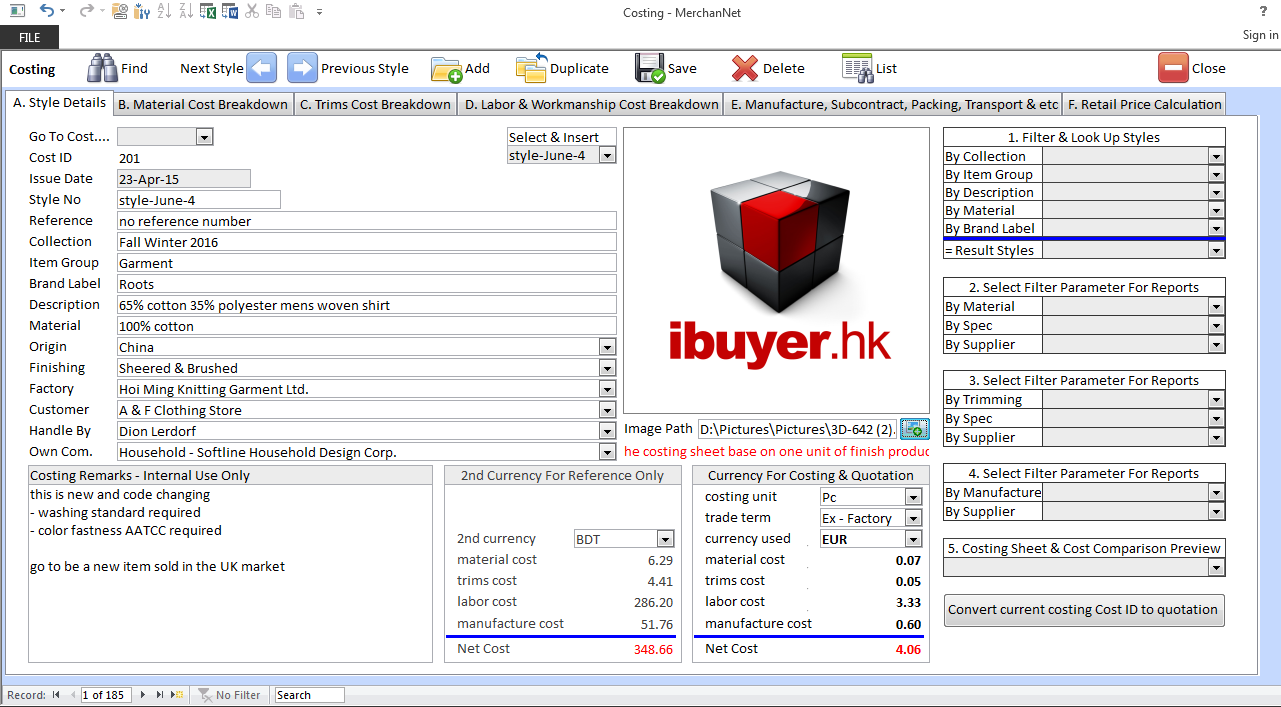 486) CostingNet 2.88
CostingNet is used to create a detail product costing sheet. Best for factory or manufacturer in industry like garment, home textiles, giftware, household product, footwear, bags, luggage. It generates costing sheet, BOM, quotation, costing history.

---
487) PDF2Text 1.08
convert your PDF documents into plain text ascii files

---
488) TBS Easy Fixed Assets 5.50
TBS Easy Fixed Assets will keep track of fixed assets, by location or asset no., calculate monthly depreciation amounts, prints reports. You can enter up to 4 user defined fields to store custom information, plus there is a extensive note field.

---
489) Scrape to Folder SStoFolder.exe
Document Scanning Software that automatically creates file folders and file names based on database information displayed on the screen. Ideal for Accounting Departments where file becomes Vendor Name and Invoice Number. Includes retrival.

---
490) LogAnalytics Premium 2.0
LogAnalytics automatically accumulates the necessary data simultaneously from several polytypic log sources, realizes user-defined statistical treatment and presents results in a set of rotatable 3D graphs through a WEB-based interface.

---
491) PDF Page Numberer Batch 3.03
PDF Page Numberer Batch is a Acrobat plug-in tool for Acrobat Which is used to automatically page number your documents, batch version includes support for numbering many pdf files with a few mouse clicks

---
492) GOFLOW 3.4
GOFLOW is a .net application that allows anyone to automate - from simple tasks on your PC, to a whole business workflow - just by drawing diagrams. Automate those boring computer tasks you do every day.

---
493) ProKon 10.0q
ProKon is a calculator unlike any you've seen before. It features unit conversions of over 400,000 units, a pop-up scientific/financial/geometry calculator with tape, as well as many calculation modules covering a wide variety of topics.

---

494) Zipkey 6.04E
If you type US addresses into any Windows program, ZIPKEY will speed your job and improve your accuracy. You type the zipcode, and ZIPKEY types out the city, state, etc. for you Instantly look up telephone area codes and time zones as well.

---
495) Defect Tracker 4
Deliver software solutions to specification, on time and on budget with this powerful change management / configuration management / help desk solution. Tracks functional specifications / test cases / bugs and issues via the web.

---
496) Cornolius Professional Database 1.0.300
As a database program, this new solution operates on a new dimension of simplicity. With its intuitive and easy-to-use interface, Cornolius Pro is a walk in a park when compared to other database applications.

---
497) Zip Code It! 1.2.0
Zip Code It! Offeres almost every zip code in the united states. Search by City, State, Area Code, or County. Also do a reverse search on a zip code to find out what city, state and county that zip code is located

---
498) PDF Studio 5.11
PDF Studio is a standalone application to work with pdf files: scan, annotate, fill forms, assemble (split & merge), update passwords & permissions, highlight text, and more... PDF Studio does not require any other software to run.

---
499) A to Z Project Billing 1.4.2
A to Z Project Billing tracks your time and expenses by Project and is used to invoice your clients. Many views are available to manage your business.

---
500) Cyclope Employee Surveilance Solution 2.0
Cyclope is an advanced employee surveillance software which provides you information regarding your IT infrastructure usage and your employees computer related activities by allowing you to monitor any targeted machine within your company's network.

---


Browse Pages: [1] [2] [3] [4] [5] [6] [7] [8] [9] 10 [11] [12] [13] [14] [15] [16] [17] [18] [19] [20] [21] [22] [23] [24] [25] [26] [27] [28] [29] [30] [31] [32] [33] [34]