Applications - Business & Finance Programs from 601 to 650 listed after downloads number (from 1694 category titles)
Order programs after downloads or name or date (currently are listed after popularity)


601) Excel-to-HTML Converter 2.0
Excel-to-HTML Converter is a batch html converter that convert word documents to html. It is the fast, affordable way to convert a lot of Excel doc files to popular HTML format in once.

---
602) Human Calculator 2.17
Compact and helpful calculator for windows. General features: 1) 40 built-in functions 2) Syntax highlight of math expressions 3) Clipboard smart functionality 4) Four numerical systems for entering and printing numbers

---
603) SPR POS (Super Packed Restaurant POS System) 3.01
A feature rich and affordable restaurant, bar & delivery point-of-sale (POS) software product capable of handling your front and back operational functions. Doesn't require much training from your staff. Includes payroll, inventory management, etc...

---
604) IQub Browser Analysis Server 2.1
Advance your company's Business Intelligence with IQub Browser.

---
605) Snappy Fax 2000 3.36.1.4
Send and Receive faxes from your computer. Use your scanner to scan documents and then fax to any fax machine. Also supports sending faxes via the internet. Fax forwarding, fax filtering and much more.

---

606) LIbro di cassa 3.3
Software per la gestione delle entrate e delle uscite da scaricare subito.

---
607) A3D JMapping 1.0
A3D JMapping applet allows to integrate extended GIS features such as map browsing, address searching and trip calculations into your web site. It is Java based application and it doesn't require any downloads or installations on the user's computer.

---
608) IntelliRoster Professional 2.0
Enterprise-class employee scheduling & deployment software for the desktop. IntelliRoster will deliver your deployment strategy throughout the whole organization, and is all you need to design, create and share succesful scheduling.

---
609) Excel Templates For Net Present Value and IRR Software 1.0
Investment NPV, IRR, ROI calculations Excel templates

---
610) Asgard Employee Scheduling 5.1
Asgard Systems staff and employee scheduling software manages shift schedules, time off, attendance, absence and vacations. It tracks, analyses and automates schedule maintenance. Costly errors are reduced and adjustments are easily made.

---
611) Pro Plan Business Plan Creator 1.0
Create a business plan that will help you start a business or expand one. Our software will guide you step by step to build a business plan that will help you succeed. Successful businesses always start with good business plans.

---

612) Print Studio Label Maker 2E
Print Studio Label Maker provides over 2500 label templates. Print Studio Label Maker enbales adding barcodes to labels, mail merging with virtually any database via ODBC, OLE DB. Print Studio Label Maker can print to laser, thermal, dot-matrix.

---
613) CeBuSoft Accounting System 1.01
CeBuSoft Accounting Information System - Accounts Payable, Accounts Receivable, Inventory System and Bank Reconciliation. For more information please visit http://www.cebusoft.com or email info@cebusoft.com

---
614) TrendMedium add-on for MetaStock 2.50
TrendMedium is a trading system for stocks and Forex which works as an add-on for Equis MetaStock. The system is based on revolutionary genetic algorithm to create "open ephemeral models" that describes the current stock movements and performances.

---
615) A Complete Pay-per-Click Marketing Guide 1.0
The ebook is the most complete guide to pay-per-click advertising. Learn how to create efficient campaigns, decrease your marketing costs and increase your sales and revenue. Ideal for both professional and amateur marketers.

---
616) PrecisionID OCR-A and OCR-B Fonts 3.0
The PrecisionID OCR Font Package contains two OCR fonts, OCR-A and OCR-B in TrueType and PostScript format. Both are ISO and ANSI size 1, 10CPI. These fonts also support OCR A1 and OCR B1 for Eurobanking.

---
617) Maintenance Parts Bin 8.0
Maintenance Parts Bin is a comprehensive software inventory management tool. You can maintain your inventory as well as databases in the most cost effective and suitable way.

---
618) LBE Web Helpdesk 4.0.118
Help Desk software designed to be operated via your web browser. Use it on the Internet, an Intranet or even run it locally on a stand-alone machine.Features:Operator and end-user access. Automatic escalation. Email notification. etc

---
619) Working Time Monitor 6.1.1
Working Time Regulations 1998 must NOW be considered within any business. Monitoring and keeping various staff records can be complicated, but not with our software.

---
620) Hardware Inspector 4.3
Hardware Inspector is the program for computer hardware and software inventory. Hardware and software maintenance. Computer audit. Inventory of network connections. Detailed asset history. A huge variety of customizable reports. Access permission.

---
621) Wordware Personal Information Manager for Word 2002
A complete solution for quick and easy access to contacts in Word. It's people management made simple! Finally, a Personal Information Manager (PIM) comes to Word for Windows! Have your own address book and telephone directory at your fingertips.

---
622) VITicker 1.0
World stocks ticker with diagrams and lists for NYSE, NASDAQ etc and possibility to open a lot of quotes and lists together. Friendly and simple user interface.

---
623) Credit Card Verifier 1.0
Credit Card Verifier allows you instantly check all major credit cards number for validity without submitting the card number online. Credit Card Verifier can validate any VISA, MasterCard, Diners Club, Carte Blanche, EnRoute, American Express (AMEX)

---
624) StatPlus 2006 3.8.0
StatPlus 2006 is a powerful and flexible software solution that processes data to perform statistical analysis. Big discounts are available in October.

---
625) InfoCaptor 3.2
InfoCaptor is an ad-hoc dashboard, reporting and documentation tool. Extracting information from your database into Excel, CSV, PDF,HTML - Connects to any database (JDBC, ODBC) - Dashboard Prototyping, schema Documentation, Nested Loop SQL

---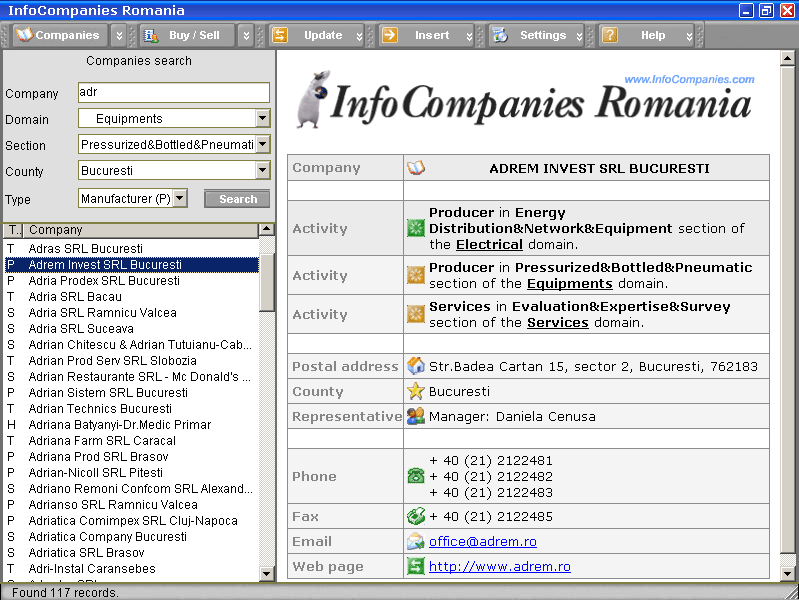 626) InfoCompanies Romania 1.0
InfoCompanies Romania - the offline Romanian Yellow Pages software provide 100.000 major companies contact details and daily updated Romanian business opportunities. No spyware. Easy to use. Free daily updates. English/Romanian language available.

---
627) RoomSpace Planner 2.0
The RoomSpace Planner does exactly what it is said - it helps you to plan your room, and decides how to arrange all of your things to make best use of the space you've got.

---
628) Express Dial Telephone Dialer 1.11
Express Dial is a phone dialer for Windows computers with a voice modem and headset. It can be used to automate the dialing of a list of numbers (as a predictive dialer) or to call single numbers when required using only your PC, modem and headset.

---
629) TM Desktop Utilities Pack 1.00
TM Desktop Utilities Pack. Includes 3 freeware utilities: Desktop Metric Conversion Calculator, Desktop Loan Repayment Calculator, Desktop Credit Card Validator

---
630) Job Social 1.0
FREE Web-enabled Job Finder and employment recruiting software for new candidates. Search jobs, post jobs world wide and network through chat and messaging.

---
631) Online Store Kit 3.0 Standard 3.0
If organized with Online Store Kit 3.0 Standard, your e-store will include all the basic features plus advanced functionality, enabling a powerful and profit-generating virtual shop

---
632) Canadian Postal Code Database (Premium Edition) May.2008
Canadian postal codes database one month subscription service. The database includes Postal code, city name, province name, phone area code, timezone, latitude and longitude in Canada. The complete database contains over 760,000 precise records.

---
633) GSA JobFinder 2.28
The GSA Job Finder is a program designed to search and parse job tendering (so called job auctions) of new jobs for your business (freelancer). It will save you a lot of time and money. Unfortunatly it's only available for german job tendering sites.

---
634) Astrobasis Data Processor 1.0.5
Astrobasis Data Processor is astrological software for database processing.The program is intended for preparation of data for statistical processing.The program can process databases in Microsoft Access and Microsoft Excel file formats.

---

635) TabView Organizer 1.02.0130
Tabbed Switch between customized search Filters and Views in any Microsoft Outlook Folders. The software provides an easy search of your Outlook data through sorting and filtering with one click on the tab. TabView Organizer - time saving tool.

---
636) AlcoVol 1.1
A fluid volumes conversion and display utility. Lifelike flask graphic with adjustable scales, shows conversions. Drag the fluid, and the conversion values scroll with the movement. Features the most complete database of alcohol volume units.

---
637) Kool Swimming Pool Tool 1.0
Kool Swimming Pool Tool is a simple software which helps you plan your software with various types of calculations. The key Calculators are Pool Size and Equipment Calculator Calculating your pool capacity Pool Liner Cost Calculator

---
638) Miraplacid Text Driver 5.4
Miraplacid Text Driver extracts text from documents. Format text output as plain or formatted text, preview and save to a file, copy to Clipboard, upload to a server or email. Use it for importing text from unsupported document formats

---
639) JD Punch Clock 2.63
JD Punch Clock IS Your Complete Employee Time/Punch Clock solution easily manages all employee punches, while saving you time by automatically calculating their time for you. No longer will you spend hours manually processing time cards.

---
640) AskLiving Helper v1.0
Provides highly targeted resources about life & living. Most related articles, websites, free download and spot topics are in this one-stop portal.

---

641) Retail Plus Point Of Sale Software 2.0
Easy to use POS software for small businesses. Full POS functions plus client database, inventory control, invoicing and purchase orders in an easy to use package. Comes preloaded with sample data so you can try it without a long setup.

---
642) Plexis POS 2.8
Point of Sale Software for Retail, Grocery, Convenience Stores, Liquor, QSR Restaurant, Bars, Coffee Shops, Pizza and Delivery. Touch Screen, Mouse or Keyboard. Caller ID Ready. Easy to install and use. Free Trial Offer.

---
643) TCConverter Thermocouple Temp-Emf Converter 1.1.0
A free temperature to emf and emf to temperature converter tool for all thermocouple types. TCConverter does not use the approximate inverse functions to convert emfs to temps. Its unique converting routine ensures accuracy of 10e-12 both directions.

---
644) Pastor's Study
The Pastor's Study is a productivity tool to help a pastor organize his daily tasks.

---
645) Online Metric Conversion Calculator 1.00
Online Metric Conversion Calculations using only your web browser without any additional software. Works in any web browser like Internet Explorer, Mozilla Firefox etc.

---
646) Flipper CAD Control 3.021
Flipper CAD Control is an easy way to add dramatic two-dimensional graphics and flowcharting to applications. You'll have unique ways to organize, present and show off complex information in an appealing format.

---
647) AptiQuiz 1.42c
AptiQuiz is a test making, test taking, and test grading application that lets you easily generate, update and administer secure tests and track test results. Tests can be printed or issued right on the computer. Give AptiQuiz a try today!

---
648) Invoice! 2002 3.2
Invoice! 2002 is an easy-to-learn system for creating invoices and producing reports. The intuitive interface lets you complete forms to build invoices, calling on databases of customers and products that are similarly easy to update and maintain.

---
649) Simple TimeClock Single Edition 2.04
An easy and inexpensive way to track employee hours on your personal computer. The Simple TimeClock programs records and reports the attendance of your employees without the need of expensive specialized hardware.

---
650) Swiftpro CVPlus Visual Recruitment Software 2.1.8
CVPlus Visual is a recruitment software package for handling all aspects of a recruitment agencies' front office. Helps organizes the complete recruitment process, from entering a job to candidate matching to interview, offer and placement.

---


Browse Pages: [1] [2] [3] [4] [5] [6] [7] [8] [9] [10] [11] [12] 13 [14] [15] [16] [17] [18] [19] [20] [21] [22] [23] [24] [25] [26] [27] [28] [29] [30] [31] [32] [33] [34]