Word Processing - Business & Finance Programs from 201 to 250 listed after downloads number (from 453 category titles)
Order programs after downloads or name or date (currently are listed after popularity)


201) M8 Free Clipboard 7.00
M8 is the simplest of all multi-clipboard and screenshot programs. It captures all screen shots and everything you cut or copy from other programs. It keeps the last 30 clips. When you want to paste one back, restore M8 and click on the clip you want

---
202) CoolPDF 2.0.1.737
CoolPDF is a fast, robust and affordable way to create professional quality PDF documents for both novice and pro. CoolPDF works as a printer driver on all operating systems, making PDF files of anything that can normally be printed, convert to PDF.

---
203) Simply Journal 1.1
Easily search, print, date & time stamp, password protect, & even browse entries. Keep them personal by using richly styled text or by using different colors to reflect your mood when you made an entry. Create multiple books for different subjects.

---
204) CZ-Doc2htm 3.0
CZ-Doc2Htm is a batch html converter that convert doc to html, rtf to html and text to html, you can convert a lot of documents supported by microsoft office word(text, rtf, doc and more) to html once time, saving your time!

---
205) Miraplacid Form Professional 2.3.1
Miraplacid Form will help you to scan and fill paper form. You can type text exactly where you need it. You can merge a form with data exported from database or spreadsheet and print it all. You can save data you entered or changed. Export to PDF.

---
206) PasswordSafe 1.00
Password Manager for Nokia Communicator. Freeware utility. Requires OPL to run. Simple and easy to use.

---
207) Pdf Split Merge Pages 1.60
Pdf Split Merge Pages can split pdf files, merges pdf file, extracts pdf pages and extract images from encrypted pdf files. Pages can be split by range, single pages,bookmarks. Multiple pdf pages merged into 1 file in Batches. Different page size

---
208) QuickNote 3.1
QuickNote is a handy little program which makes it easier to write the same pieces of text over and over again. Paste documents to any other application with one mouse click. Includes spell checking.

---
209) Textanz 1.0
Measure words and phrases frequencies in your text with Textanz! Eliminate unnecessary repetitions in working document, email,CV.Find keywords in web-page.Search for similar code fragments in source code.

---
210) TextMaker for Pocket PCs 2002
TextMaker is the only desktop-class word processor for Pocket PCs. Imagine being able to work on your Microsoft Word documents on the road, keeping content and all formatting intact. Imagine having a full-fledged word processor on your Pocket PC!

---
211) Word Repair 4.0
Highly advance Word Recovery successfully & easily recovers & repair corrupt word documents. Word Repair is the best tool to recover information from corrupted Microsoft Word documents, images, charts, clipart, drawings, pictures, tables.

---
212) Easy Resume Creator Pro 4.1
Easy Resume Creator Pro will help you create a resume and cover letters that match your current career level, background and career objectives, and deliver those to multitudes of employers seeking just the qualifications you possess.

---
213) TinyPDF 1.0.2195.1000
Use any printable document to create professional quality PDF files totally free, with no need of Acrobat or GhostScript. No adware, No spyware, No malware, No watermarks, No popup - no catch! Completely FREE PDF Converter and Creator for you!

---
214) EZ Ezine Producer 2.9
Using the EZ Ezine Producer will enable all ezine publishers to produce their ezines in seconds

---
215) STGuru Standard Edition 1.5 Beta 5
STGuru provides full series of transfer services (edit area/clipboard/file/site transfers) between Simplified Chinese (GBK) and Traditional Chinese (Big5) at professional quality. Unicode-related transfers are also supported.

---
216) Magic Editor 3.0
Editor for Source Code, TXT, RTF, XLS files. Syntax highlighting. 40 syntax schemes included. Code collapsing Support block editing and bookmarks Support rulers Multi tab interface. Integrated database connectivity.

---
217) IECitater 1.04
IECitater is usable for scholars and reviewers. This simple program enhance effectiveness of your Internet and file browsing. Select fragment of text or pictures and gather selected fragments to Word document.

---
218) CZ-Doc2Pdf 2.0
Create PDF, batch PDF converter that convert word DOC to PDF, html to PDF, text to PDF and RTF to PDF

---
219) iNeeda Password & Tracker Pro 3.3.1
A full featured Password Manager and Generator with unlimited Category support, Copy / Paste, Go to Website, Auto Fill Website, Password Generator with Strength Indicator, Encrypted Backup & More. Now with Multiple Skin Support (4 included).

---
220) MicroAdobe PDF Reader 5.3
MicroAdobe PDF Reader is a professional reader for PDF documents. You can zoom in/out or rotate page display, copy text information to other applications, search text in PDF documents, or print PDF documents.

---
221) Dictation 2005 v5.5 Software 1.0
Speech recognition dictation pad with a wave to text wizard!

---
222) WordPerfect 11 Backup Customized Settings 1.0
This program is for people have customized WordPerfect 11 and need to backup these customizations and restore them.

---
223) CZ-Pdf2Txt Simple - pdf converter that convert pdf to text 1.0
CZ-Pdf2Txt Simple is a pdf converter that convert pdf to text. The difference with CZ-Pdf2Txt is that it only converts current pdf file at one time, if you like convert a lot of pdf files at one time, you had better choose CZ-Pdf2Txt.

---
224) Abacus SE 1.1
Use Abacus SE to count lines in any MS Word document. Abacus will count gross lines, lines as a number of characters per line, words, or pages. It will then record the line counts in a log file for invoicing.

---
225) Word-to-HTML Converter 2.0
Word-to-HTML Converter is a batch html converter that convert word documents to html. It is the fast, affordable way to convert a lot of word doc files to popular HTML format once time.

---
226) Idea Magic 5.2.6
Idea Magic (formerly Thesaurus Magic), based on Roget's 1911 Public Domain Thesaurus, is a fast, intuitive, powerful centralized Thesaurus utility. Compatibility Mode enhances spell checking Microsoft Word, Internet Explorer, Outlook Express.

---
227) Publish-iT 3.0
PUBLISH-iT is the award-winning desktop publishing package that lets you create newletters, brochures, flyers, reports, ads, and any other publications. PUBLISH-iT combines the best features of word-processing, graphics, and desktop publishing.

---
228) Multi Block Storage 3.3
You can store, manage and paste unlimited number of text blocks. Now with sorting, UNICODE support, Drag&Drop, system-wide hotkeys, AutoHide AppBars and other useful features. And the program fits in just 305 KBytes - a lightning fast download.

---
229) AlphaBrowser Software 1.0
Universal viewer, player and highlight text editor.

---

230) Real PDF Printer 2.0.0
Create CMYK PDF files with password features, access control, font embedding and subsetting. Besides on-the-fly conversion to CMYK, you can restrict viewing, printing, editing, or copying of documents to only users with the correct password.

---
231) PDF Editor Pilot 1.00
A word processor that creates PDF documents. You can type text, build tables, add images and then save your document as PDF.

---
232) ! Oops ! 1.01
Ever typed for 20 minutes just to lose your work when your system crashes? - It needn't happen again!Oops! takes snapshots of your work and saves them to disk so that you can recover them in the event of a program or system crash.

---
233) CZ-Xls2Pdf:batch pdf converter that convert xls to pdf 1.0
CZ-Xls2Pdf is a batch pdf converter that convert microsoft execl documents to pdf files, you can convert a lot of files once time, saving your time!

---
234) Mobysaurus Thesaurus 1.0.30
Mobysaurus Thesaurus is a comprehensive (30,000+ roots and over 2,500,000 synonyms), feature-rich, off-line English thesaurus that brings the exact word to your mind, serving your everyday speaking and writing purposes - at no cost.

---
235) MS Word Convert Numbers to Text Software 7.0
Convert (spell out) numbers / currency to words in MS Word. You can change the word "Dollar" to "Euro" or any currency unit.

---
236) Beatbox MIDI Drum Sequencer Software 1.0
Beatbox is an essentially new version of a drum sequencer from the Midimass Sound Laboratory experts

---
237) CZ-doc2pdf COM 1.0
COM object that batch convert ms word doc, rtf, html, text to pdf, It can be called from VB, VC, DELPHI.

---
238) InfoPro 1.0.520
InfoPro manages your bits and pieces of information without having to manage multiple files. It can handle anything from a to-do list to complex notes. You can collect all your bits and pieces of information into a "hierarchical collection of notes".

---
239) MLEditor Standard Edition 1.3.5
.Intelligent multi-language text reader and editor .Unicode-related transfers .Professional quality Simplified Chinese (GBK) - Traditional Chinese (Big5) transfers .Control editor .Handy text file previewer .Desktop sticky note and much more

---
240) Code 93 Barcode Font online full Deluxe
Barcodesoft Code 93 Premium Package empowers you to print code93 barcodes from your desktop printers. It is able to encode alpha-numeric data.There are 14 fonts, a crystal reports UFL DLL and a GUI encoder contained in the package

---
241) Outlook Password Recovery Master 1.0
This password recovery tool helps the user to display logins and passwords for all e-mail accounts created in the MS Outlook as well as passwords for the MS Outlook personal folder files (*.PST).

---
242) PDF Filler 2.00
Fill out PDF forms without the need for Adobe Acrobat software and preview filled PDF forms with a press of the button.

---
243) HealthChecK 1.5
Take the frustration out of producing good looking and well formatted Word documents. HealthChecK scans your document, finds the formatting problems, and then helps you put each one right, giving you a quality document every time

---
244) Form Filler Pilot 2.15
Fill and print forms created in Form Pilot Office

---
245) TextMaker for Linux 2002
If you want your word processor (a) to provide all the features of a modern high-end word processor, (b) to seamlessly read and write Microsoft Word documents, and (c) to be available on multiple platforms, look no further: TextMaker is here!

---
246) CrossEyes 3.0.45
New low price! Now only $49.99 to buy. CrossEyes 'REVEALS the CODES in MS WORD'. See details of your document Fonts, Paragraph Styles, Sections and more in one place. Saves a lot of time when editting. Read the rave reviews. 15 day trial.

---
247) CZ Document Converter COM 1.0
batch office document converter, convert doc to html, html to rtf, rtf to html, doc to text, html to doc, text to html and html to text, it can be called from VB, VC, DELPHI.

---
248) PDF Reverser 01.01
PDF Reverser is a powerful and user-friendly tool to reverse and extract images and text/html in a PDF file. 1.Batch/Right-click processing support 2.Display detailed reversing progress 3.Configurable image format 4.Encrpted PDF file support

---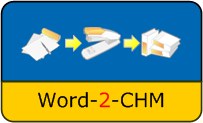 249) Macrobject Word-2-CHM Converter 3.2.0.313
Convert Word file (.doc,.rtf,.htm) to perfect HTML help or CHM e-book in seconds. Keep format/style of original document and create topic tree according to the outline. Unique features: header/footer/navigator/related tipics/cross-reference to link.

---
250) The Da Vinci Free Puzzles 1.0
Enjoy 11 puzzles with themes from Da Vinci. All you have ever heard about is here - Mona Lisa, Last Supper or Vitruvian Man is here for You. Download this nice game now! Its totally free!

---


Browse Pages: [1] [2] [3] [4] 5 [6] [7] [8] [9] [10]