Top 4701-4750 Internet Programs (from 9988 category titles)
Order programs after downloads or name (currently are listed after downloads)


4701) Ranking Booster 2.0
Ranking Booster® software is an ultimate program to increase your website rankings on Alexa.com and other traffic sites. The Ranking Booster® software will boost your Alexa rankings but it will also help increase your Google® listings as well!

---
4702) psPictureViewer 1.303
Simple but effective tool to present images on a LAMP server. Special features: - picture size is automatically adjusted to screen size - thumbnails created on the fly - filmstrip, list & slideshow - fast & easy installation Enjoy your pictures

---
4703) book-marks.exe 1.0
with this program you can:From a webpage mail a link in 3 mouse clicks Exchange your favorites in 3 mouse clicks Check you favorites for non excisting links Check your favorites for double links Create your own startup page with your own

---
4704) Led Stock Quotes Ticker Applet 3.0
Led Stocks Quotes Ticker Applet is the perfect browser embedded tool you can enhance your site by showing real-time stock quotes values in a stock market similar led display.

---
4705) Mail Access Monitor for PostFix 3.2
Mail Access Monitor is a simple tool that analyses mail server logs and shows how much traffic is being used by e-mail, who sends and receives most messages, where the messages are being send to and if e-mail abuse takes place in your office.

---
4706) Love MSN Display Pictures 1.0
The Love Display Pictures collection for MSN Messenger is a compilation of cheery, love related display pics. The perfect download for adding that special effect to your romance! Works with MSN 7 and 6. Completely free, Quick download, Easy setup.

---
4707) BITS Download Manager 1.0.1.3
BITS Download Manager unleashes the power of the BITS technology built into Windows XP/2000/2003.

---
4708) FlashCapture 1.5
FlashCapture is the right tool you are looking for. This Internet Explorer add-on tool enables you to save, snapshot, e-mail and categorize Flash files in just one click!

---
4709) 9.95 POPUP BLOCKER 3.0
Tired with all those ads that fill your screen while you browse the Web? 9.95 POPUP BLOCKER eliminates the pop-up and pop-under windows that slow down and hurt your Internet experience. Works with all major browsers. Enjoy surfing the Web again!

---
4710) ! - ABCCodingLibrary 1.0
Customizable code library, with built in starter javascript library with over 50 scripts

---

4711) Attachment Auto Saver for Outlook 1.00
Attachment Auto Saver is a Microsoft Outlook Add-On component that automatically saves attachments from your Outlook email messages to your hard drive. This Add-On will help you stay organized and will save space in your Outlook pst file.

---
4712) 12Ghosts PowerGee 7.10
Security package with three get-the-job-done privacy tools, 12-Wash, 12-Popup-Killer, and 12-Shredder.

---
4713) pcSuper Scanner 1.1
Use our proprietary pcSuper Scanner to check for opened ports on your computer. It will automatically scan ALL ports – no exceptions.

---
4714) SmoothSurfin 2.0
Powerful, no-nonsense pop-up protection utility for Internet Explorer that is guaranteed to provide annoyance-free web browsing at all times while it is on duty, effectively terminating all unwanted pop-up browser windows automatically.

---
4715) Table Animator 1.1
Table animator creates instantly animated borders for HTML Tables, frames for digital photos and other animated Web components. With Table Animator you can add spectacular borders and frame to your web site in numerous styles, shapes and colors.

---
4716) CCSA NG Practice Tests 2.5
Practice tests for CCSA NG™ (CheckPoint(r) Certified Security Administrator) from SimulationExams.com conforms to the latest objectives of exam. The package contains 3 individual tests and most questions carry detailed explanations.

---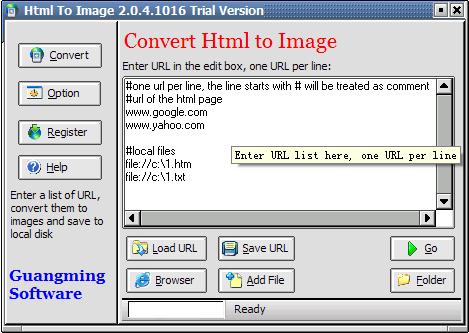 4717) Html To Image 2.0.2010.501
Html To Image helps you convert html page from any URL to image or thumbnails easily and quickly. It captures the whole web page's content into JPG, BMP, PNG, TIFF or GIF on the fly.

---
4718) WebMonit 1.1
WebMonit is a powerful and easiest-to-use web pages monitor tool. It can monitor web pages changes automatically. Monitor content could be the whole webpage or a part of webpage. A user defined event could be triggered when change occurred.

---
4719) RemoteComputer 8
RemoteComputer is remote control software using TCP/IP. Contol a remote host over a local network or the Internet, including screen control, mouse and keyboard simulation, FTP, service control, remote process management, ip phone, and more.

---
4720) MailEnable Standard 1.9
MailEnable Standard provides robust SMTP and POP3 services for Windows NT/2000/XP/2003 systems. Simple installation procedure and powerful administration tools means that you will be up and running quickly. FREE for personal and commercial use.

---
4721) Groowe Firefox Toolbar 1.2
Search Google, Yahoo, MSN, Altavista and other search engines directly from your browser's toolbar. Toolbar is customized for each search engine included in the list so with each engine you will have unique experience.

---
4722) Xtreeme SiteXpert Professional Edition 9
SiteXpert creates navigation systems (sitemap trees, dhtml menus, Google sitemaps) and search engines (Internet, Intranet or Offline). You can choose from 12 navigation system types and hundreds of schemes. Includes DW/FrontPage/NOF/GoLive plugins.

---
4723) A.I. Friend 1.0
A.I. Friend is a research tool and a calculator. A.I. Friend process natural language (English) and will talk to you. Your research on internet will be fast, standardized and productive with A.I. Friend.

---
4724) TZ Privacy Guard 3.1.0.0
TZ Privacy Gaurd lets you encrypt and lock your IE favorites and history folders. Your History, favorite's folders and private information: passwords, credit card numbers, social security number etc. can expose a lot of your private information.

---
4725) BullDogFtp 2.0.0.0
It is a Windows-based file transfer client application that is used to transfer files between your local PC and a remote FTP server. With Bulldogftp, you can connect to any FTP server, browse through directories and files, and resume transfer files.

---
4726) Happy Pop-out Menus 1.11
These are pop-out java menu applets available in numerous themes and suitable for a side bar navigation layout with the menu down the side of your page. Includes configuration tool. Support for true-type fonts, multiple event triggers and more.

---
4727) Kazaa Wireless 0.40
Kazaa Wireless provides mobile capable brains to your Kazaa desktop application. With Kazaa Wireless you can get direct access to Kazaa anytime, anywhere using any kind of mobile device.

---
4728) GhostSurf 2.00.22
GhostSurf's designed to actively protect your privacy, to make sure that other people and organizations on the Internet cannot identify you, see which sites you visit, or even see where you reside. Controls connection, blocking ads and other abuses.

---
4729) High Speed Verifier 1.2
High-speed software designed to remove dead email addresses from huge mailing lists with millions of addresses. Moreover, it is with this list size that the program's highest performance can be achieved.

---

4730) Popup Ad Stopper 9.86.01
Popup Ad Stopper is a simple, easy to use popup blocker. It works with any web browser, not just one or a select few, like most popup blockers. It filters web page content as it is coming in from the Internet, before it reaches your web browser.

---
4731) CustomerDigger 2003
CustomerDigger is an internet market promotion tool. It sends junk mails to your potential customers instantly when it finds their e-mail addresses on the web according the keywords and other search conditions you specified.

---
4732) Outlook Advanced Quoting 2.0
Outlook Advanced Quoting Add-In colors message text and reformats header

---
4733) NetAware 1.20
NetAware is a monitoring solution that logs and records all shared file activity on your computer or network. NetAware can log what files users access and what shares they connect to and disconnect from on your file shares.

---
4734) TrackSite Free 5.2.12
TrackSite is real-time, private, invisible, automated, advanced visitor tracking and traffic analytics system for websites: 57 reports, downloads & robots, referrals, searchwords, conversion rates & visitors segmentation, multi-user, cross-platform

---
4735) Turbo Mailer for Linux 2.4.2
Customizable software for sending out bulk email like newsletters or personalized marketing circulars. Features a powerful list manager, text personalization, HTML mail, embedded images, attachments, log files, parallel SMTP.

---
4736) LogoFix 1.1
LogoFix lets you easily change the image used in the Microsoft Internet Explorer toolbar to any image you want. You can choose from nearly 5,000 images that come with LogoFix or use one of your own. LogoFix is a great branding tool!

---
4737) PC Sentinel's AutoKeys: One-Click Typing and Data Entry! 1.2.3.1
Save time and effort by eliminating repetitive and tedious typing tasks, answer hundreds of emails a day, complete forms with the touch of a button! All data is stored in encryped forms for your safety!

---
4738) Advanced Email Verifier 6.10
Check validity of emails in mailing lists, databases and address books. Advanced Email Verifier verifies every email address from a given mailing list and allows you to determine up to 90 % of dead e-mail addresses.

---
4739) DigiMode Browser 1.0.0
DigiMode Browser is full IE browser shell with Audio capability and multi home page setup utility that allows user to setup up to 26 starting pages.

---
4740) Mail Inspector 4.1
Mail Inspector can check for new emails and notify you. Delete mails directly on the server without downloading them. Includes some powerfull anti-spam filter. You also can send out quick-mails. Supported standards: POP3, IMAP4, SMTP, SSL, APOP

---
4741) Linspect Commander 1.1
Linspect Commander is a software utility for Windows. It allows you to execute commands on remote Linux or Unix servers over an SSH-secured connection without logging in and running the commands manually.

---
4742) AlbumWeb 3.0
AlbumWeb is a powerful and easy-to-use tool to create web albums from pictures, photos, video clips, etc. Web album can be used at home and at the office.

---
4743) Note-A-Phi 2.1.0
Note-A-Phi is a tool for managing all types of e-mail newsletters, e-mail notification and response messages, and associated lists of e-mail addresses. Note-A-Phi is designed to use your existing network or ISP's outgoing SMTP server.

---
4744) TIFNY 5.03
TIFNY downloads images, music, video, and other formats from the Usenet newsgroups without effort. Opens up to 6 simultaneous connections, has an MP3 player, an image viewer, a video player and a thumbnailer to quickly and efficiently locate files.

---
4745) Willing Webcam v1.5
Share your day right away with Willing Webcam.

---
4746) IDAutomation Java Barcode Package 9.11
This barcode package contains JavaBeans, Class Libraries, Applets and Servlets for Barcoding in Java. Supports Linear and 2D barcode types including Code 128, GS1-128, Code 39, ITF, UPC, EAN, USPS Intelligent , DataMatrix, Aztec, Maxicode and PDF417.

---
4747) EasyHideIP.com Hide IP and Anonymously 1.0.0
EasyHideIP.com Hide Your IP and Surf Anonymously. Protect and hide your Identity through hidding your ip address. Prevent hackers breaking in your computer. Allows you to enter pages which are forbidden for you. ProxyChecker Change browser user agent

---
4748) EverWatch Server Monitor 1.0
Freeware program to continuously monitor your web server's (or any other server's) up and down time. User-defined polling interval and detailed logging and performance statistics.

---
4749) IceFTP 1.0
IceFTP is an incredibly user-friendly FTP client with a transfer queue that's able to download multiple files at the same time while still allowing you to browse the FTP site.

---
4750) SmartWhois 4.1
SmartWhois is a network information utility that allows you to find out all available information about an IP address, host name, or domain. The program can retrieve information from more than 60 servers all over the world

---


Browse Pages: [1] [2] [3] [4] [5] [6] [7] [8] [9] [10] [11] [12] [13] [14] [15] [16] [17] [18] [19] [20] [21] [22] [23] [24] [25] [26] [27] [28] [29] [30] [31] [32] [33] [34] [35] [36] [37] [38] [39] [40] [41] [42] [43] [44] [45] [46] [47] [48] [49] [50] [51] [52] [53] [54] [55] [56] [57] [58] [59] [60] [61] [62] [63] [64] [65] [66] [67] [68] [69] [70] [71] [72] [73] [74] [75] [76] [77] [78] [79] [80] [81] [82] [83] [84] [85] [86] [87] [88] [89] [90] [91] [92] [93] [94] 95 [96] [97] [98] [99] [100] [101] [102] [103] [104] [105] [106] [107] [108] [109] [110] [111] [112] [113] [114] [115] [116] [117] [118] [119] [120] [121] [122] [123] [124] [125] [126] [127] [128] [129] [130] [131] [132] [133] [134] [135] [136] [137] [138] [139] [140] [141] [142] [143] [144] [145] [146] [147] [148] [149] [150] [151] [152] [153] [154] [155] [156] [157] [158] [159] [160] [161] [162] [163] [164] [165] [166] [167] [168] [169] [170] [171] [172] [173] [174] [175] [176] [177] [178] [179] [180] [181] [182] [183] [184] [185] [186] [187] [188] [189] [190] [191] [192] [193] [194] [195] [196] [197] [198] [199] [200]