Tools & Utilities - Internet Programs from 1 to 50 listed after date (from 2891 category titles)
Order programs after downloads or name or date (currently are listed after date)


1) Absolute Time Server 6.2.735
ATS is a full-featured time server, which works as windows service and is fully RFC-868 and RFC-2030 compatible. Absolute Time Server acts as a background process, has very low system resources consumption, and it can be started before user logon.

---
2) Active Directory Change Reporter 6.0.169
NetWrix Active Directory Change Reporter is a free tool that reports the changes made to Active Directory and delivers detailed information on a daily basis. The report includes the 4 "W"s-Who, What, When, and Where-of all changes.

---
3) 1AVStreamer 1.8.4.00
With the click of a button you will be broadcasting your webcam or desktop with audio in high resolution over the web in a customized webpage inside your own website. It is all automatic and very easy to setup. TV tuners and DV cameras are supported.

---
4) Data Recovery Software for Windows 7 2.0
Data Recovery Software for Windows 7 to recovers deleted windows 7 data from corrupted or formatted windows 7 partitions. This Windows 7 data recovery software can effectively get back windows 7 partitions (FAT & NTFS) from crashed windows 7 hdd.

---
5) Fax Server Pro 3.0.530
Fax Server Pro is a client and server system designed to integrates fax communication with your IT infrastructure. Sending a fax is as simple as printing from any Windows application. Incoming fax is routed directly to desktops or email as PDF file.

---
6) Throttle 6.5.31.2010a
Increase the speed of your internet connection with Throttle. The best internet acceleration software available on the market, Throttle boosts download and upload speeds and squeezes out every last bit of performance of your internet connection.

---
7) IP2Location IP-AREACODE-WEATHER Database June.2010
IP2Location IP-COUNTRY-REGION-CITY-LATITUDE-LONGITUDE-ZIPCODE-TIMEZONE-ISP-DOMAIN-NETSPEED-AREACODE-WEATHER is commercial IP geolocation translates IP address to country, region, city, ISP, IDD code, area code, weather station code and station name.

---
8) Rapidshare Search Engine Tbar 2010
Rapidshare search, rapidshare files, Megaupload search, megaupload files

---
9) Image Downloader 1.2.0
Free software to easily download sets of images from web pages. No need to right-click individual images and choose Save As. Simply drag the page URL to Image Downloader and your download will begin

---

10) FineRecovery 3.2.8.11
File recovery software. You can easily recovers files created by Windows 2000/XP/2003/2008/Vista. FineRecovery recovers files from hard disk (NTFS, FAT: FAT12, FAT16, FAT32 partitions) and removable media (SD, CF, MS, MMC, xD, Flash Card, USB drive).

---
11) Easy Remote Desktop 1.0
Easy to use program designed to monitor remote computers in the network, as well as on the Internet.

---
12) z/Scope TN5250 6.2.0.97
Buy now and get it for only $46! z/Scope Express is a SSL-enabled multi-session terminal emulator for accessing IBM As/400 under Windows platforms. z/Scope Express is Fast, Modern, Secure and Inexpensive.

---

13) Product Key Explorer 2.4.6
Product Key Explorer allows you to retrieve product key for Windows, Microsoft Office, SQL Server, Adobe CS,CS3,CS4,CS5 and 1000 other software products from local or network computers.You can also save all your product keys to file or print.

---
14) Total Mail Converter 1.3
Do you have hundreds of emails in your Outlook inbox folder? They are old enough but you can't delete business correspondence. Convert your emails to rtf (txt/htm/pdf), store them in a separate folder and refer to them when necessary.

---

15) KeepEdge iPhone Charting Library 1.0
iPhone Charting Library for iPhone Objective-C. Drawing Bar, Line, Pie, Time Series Charts in iPhone Objective-C Applications

---
16) Whos Near Me 1.0
Who's Near Me is a social networking application that runs on Windows Mobile devices. The software application quickly shows you a list of other users in your area that are also currently using the application and allows you to connect with them.

---
17) AV Webcam Morpher 2.0.38
Webcam Morpher brings you the most impressive video chat experience ever. You can 'dazzle' your image, 'draw' a new person, or giggle in new voice with online friends. It is a powerful tool for doing video chat online and sharing video clips

---
18) Recover Access MDB File Password 1.0.0.2
Recover MS Access lost password using AWinware MS Access Password recovery software. Unlock locked password protected MDB database file. Unprotect database if you have forgotten password, supports multilingual alpha-numeric characters.

---
19) RSS Reader 2.7
Smart, easy-to-use and free RSS feeds reader and blog client. Full-featured software for reading RSS feeds, Atom feeds, newsfeeds and podcasts.

---

20) FoxTerm 1.3.1.0
FoxTerm is a free multi-session terminal emulation application. FoxTerm allows you to open, monitor, and log multiple COM or Telnet connections from a single application. The session is saved to XML and is easy to edit.

---
21) SupportSmith TeamUp! FREE 2.0.0.13
Share the Desktop or a Single Application over the LAN and Internet . Work with a colleague on the same desktop view. Ideal for remote assistance, live demos and online training. Evaluate PRO features to host multi-participant online meetings.

---
22) Craigslist Search Agent 2.0
Automatically searches Craigslist for the items you want. Search any English Craigslist Orgs in the USA and Canada. Automatically sends Email when new Ads are found. Adjustable search frequency 1 min to 48 hours.

---
23) z/Scope TN3270 6.2.0.95
z/Scope Express is a SSL-enabled multi-session terminal emulator for accessing IBM Mainframes under Windows platforms. Supports TN3270E, SSL 2/3 and TLS 1. protocols.

---
24) IMCapture for Skype 1.0.1
IMCapture for Skype - captures and records video and audio calls made from Skype for Mac OS X. Use ImCapture to record your call now. Share the file created by ImCapture later. Save important calls forever.

---
25) AdvanceSMS 2.0.0
AdvanceSMS is an SMS Utilities Application designed for S60 & Android Mobiles that combines various powerful messaging features into one user friendly app! Schedule, Foward & AutoReply to SMS's. Set personalized SMS tones & Much More!

---
26) Spy Message 1.0.0.4
With SpyMessage you can encrypt and hide your text message into image without any changes in its resolution or size. You can view the modified image with any conventional image viewer program, xchange messages with your friends without any fear.

---
27) IsItUp Network Monitor 6.90
IsItUp Network Monitor can be used to monitor critical applications and infrastructure. A wide variety of monitor types are included such as a Ping Monitor,Web site Monitor,Tcp/Ip Port Monitor,Windows Service Monitor,Disk Free space,and Mail Servers.

---
28) ScreenCamera 2.1.1.00
ScreenCamera is a virtual camera, a desktop recorder, and a webcam splitter. You can use it as a webcam on Skype, UStream, and all video conference apps and websites. You can record your desktop in high definition. And you can connect your webcam

---
29) business ebooks 1.0
Stop Watch and Countdown Timer, Manage tasks with this great little timer, Displays your written message when time is up , Manage your tasks with our compliments from

---
30) Chronos Atomic Clock Synchronizer 4.6.3
Chronos Atomic Clock Synchronizer is a utility for people who need their computers to use exact time. The program connects to various atomic clock timeservers and synchronizes your internal clock with time provided by theseservers.

---
31) fax AT Mail 2008
With your ISDN card and Visendo fax@MAIL, you can receive faxes per email. They are saved as images(PDF, JPG, TIF, SFF) and can be sent to your email client - e.g Outlook.

---
32) Active WebTraffic 9.0.3
Active WebTraffic is a professional web promotion software that includes everything you need to submit, position and promote your web site to search engines and internet directories worldwide.

---
33) Account Lockout Examiner for PowerShell
Account lockouts can sometimes be very hard to troubleshoot and manage. Freeware NetWrix Account Lockout Examiner for PowerShell provides administrators with automated account lockout management tools for use in PowerShell scripts.

---
34) Fix Corrupt Excel File 2.0
SysTools Excel Recovery delivers reliable performance while rescue Excel file data & sort out how to fix corrupt Excel file or XLS file problem. Software is compatible to fix damaged Excel files of MS Excel 97/2000/XP & 2003

---
35) Linkman 7.90
Linkman is a bookmark management solution which integrates with Firefox and Internet Explorer. It calls upon many powerful features that replace the browser's native URL management. A linkman tutotial video can be watched at the Outertech website.

---
36) TSplus 2010 3.30.00.30
TSplus is the costless Citrix/TS product available on XP, VISTA, Windows 7, 2003/2008 SBS. TSplus turns your Windows System into a full blown Terminal Server/Citrix, without any limit. Multiple, unlimited number of concurrent sessions if you want.

---
37) TSplus 3.30.00.30
TSplus is the costless Citrix/TS product available on XP, VISTA, Windows 7, 2003/2008 SBS. TSplus turns your Windows System into a full blown Terminal Server/Citrix, without any limit. Multiple, unlimited number of concurrent sessions if you want.

---
38) WebDrive 9.13
WebDrive integrates FTP, FTPS, WebDAV, SFTP, Amazon S3 or FrontPage servers into the Windows desktop by mapping a network drive letter to a server. This allows you to use your favorite applications to edit files and save them directly to the server.

---
39) Symbian SMS Manager 2.18.18
Manage SMS and other messages on PC easily and conveniently with Symbian SMS Manager. Read all your messages from phone, save them on PC, restore back to phone, send plain and Unicode SMS to one or many recipients and work with custom folders.

---
40) GSA Email Spider 5.26
Collect and compile emails, phone and fax numbers from the websites around the world using the keywords you enter for! The websites will be analysed by this application using the keyword you entered as search string. This software is very easy ...

---
41) Prof Shutdown 4.3.0.25
Is a power management tool for enterprise-wide and small office networks. Allow remote shutdown, wakeup, reboot up to 1,000 machines simultaneously at a scheduled time. It has command line support, quick search for machines, log files, etc.

---
42) Aloaha SecureSMS 2.0
With its second version of Aloaha SecureSMS Aloaha is now offering its secure SMS technology to a broader audience to increase the awareness to protect any communication against interception.

---

43) Advanced Time Synchronizer 3.0.0.703
This is a function rich and easy to configure computer clock corrector. Using the time servers on the Internet, it can update PC clock at certain periods of time, supports proxy servers, works as a local time server and can be started as service.

---

44) MAPILab Reports for Active Directory 1.0
MAPILab Reports for Active Directory is intended to get the reports about company`s Active Directory organization and objects. Includes over 50 reports regarding Active Directory users, computers, groups, organization units and their attributes.

---
45) AV Voice Changer Software Diamond 7.0.29
Change your voice online and in-game; enhance voice quality; simulate voices with Voice Comparator; mix voices with Parody; record from microphone and streaming audio; support different formats: mp3, wma, wav, ogg; work online/offline/in real time.

---
46) HSLAB WhoIs 1.5.504.2010
HSLAB WhoIs is a network tool to find any information about the Internet domain or IP address owner. Also you can find: domain/IP owner country, country map, country extended information, email abuse address, IP pool owner, and many more.

---
47) Domain Quester Pro 6.02
Search for domains by unlimited number of keywords. Input unlimited number of words that relate to your business interests and these exact terms will be used as "root words" in an extensive search for available domain names.

---

48) DzSoft Perl Editor 5.8.7.1
DzSoft Perl Editor is a popular tool for writing, editing, and debugging Perl/CGI scripts. It has a comfortable and intuitive interface both for beginners and advanced programmers. DzSoft Perl Editor is deceptively simple, but really powerful.

---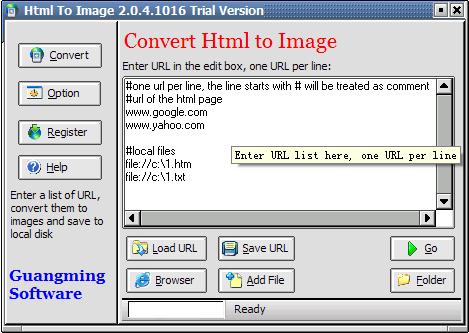 49) Html To Image 2.0.2010.501
Html To Image helps you convert html page from any URL to image or thumbnails easily and quickly. It captures the whole web page's content into JPG, BMP, PNG, TIFF or GIF on the fly.

---
50) My Fax Online 2010.2.15
Internet fax service from MyFax lets you send and receive faxes through your email or by Web. My Fax Online provides great low monthly price and support.There is NO setup fee, NO hardware, FREE toll-free number upon sign up

---


Browse Pages: 1 [2] [3] [4] [5] [6] [7] [8] [9] [10] [11] [12] [13] [14] [15] [16] [17] [18] [19] [20] [21] [22] [23] [24] [25] [26] [27] [28] [29] [30] [31] [32] [33] [34] [35] [36] [37] [38] [39] [40] [41] [42] [43] [44] [45] [46] [47] [48] [49] [50] [51] [52] [53] [54] [55] [56] [57] [58]