Tools & Utilities - Internet Programs from 1501 to 1550 listed after downloads number (from 2891 category titles)
Order programs after downloads or name or date (currently are listed after popularity)


1501) "Anyplace-control" 3.4
Anyplace Control is a secure and simple way to access other computer remotely. The software displays desktop of remote computer on your monitor and allows you to use your mouse and keyboard to control remote PC.

---
1502) NetSpeeder 3.58
NetSpeeder is a professional accelerator. It can fundamentally optimize your internet connection speed by up to 300% and substantially improve your download speeds for all types of connections from dialup to DSL, Cable, and Wireless.

---
1503) Yahoo! Messenger Archive Decoder 1.1
Yahoo! Messenger Archive Decoder is the quiet way to view the YIM chats of others whom use your PC. This program turns chat archiving on for ALL users without any passwords. You can then easily view archives for all users within the YMAD interface.

---
1504) Mocha W32 TN5250 9.3
Mocha W32 TN5250 makes it possible to connect to an IBM host (AS/400) via TCP/IP with the TN5250 protocol and emulate a 5250 Display Station.

---
1505) ASniffer Pro Software 1.0
ASniffer is a network monitoring tool designed to be all-in-one solution for network sniffing.

---
1506) Easy Messenger 4.3 4.3
Free download. Access AIM, Yahoo, MSN from one simple IM. Easy desktop installation.

---
1507) A1Monitor Network Monitor TCP or Web 6.1.70
Monitor multiple web or TCP servers (http, https, ftp, pop3 etc.) Receive email notification by email or pager if any can't be reached a number of times in a row

---
1508) INetControl 1.4
The program allows to control an internet connection (Dial up, GPRS, VPN, XDSL,...). With its help you can call up call dialog, break connection, control, how much time you've spent in the network, incoming and outgoing traffic.

---
1509) SmartNewZ 1.1
SmartNewZ is a private News Server for Windows. SmartNewZ provides the ability to create an electronic discussion forum, where groups of people can post messages, read messages posted by others, and reply to them.

---
1510) Stock Quotes Pro 1.37
This automated data downloader instantly downloads end-of-day historical quotes of stocks, indices and mutual funds publicly traded in US, Canada and international markets. Get historical stock quotes for trading research is seconds.

---
1511) Groowe Search Toolbar 2.0
Search Google, Yahoo, MSN, Altavista and other search engines directly from your browser's toolbar. Toolbar is customized for each search engine included in the list so with each engine you will have unique experience.

---
1512) pssSearch 2.51
pssSearch is a web-based search tool for your web server. pssSearch enables your web-site visitors to find the information they seek on your web-site by entering words or phrases. pssSearch logs the user's search request for your us.

---
1513) Ranking Booster 2.0
Ranking Booster® software is an ultimate program to increase your website rankings on Alexa.com and other traffic sites. The Ranking Booster® software will boost your Alexa rankings but it will also help increase your Google® listings as well!

---
1514) book-marks.exe 1.0
with this program you can:From a webpage mail a link in 3 mouse clicks Exchange your favorites in 3 mouse clicks Check you favorites for non excisting links Check your favorites for double links Create your own startup page with your own

---
1515) FlashCapture 1.5
FlashCapture is the right tool you are looking for. This Internet Explorer add-on tool enables you to save, snapshot, e-mail and categorize Flash files in just one click!

---
1516) 9.95 POPUP BLOCKER 3.0
Tired with all those ads that fill your screen while you browse the Web? 9.95 POPUP BLOCKER eliminates the pop-up and pop-under windows that slow down and hurt your Internet experience. Works with all major browsers. Enjoy surfing the Web again!

---
1517) 12Ghosts PowerGee 7.10
Security package with three get-the-job-done privacy tools, 12-Wash, 12-Popup-Killer, and 12-Shredder.

---
1518) pcSuper Scanner 1.1
Use our proprietary pcSuper Scanner to check for opened ports on your computer. It will automatically scan ALL ports – no exceptions.

---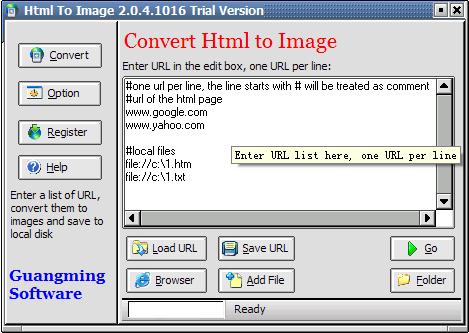 1519) Html To Image 2.0.2010.501
Html To Image helps you convert html page from any URL to image or thumbnails easily and quickly. It captures the whole web page's content into JPG, BMP, PNG, TIFF or GIF on the fly.

---
1520) WebMonit 1.1
WebMonit is a powerful and easiest-to-use web pages monitor tool. It can monitor web pages changes automatically. Monitor content could be the whole webpage or a part of webpage. A user defined event could be triggered when change occurred.

---
1521) Groowe Firefox Toolbar 1.2
Search Google, Yahoo, MSN, Altavista and other search engines directly from your browser's toolbar. Toolbar is customized for each search engine included in the list so with each engine you will have unique experience.

---
1522) Xtreeme SiteXpert Professional Edition 9
SiteXpert creates navigation systems (sitemap trees, dhtml menus, Google sitemaps) and search engines (Internet, Intranet or Offline). You can choose from 12 navigation system types and hundreds of schemes. Includes DW/FrontPage/NOF/GoLive plugins.

---
1523) A.I. Friend 1.0
A.I. Friend is a research tool and a calculator. A.I. Friend process natural language (English) and will talk to you. Your research on internet will be fast, standardized and productive with A.I. Friend.

---
1524) TZ Privacy Guard 3.1.0.0
TZ Privacy Gaurd lets you encrypt and lock your IE favorites and history folders. Your History, favorite's folders and private information: passwords, credit card numbers, social security number etc. can expose a lot of your private information.

---
1525) High Speed Verifier 1.2
High-speed software designed to remove dead email addresses from huge mailing lists with millions of addresses. Moreover, it is with this list size that the program's highest performance can be achieved.

---
1526) TrackSite Free 5.2.12
TrackSite is real-time, private, invisible, automated, advanced visitor tracking and traffic analytics system for websites: 57 reports, downloads & robots, referrals, searchwords, conversion rates & visitors segmentation, multi-user, cross-platform

---
1527) Mail Inspector 4.1
Mail Inspector can check for new emails and notify you. Delete mails directly on the server without downloading them. Includes some powerfull anti-spam filter. You also can send out quick-mails. Supported standards: POP3, IMAP4, SMTP, SSL, APOP

---
1528) AlbumWeb 3.0
AlbumWeb is a powerful and easy-to-use tool to create web albums from pictures, photos, video clips, etc. Web album can be used at home and at the office.

---
1529) TIFNY 5.03
TIFNY downloads images, music, video, and other formats from the Usenet newsgroups without effort. Opens up to 6 simultaneous connections, has an MP3 player, an image viewer, a video player and a thumbnailer to quickly and efficiently locate files.

---
1530) Willing Webcam v1.5
Share your day right away with Willing Webcam.

---
1531) EverWatch Server Monitor 1.0
Freeware program to continuously monitor your web server's (or any other server's) up and down time. User-defined polling interval and detailed logging and performance statistics.

---
1532) InSearch 2.2
This is advanced internet search tool. That help you find exact what you need. Use internet engines Google,Yahoo,Yandex for find links, after that go to all links and correct all finded information. Please visit product page for vew added features.

---
1533) Advanced Mass Sender 4.3
This mass email software employs multiple threads to send bulk emails for your customer relationship management. Support text, HTML, attachments, and subject rotation. Includes a free download.

---
1534) REL Link Checker Lite 1.0
REL Link Checker Lite is a free easy-to-use link checker tool to help you maintain the accuracy of links on your web site. The program will help you easily locate broken links and links containing syntactic errors.

---
1535) POP-Stopper-IE 1.2.6
Best Popup Remover. Best popup blocking technology. Allows the use of CTRL-N, SHIFT-Click, and even Right-Click New Window. Allows multiple IE windows. Fully automated version updates. Stops websites from resizing your Internet Explorer.

---
1536) Websync 1.50
Websync is an internet monitor which can periodically scan for changes in favourite websites and inform the user of changes. In addition it can download websites to local discs, removing undesirable links such as adverts (fully user configurable).

---
1537) Abacuth Search the Web 2.00
Abacuth Search the web is a floating window where you can enter words you want to send to your favorites search engines. Results are displayed in your default web browser.

---
1538) My Auction Search Browser for eBay 2.0.7
Personal eBay search engine and browser for Windows 95/98/NT that allows you to save, organize and run multiple eBay searches. Organize your most common eBay auction searches into groups of 10 and view the results in a multiple browser setting.

---
1539) NaviForm 1.0
This small program allows to modify characteristic of a Web page in line. Its main function is to modify Web Forms during the connection. It allows to change any value by another one and of sending the form with the new values .

---
1540) S.O.S.Automation 3.20
Baby - sickroom monitor and alarm system. Implemented in software on a home PC. Constantly monitors the surroundings and calls you upon emergency. Supports telephone audio monitor and internet audio/video monitor independently.

---
1541) ! - Webm8 1.6.1
EZVideoSplicer is an easy to use media file editor. It allows you to encode AVI or WMV files, merge several media files together, split media into several different files, and create animations from still images.

---
1542) Pay Per Click (PPC) module for Esvon Classifieds 3.0
This module allows members to bid on ad placement position to appear higher in search results. The advertiser then assigns a "bid amount" to each ad they setup. The higher the bid amount, the closer to the top of the page the ad appears.

---
1543) Isolexis Monitor 2.1
Isolexis Monitors monitors Internet based services such as web, FTP, DNS, TCP, UDP, TFTP, SNMP and disk space. It allows for alerting by sound, email, pager, and syslog message. It keeps track of probes by writing to files, web pages, XML file.

---
1544) Offline IP-Locate 1.1.0.10
Offline IP-Locate is a simple utility, which allow easy and quickly convert IP-address to country where this host located. Offline IP-Locate allow do it with out connecting to Internet.

---
1545) Browse and View 3.21
Browse and View makes the World Wide Web and your HTML pages available to those who do not have Internet access. With Browse and View you can place your HTML pages on a diskette or CD, and distribute your Web site to others!

---
1546) Proxy Finder Pro 2.5
Automatically search and leech free proxy list server addresses from hundreds of web sites , that provides new fresh proxy list updated daily. Just in 30 seconds, Proxy Finder Pro will give you 6000+ free public proxies servers addresses.

---
1547) SpyAnywhere 3.04
SpyAnywhere provides the power to remotely control computer's with SpyAnywhere installed - all from your favorite web-browser! SpyAnywhere allows many powerful controls for remote control, and also allows you to remotely monitor/spy other computers.

---
1548) Available Domains Professional Edition 4.1.0
Finds the right domain for web site. You type in a bunch of keywords that describe you business, and the program generates combinations of them. It has many generation modes including 4 Keywords Mode and Quick Mode. Shows availability and linkpopular

---
1549) NewzAlert Composer 1.70.5
NewzAlert Composer is a comprehensive rss editor for creating and publishing RSS feeds. It is all you need to get up and running with one or more RSS feeds of your own, and will have you up and running within minutes.

---
1550) Eazel 2.0
It is a utility to perform compression tasks which is compatible with ZIP, EAZ, RAR, etc. It is a highly powerful and fast application which also allows you to create backup copies of the most important files of your PC.

---


Browse Pages: [1] [2] [3] [4] [5] [6] [7] [8] [9] [10] [11] [12] [13] [14] [15] [16] [17] [18] [19] [20] [21] [22] [23] [24] [25] [26] [27] [28] [29] [30] 31 [32] [33] [34] [35] [36] [37] [38] [39] [40] [41] [42] [43] [44] [45] [46] [47] [48] [49] [50] [51] [52] [53] [54] [55] [56] [57] [58]