Browsers - Internet Programs from 101 to 150 listed after downloads number (from 982 category titles)
Order programs after downloads or name or date (currently are listed after popularity)


101) Master the Facts Multiplication 3.2.2
Master the Facts Multiplication is a no-nonsense drill and practice program to aide students in learning multiplication facts.

---
102) 1X Net Browser 1.0.0.67
A fast, compact, easy-to-use web browser with features unavailable in other web browsers. Includes Snippets, LinkGopher,Time Synch and Modem Stats. Reports website server and page details. Handy paper-save Print Previewer.

---
103) Anonymous Forum Buddy 2.7
Anonymous Forum Buddy masks the IP address by routing your traffic through foreign anonymous proxies. This way you can surf, read mail, news, participate in newsgroups without revealing your real IP address.

---
104) KidSplorer Web Browser 4.0.2
KidSplorer web browser allows your kids to safely use the internet. The parental control feature limits your child to specific web sites and automatically blocks all other web sites. Schedule the amount of time your child can spend on the internet.

---
105) Inquisitor V160706
Inquisitor is a visual Site Ripper/Offline Browser to select and download images shown as thumbnails in a specified destination directory. Also includes a multi connect ftp-client, and the possibility to display captured Sites, and also HTTP scanner.

---
106) Notes Pilot 1.71
With Notes Pilot, you can collect text and images from web pages with ease. Just drag'n'drop selected text and images on the program icon and Notes Pilot will save it. You can collect text from Outlook, MS Word and other programs too!

---
107) Riviera Browser 1.0
Custom Freeware Browser a beautiful hi-resolution interface and mp3 functionality.

---
108) BrowserBob Basic 4.1.0.0
Create custom browsers, real eBooks, presentations, multimedia in your own design via Drag & Drop. Integrate any web-technology. Get results within minutes. Make crazy standalone software (exe, setups) without programming - easily! Award-winning app!

---
109) GoBox 1.1.0.12
GoBox instantly accesses google, yahoo, maps, news, phones, eBay, AOL, movies, spelling, stocks & more directly from your desktop. This revolutionary new tool makes finding the information you need quicker and easier.

---
110) Page Links 1.0
Page Links is a simple MDI (Multi Document Interface) web browser based on Internet Explorer that allows the user to browse multiple sites simultaneously.

---
111) KidRocket Web Browser - Kids Browser 1.0b4
KidRocket is a FREE Kids Web Browser, designed for Kids to safely surf the internets top child related web sites. New password-protected Parental Admin Area, New GUI, over 200 custom colors, interactive Math Flashcards, Games, Internet Filter.

---
112) LOWA ESL Memory Game 1.0.1
Students learning English gain familiarity with over 100 English terms through interactive game play and repetition.

---
113) StopPop.net 2.07
StopPop.net blocks Internet Explorer popup windows. A small, effective, and smart anti-popup software product than can kill annoying pop-up windows without your intervention. Unlike other pop up blockers StopPop.net only runs when you browse the web.

---
114) NewsPiper 3.3.15
NewsPiper is a RSS/Atom/Web news reader and news/stock ticker in one environment. It shows news in usual 3-panes newsreader interface (channels, headlines, news details) and in a news ticker bar (News Bar). Additionally it can pronounce news.

---
115) lazylooper 1.0
Lazylooper automates the loading of your favorite web pages, essentially creating a slideshow of the web sites listed in your 'Favorites' folder.

---
116) febooti ieZoom toolbar 1.3
IE toolbar - zoom Internet Explorer pages, zoom web sites. Auto fit print web pages with proper width and without cropped margins. Pick colors using html color names (x11, NS, web safe colors). Resize browser window using presets. Use skins.

---
117) Whistone for IE 1.60
Whistone is a useful plug-in for Microsoft Internet Explorer. With its imaginational features, we just got a nicer browser without changing any habit of surfing.

---
118) PDF Sealer (PDFSealer) 6.08
The main functions of PDFSealer now include Digitally Signing using Certificate managed by Windows and Applying Standard Security and Permission.

---
119) ValleySpeak Project Server 1.1
For Project Managers using Microsoft Project, ValleySpeak Project Server provides affordable and easy to use browser-based access to allow their team to view and update schedule status in real time. (Required dedicated machine, download is ISO image)

---
120) FRS Time Tracker Pro 1.4
FRS Time Tracker Pro is an easy to use utility to assist business, teachers, students, and parents in tracking the amount of time spent on various projects and activities.

---
121) DimFil Internet Browser Vista 1.0
Change skin [32]; Tab - to hide, to show images, DimFil popup menu; Tab plus - DimFil popup menu, does not show the message on a mistake of a script; Tab pro - IE popup menu, save as, print preview, print, internet properties.

---
122) 550 Access Browser 3.0.18
550 Access Browser - fast and free! Open several Websites in one task window to avoid clutter. Erase cookies, history, passwords etc. with a single command. Open groups of Web sites you often view with just one click. Eliminate pop-ups and ads.

---
123) HMView 4.04
HMView supports most of the HTML 3.0 specs., it supports frames, tables, animated GIFs, sound, and other desirable HTML features. The splash screen, animated logo, and help file can be customized.

---
124) Netscape Communicator 7.1
An open email, groupware, and browser suite.

---
125) Belkasoft ICQ History Extractor 1.01
Lost in your ICQ history? Not a problem any more! Belkasoft ICQ History Extractor allows you to extract your Mirabilis ICQ and Miranda IM history into such formats as plain text, HTML and XML. Almost all versions of ICQ/Miranda are supported.

---
126) Demo button for Internet Explorer (IEDemoButton) 1.0.
This demo program allows to add the button into Internet Explorer "standard buttons" toolbar (where "Go back", "Go forward", "Stop"..... buttons). Unlike buttons added with standard way, this button allows to show text and show a drop-down menu.

---
127) Built-in RSS Client 1.0.2.229
Built-in RSS Client is the best way to reading, searching and storing RSS feeds. You don't have to develop any new application, you can read your favorit RSS feeds using your habitual Internet Explorer

---
128) Gogo Explorer 2.34
Gogo Explorer tabbed browser is a powerful web browser. It is based on the Internet Explorer engine, and provide more excellent features.

---
129) Coupon Codes Toolbar 1.0
Install the Coupon Codes toolbar to save money at online stores. Have quick access to all currently available coupon codes for discounts at hundreds of online stores.

---
130) P2P Torrent Toolbar 5.3.2.0
P2P Torrent Toolbar brings you latest torrent trackers and direct torrents, online P2P resources, online videos, games, news and gadgets. Check your email automatically or listen to Internet radio. It's all here! Your browser will never be the same!

---
131) BrowserBob Light 3.2.0.0
Create custom browsers, real eBooks, presentations, multimedia in your own design via Drag & Drop. Integrate any web-technology. Get results within minutes. Make crazy standalone software (exe, setups) without programming - easily! Award-winning app!

---
132) Smart Popup Blocker
Smart Popup Blocker can block annoying unsolicited pop-up windows before they open.

---
133) IESnap 1.0
IESnap is an Internet Explorer plugin intended to make snapshots of web pages and save resulting image to file.

---
134) FreeSearchingBar Amazon Edition 2.0
This toolbar for the Internet Explorer (6 or later) enables you to search the web and amazon with one tool.

---
135) AddaButton 4.1
Add custom buttons directly to Internet Explores own toolbar which can launch any program or document on your computer. Easy-to-use interface allows you to define the button text, icon, and more.

---
136) Free TV Online software 3.0
NOBtv is a very easy-to-use TV Online software which is completely free without any limitations. Watch free streaming tv from 1000's of television and radio channels from around the world. Play all RealPlayer, Windows Media and MP3 channels.

---
137) Security Toolbar 4.5.166.0
BST Toolbar is the easiest way to ensure your computer security while browsing the Internet, or reading emails. We offer you daily security news, tips and tools about: Adware, Spyware, Anti-Virus, Firewalls, Linux, Windows and Security Incidents.

---
138) IE New Window Maximizer 2.3
This program will automatically maximize new Internet Explorer and Outlook Express windows. It´s also possible to open new IE windows and automatically have them sent to the background. Close popups.

---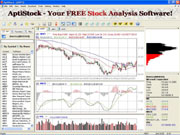 139) AptiStock 1.03
AptiStock is the FREE stock market analysis software developed for every level of trader.

---
140) Inquiry Professional Edition 1.8 SR4
MetaProducts Inquiry Pro makes Internet research a snap! Collect, organize and view information from the Web on your terms, quickly and easily. A Windows 98/ME/NT/2000/XP/2003 application, it is fully integrated with Microsoft Internet Explorer.

---
141) SurfGem 3.1
Powerful URLs bookmark manager with a fully featured multi-tabbed browser. Not dependent on any web browser to store URL bookmarks. It's an independent application that you can use with almost any web browser side by side.

---
142) FreshWatch Bookmark Manager 1.92
FreshWatch is a browser independent, fast and easy to use explorer style bookmark manager for organizing bookmarks into folders, searching and annotating bookmarks by keywords, checking latest web page updates and backing up links. Flash tutorials.

---
143) Inquiry Standard Edition 1.8 SR4
MetaProducts Inquiry makes Internet research a snap! Collect, organize and view information from the Web on your terms, quickly and easily. A Windows 98/ME/NT/2000/XP/2003 application, it is fully integrated with Microsoft Internet Explorer.

---
144) Master Math Word Problems 1.2.4
Solving word problems is an area where elementary students overwhelmingly display difficulties. Master Math Word Problems can help sharpen skills through practice.

---
145) Guitar Solo Toolbar 1.0
The Guitar Solo Toolbar is an add-in for the Internet Explorer browser. The toolbar helps you to quickly find guitar information and equipment from any web page on www.MyGuitarSolo.com as well as on the major search engines - Google, Yahoo, and MSN.

---
146) KidSplorer 3.6.0
KidSplorer is a web browser that allows your kids to safely browse the internet unsupervised. Only KidSafe web sites can be browsed, all other sites are automatically blocked. Limit computer use with schedules, prevent access to other programs.

---
147) Simpliciti Family Browser 1.02
Simpliciti browser provides security and safety for your children using the internet. It includes popup control, child lockdown to only the sites you allow as well as being able to set usage time limits. Also includes features for the entire family.

---
148) Simpliciti Locked Browser 1.06
This locked browser is ideal for use for PC's where limited or restricted internet usage is provided for users in places such as offices, kiosks, retail, libraries, banks, hospitals and clinics as well as universities and schools.

---
149) FireTune v1.0
If you want to keep your FireFox tuned up you need FireTune. There are other 300.000 users of FireFox who think the same. This tweak-utility reunites all the tweaks for FireFox in one friendly and easy-to-use interface.

---
150) Windows midi/wav MCI Player 1.0
This is a Windows MCI Player for listening to .midi or .wav files. The application was built for windows using ActiveX controls. For more information, please visit http://activex.moonvalley.com

---


Browse Pages: [1] [2] 3 [4] [5] [6] [7] [8] [9] [10] [11] [12] [13] [14] [15] [16] [17] [18] [19] [20]