Image Editing - Multimedia & Design Programs from 451 to 500 listed after downloads number (from 1102 category titles)
Order programs after downloads or name or date (currently are listed after popularity)


451) U.R.Celeb 2.08
U.R.Celeb is a small graphics software that can design your own magazine cover in a few steps. It comes with several stock magazine templates, and you can save your editable template of the magazine, or save your magazine as BMP PNG or JPG format.

---
452) AyeView 2.10
AyeView is a graphics image viewer converter with image transformations, enables you to browse open view convert flip mirror rotate resize your bmp cur dcx emf fmf g3f g3n gif ico jpeg jpg j2k j2c jp2 jpc pcx pgx png pnm pgm ppm ras tif tiff wbmp wmf

---
453) Stitch Fisheye Pro 1.0
Stitch 2 or more* fisheye images with just one simple click of a button. At last an affordable fisheye stitcher that works fast on any PC. If you have a 3D card such as the GForce series, or any card that supports DirectX, you will see truly stunning

---
454) Video DeNoise for VirtualDub 2.0
The filter for VirtualDub to remove video noise on VHS movie. Its main task is suppression of noise as small bright lines, red or blue color, less often green. Reducing noise can increase video encoding quality and decrease file size.

---
455) PhotoSite 2.0
Features: ASP templates for convenient web development transfer; external SQL script for creating tables in database; support for a multi-level directory structure for produced websites; custom-made connection string to database; step-by-step wizard.

---
456) SE Image Extractor 3.11.52
SolidEdge Automation Tool that easily extracts 2D and 3D drawings into different image formats (bmp, jpg, etc.) for easy integration with 3rd party software.

---
457) Watermark Factory - advanced watermark creator 2.58
Watermark Factory allows you to add text or image watermark to any picture. Protect your copyrights or simply add comments to any picture. This useful program has beautiful and easy to use interface.

---
458) J2K Converter 1.0
With the help of this original freeware you can converse a number of pictures of JPG 2000 format to BMP format. You can also sort the pictures and save the sorted series on your computer with the specified file name.

---
459) Artistic Effects 1.8
Download this great collection of image filters that make up professional computer artist toolbox. This unique effects pack has all that you may need to start creating fantastic colorful artwork right away without having to pay mega bucks for it!

---

460) Background Remover 3.1
The Background Remover fast and easily extracts objects from a complex background of a digital image. You only need to mark very roughly an object and background and choose the cutting out tool from a toolbar. Object extraction is done automatically.

---
461) Shortcut PhotoArtist 1.0.10
Shortcut PhotoArtist is equipped with all the right painting tools and functionality to let you turn each of your photos into great looking pieces of art.

---
462) AVD Batch Converter 1.5.1
Convert graphics files in a batch mode.

---
463) Mihov Image Resizer 0.9
This freeware program helps you resize your favorite images to bigger or smaller size (blow or shrink). It allows you to convert and save the pictures to and from jpg, gif and bmp graphic formats in batch mode. You can also use it to rotate images.

---
464) Scan to PDF 3.2
Scan and save as PDF: PDF file generation of paper based documents. Simply place the document in the scanner's sheet feeder, click on the scan button, enter the name of the desired PDF file - job done. Adobe Acrobat not required.

---
465) JPEGCompressor 1.0
JPEGCompressor is a java program designed to compress JPEG pictures. The Program compresses a batch of jpeg pictures to a specified dimension and quality.

---
466) Imagicon 1.4
Imagicon is a graphics utility designed to convert multiple image files from BMP, JPG or PNG image formats into any of the following image formats (24-bit): BMP, JPG, PNG and ICO. Full instructions are included with the software.

---
467) Fun Thumbs 1.0
Fun Thumbs is feature-rich software which makes it simple and enjoyable to create attractive thumbnails of your photo collections. This software gives you full control over your thumbnail sizes, names and allows you to add special effects.

---
468) Hero Video Converter 2.7.8
Hero Video Convert offers various video conversion between DVD, VCD, MPEG1, MPEG2, MPEG4, AVI, RM, and GIF etc.. Even advanced conversion and effects editing are included. And it supports batch conversion and HT technology.

---

469) Raster to Vector Standard 7.1
Raster to Vector converts scanned drawings, maps and raster images (such as BMP, JPG, TIF, GIF, etc) into vector formats (such as DXF, HPGL, EMF, etc). You can scan old plans, archive drawings, or even photos and convert them into useful CAD data.

---
470) RahmanImager Basic 2.0.1
RahmanImager Basic is an advanced full featured digital Image processing and Manipulation platform with support for layers, vast arrays of filters, Special Effects, Artistic Colorizing, Tools. It is one of the best alternative to Adobe Photoshop.

---
471) Free RAW Viewer 1.00
Free RAW Viewer designed to support RAW image formats (CR2 and CR formats), used by popular professional digital camera such as Canon EOS series. The program offers a thumbnail browser, slide show viewer and a full preview of the selected image.

---
472) 3D Button Creator Gold 3.02
3D Button Creator is a tool for calculating 3D-looking buttons to improve the graphical impression of your homepage or to be used in your own program as customized graphical buttons. Easy to use WYSIWYG editor for realtime editing.

---

473) Quick Photo Resizer 2.6.2
This program offers an ingenious way of resizing your photos before you upload them to the Web. You simply select a resizing scheme and drag images to the program's window. The program selects a JPEG Quality to best fit the size desired.

---
474) Algolab Raster to Vector Conversion Toolkit Software 1.0
Scan to CAD vectorizer. Converts scanned drawings to vector formats.

---
475) 3D Photo Builder Professional 2.0
Powerful software for high quality panorama stitching and 3D images composing. It's equipped with wide range of tools for storage, processing, preview, exporting and WEB publication of 3D graphics

---
476) Topaz DeJPEG 1.3
A Photoshop plug-in that removes JPEG artifacts and enhances image clarity simultaneously. Its ease of use makes it perfect for everyone while its advanced algorithms achieve the optimal result.

---
477) ColorBetter 1.1
ColorBetter is a tool for color correction and color improvement of digital images from any sources (Digital Camera, Scanner, Internet...). The designing goal of this tool is to giving the color what you just want.

---
478) CAD PDF Converter 2005.1
CAD PDF Converter is a batch converter that allows you to convert AutoCAD DWG to PDF, and DXF to PDF without the need of AutoCAD.

---
479) Pic2Pic 3.1
Pic2Pic enables rapid conversion of images in the batch mode. You can convert images to all popular image formats, plus apply some enhancements. Resize, rotate, adjust brightness and contrast, add watermarks and frames to multiple images in one go!

---
480) FotoKiss Auction Photo Editor 3.4
The Worlds Best Auction Photo Editor! Optimized for eBay Sellers, FotoKiss makes it easy to prepare and use digital photos for an auction listing, shopping cart, photo gallery or catalog. Simple to operate and produces high quality results.

---

481) AutoCAD DWG to DXF 2005
AutoCAD DWG to DXF is a batch DWG DXF bi-directional converter that allows you to convert DWG to DXF, DXF to DWG without the need of AutoCAD. It is also an AutoCAD drawing file version converter.

---
482) Easy Watermark Creator 2.6
Easy Watermark Creator is easy-to-use tool for adding visible watermarks to your pictures and photos. Watermarks can contain text (phrase, file name and number), image, date (current values or from EXIF), and can be solid or semi-transparent.

---
483) Pixie 1.1
Pixie is an image slideshow viewer for displaying your image collections in a small and convenient resizable desktop window.

---
484) Exif Farm 2.1.0
EXIF editor is used for viewing EXIF/IPTC/XMP/GPS data, and editing and creating EXIF/GPS data. It is also integrated into Windows Explorer.

---
485) SmartPicture 1.2
SmartPicture allows a picture to be worth more than a thousand words. SmartPicture allows you to add dates, titles, and descriptions to your pictures while browsing through them in SmartPicture's easy to use picture viewer.

---
486) Photo Combiner 4.52
You can make a artistic work, which commix two or more photos, is extremely innovative and perfect. You can select a favorite photo as background, arrange multiple photos on the paper, then apply operations to them, such as add sketch, rotate photo,

---
487) DigiMode FotoVU 1.0.1
This Photo viewer is a very powerful image viewing utility, You can search CD or any drive or a specicific directory in you computer for images and thousands of images will be loaded to the playlist in few seconds. Just click play to start viewing.

---
488) StudioLine Photo 2.7
Image editor, organizer and sharing. 30 professional filters and effects. Support for IPTC/Exif and custom tags. All tags are fully searchable. CD/DVD archival. Photos can be printed, emailed or uploaded as web galleries.

---
489) Clarific 1.4
Clarific reduces noise and grain in photographs and improves resolution. It is unique in its ability to handle especially noisy images.

---
490) Miraplacid Screen Capture 1.0
Miraplacid Screen Capture saves screenshots to JPEG, PDF, TIFF, PNG, BMP and TGA image files or redirects them to a printer. It overrides default Print Screen button behavior with preview panel.

---
491) SkinStudio 5.01
SkinStudio is a program that lets you design your own graphical user interfaces that can then be applied to Microsoft Windows or various programs on Windows such as Windows Media Player.

---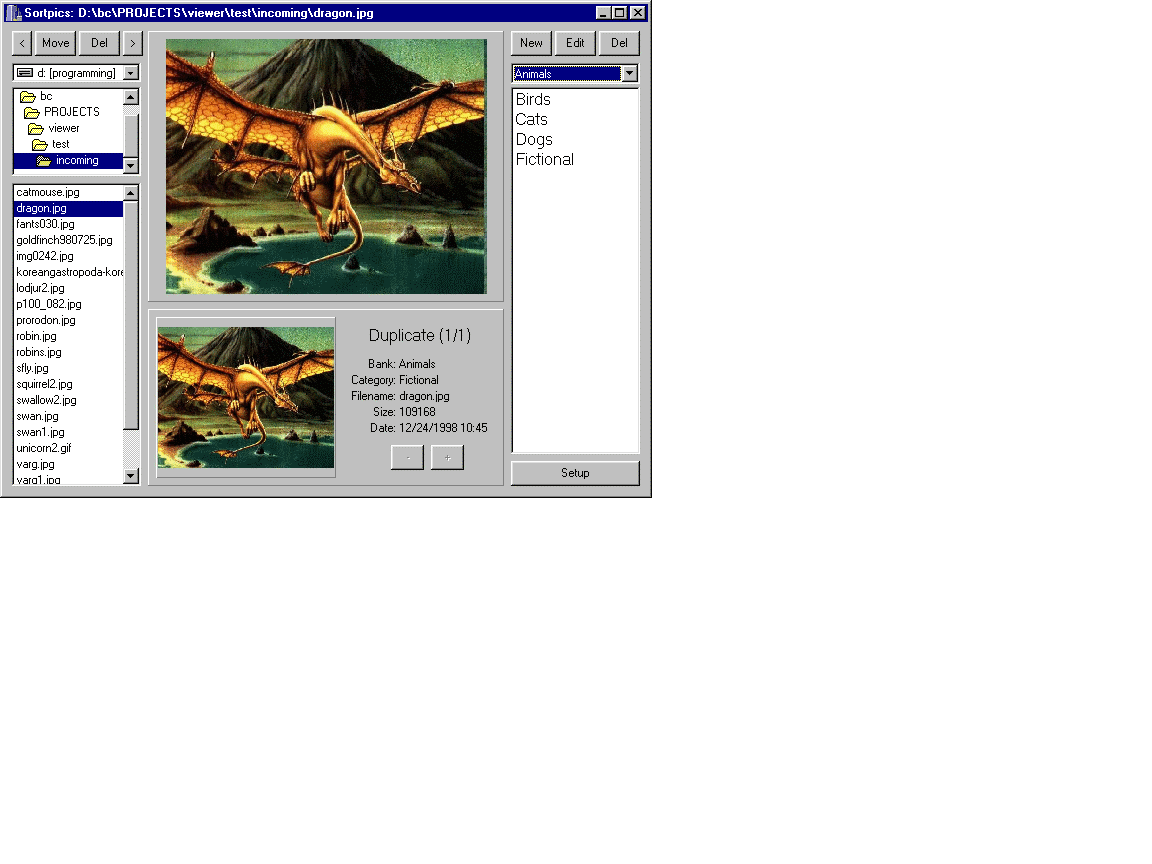 492) SortPics 2.8
SortPics: Image Sorter and Duplicate Finder sorts large collections of images into multiple categories. Features user-configurable hot keys for quick sorting, multiple banks of categories, and unlimited category support.

---
493) PDF Slideshow 1.0
Create PDF files with your photos and pictures as Slideshow. If you open the file in Acrobat Reader you don't get a static view to your photos but you will see your photos as slideshow.

---
494) FotoFinish 3.01
FotoFinish is the easiest software for your digital camera! Print, edit and design any digital photo project. Includes intuitive editing wizards, and professional templates and layouts. Download FotoFinish and get the most out of your digital camera.

---
495) Perfect Skin Photo 1
Perfect Skin Photo is software that loads in your photos and removes acne, wrinkles, cellulite, snotty noses, fine facial hair and more. It does this while retaining a photo-realistic image.

---
496) PhotoMagic 1.2.6
PhotoMagic is a photo software suite that allows you to repair, resize, paint, design, and print your photos. Award winning and patented technologies, and a powerful user interface provide the highest quality while it remains very easy to use.

---
497) ASCII Art Studio 2.1.1
A Powerful ASCII Art editor have many features: It supports text editing and graphic editing; converts between pictures and ASCII art; enables viewing of ANSI ASCII art; has multiple undo/redo and print functionality; and more.

---
498) Onekit Texture Converter 1.0
Onekit Texture Converter is a freeware tool for 3D game developers. This tool converts PNG format images to JPG images, taking into account the alpha channel presence. However, it's not all this tool can perform.

---
499) Wire Pilot Plugin 1.00 Free
Photo retouching plugin removes wires and other unwanted linear objects

---
500) STOIK Smart Resizer 1.0
Program offers various methods to resize digital photos including new STOIK Smart Resize algorithm which allows to enlarge digital images up to 1000% without loss of visual sharpness.

---


Browse Pages: [1] [2] [3] [4] [5] [6] [7] [8] [9] 10 [11] [12] [13] [14] [15] [16] [17] [18] [19] [20] [21] [22] [23]