Top 1551-1600 Security & Privacy Programs (from 3088 category titles)
Order programs after downloads or name (currently are listed after downloads)


1551) 1 Click Encrypt File Folder Encryption 1.4.1
1 Click Encrypt is the encryption utility that brings military strength encryption power at your fingertips, assuring that your files are secured and protected from intruders and spies. It can encrypt or securely hide any type of file.

---
1552) Password Protected Lock 2.92
Password Protected Lock is an excellent security computer lock you can use to secure your PC and protect your privacy. It is attractive, secure, and very easy to use. It starts automatically with Windows and optionally activates desktop lock...

---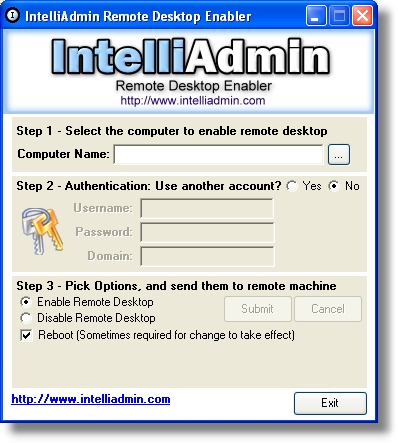 1553) Remote Desktop Enabler 2.0
This program allows to enable the remote desktop feature of Windows XP/2000/2003 - Remotely

---
1554) ! - $ Evidence Eraser Pro 3.2
Evidence Eraser Pro provides privacy and optimizes your PC by erasing the Internet tracks and unwanted files that piles-up on your computer automatically as you browse Internet. It releases your valuable disk space by cleaning the unneeded files.

---
1555) Mouse Lock 1.64
Lock your mouse and PC.

---
1556) 1000 Passwords Plus 1.0
Stores and creates passwords. Uses one to three separate storage areas. Very easy to use. No configuration necessary. Low memory consumtion. Very fast and reliable. Altough there are hundreds of programs alike. This is the best on, you be the judge

---
1557) Lock My Computer 9.41
Desktop security solution for personal or publicly accessible computers. It disallows unauthorized changes to various settings of the Windows system, such as Control Panel, Desktop, Local Security Policies, Outlook Express account settings and more.

---
1558) Lockdown Plus PC 4.0
Lockdown Plus PC is a network-based desktop security utility to secure Windows-based computers. It can restrict access to files, folders, local and removable drives, as well as lock down various system settings and resources over network.

---
1559) Internet Lock 5.0
Internet Lock is an access control software for your internet and intranet connection,it can deny or password protect any program from accessing the internet. Internet Lock allow you to fully control the access to the internet for each program.

---
1560) Atomic Outlook Password Recovery 1.50
Atomic Outlook Password Recovery is a all-in-one program for recovering all kinds of passwords used in Outlook and Outlook Express. It finds all passwords insatntly and 100% correct (otherwise moneyback).

---

1561) PC James Bond 007 2007 5.2
PC James Bond 007 secrectly logs keystrokes, screenshots, websites visited, windows opened, applications, Skype, MSN IM, ICQ, AIM, Yahoo! IM, clipboard, passwords typed, emails, docs and more. Set hotkey and password. Send logs to a preset email.

---
1562) PC Pandora - Web Detective 2006
Record all secret passwords and take snapshots of the websites visited, emails sent and received, Instant Messages sent and received, Chat room conversions and other computer and Internet activity that is done on your PC. Easy, VCR-like playback.

---
1563) Peachtree Password Recovery 1.0d
Peachtree Password Recovery is a program to recover lost or forgotten passwords for Peachtree Accounting company files. All passwords are recovered instantly regardless of length. Multilingual passwords are supported.

---
1564) Excel Password Recovery Wizard 2.0.2
Excel Password Recovery Wizard provides you with a friendly interface to recover Excel passwords in a flash. The built-in attack profiles enable rapid password recovery with only one key press. Recovery success is guaranteed.

---

1565) QuickBooks Password 10.0.6745
Password cracker for QuickBooks files (*.qbw, *.qba). QuickBooks Password resets the password to a known one, this can be done instantly and you can open your document immediately.

---
1566) Elite Anti Keylogger 3.0
With Elite Anti Keylogger you can easily remove keyloggers, detect spyware, trojans, worms and other malicious software! Once installed Elite Anti Spy Software protects your privacy right away and forever. Effective keylogger remover.

---
1567) Password Recovery Engine for Excel 2.0
Password Recovery Engine for Excel is probably the fastest password-retrieval software for Excel. The program features an intuitive interface and breaks into protected files in a wink of an eye. Don't miss it, and it won't miss your passwords!

---

1568) BitDefender Antivirus 10
BitDefender AntiVirus 2010 provides the ultimate proactive protection for your PCs, without slowing them down. It combines advanced protection against viruses, spyware, hackers, spam and other e-threats.

---
1569) SIS ANTIVIRUS AND FIREWALL 2007.02115
AV Firewall 2007 provides essential virus protection from viruses, hackers, Trojans and privacy threats. Powerful yet easy to use, protect yourself, your family, and your PC online with AV Firewall 2007.

---
1570) ZIP RAR ACE Password Recovery 2.20
ZIP RAR ACE Password Recovery is a program to recover lost passwords on ZIP, RAR and ACE archives using Bruteforce, Mask or Dictionary attack. Supports Multi-volume RAR archives; Supports a user-defined character set. Autosave feature. Auto Update.

---
1571) Take-Away USB Flashdisk Encryption 1.0.2.10
The USB Flashdisk Encryption makes your files secure. Its easy to use. Just copy the program to your flashdisk, set it up by typing in your password and you are ready to go.

---
1572) Rising Antivirus for VISTA 19.33
Rising Antivirus protects your PCs against all types of viruses, Trojans, worms, rootkits and other malicious programs. It is simple to install and use with minimal system resources consumption. It checks for updates continuously and automatically.

---
1573) USB CopyNotify! 1.2
USB CopyNotify! is a software utility that notifies you when a USB Stick is being used on any of the PCs on the network. This security utility alerts you and hence prevents the unauthorized copying of your confidential data on USB sticks/drives.

---

1574) Yahoo! Messenger Spy Monitor 2008 6.16
Invisible messenger spy software that records all Yahoo! Messenger incoming and outgoing chat text. Send reports to your custom email address or ftp. Use your hotkey to activate it from complete stealth mode and protect programaccess by password.

---

1575) SpyPal Yahoo! Messenger Spy 2008 5.4
SpyPal Yahoo! Messenger Spy software can secretly Secretly record all Yahoo! Messenger's incoming and outgoing chat text messages. You can check all recorded messages by simply receiving emails or opening a web page.

---

1576) MSN Spy Monitor 2008 6.17
Secretly record MSN Messenger, Windows Live Messenger and Windows Messenger's incoming and outgoing chat text messages. It runs in a complete invisible mode. You can check all recorded messages by simply receiving emails or opening a web page.

---
1577) KGB Employee Monitor 4.21
Monitor employees or remote computers in real time with a centralized, computer-based surveillance system. Whether you are a manager or a system administrator, KGB Employee Monitor makes it easy to monitor multiple workstations from a single PC.

---
1578) Panda Antivirus 2008 - 3 User Lizenz DE Retail-BOX
The new security solution "Panda Antivirus + Firewall 2008" provides the maximum, automatic protection from all viruses, worms, Trojan horses, spyware and hackers.

---
1579) iMonitorPC Home with Online Monitoring 3.3.0
iMonitorPC is the most easy-to-use tool to monitor and record all system usage secretly, such as all applications loaded, Internet chats, web sites visited.It includes selective website blocking, activity reports, screen shots, program usage limits.

---

1580) Internet Explorer Password Changer 3.0.1.5
Freeware Hotmail password restoration utility recovers lost user secret code of Yahoo, MSN, Gmail, AOL, EarthLink, Comcast email account. Software display encrypted windows application asterisks character textbox code string in readable text format.

---
1581) LockBox 2.11
LockBox acts similar to a windows folder, except it is opened with a password. Any files dragged into the LockBox are protected with a strong encryption algorithm. Files can be used from directly within the LockBox, without compromising security.

---
1582) Natural Login Pro 1.10
Increase your Windows security level. Get rid of the weak Windows password system. Replace it with a strong, highly secure, 2-Factor (or even more) login system, using your existing removable storage device. Protect & Lock your PC & your files.

---
1583) Max PC Safe 5.3
Max PC Safe is an encryption software which protects your private data from preying eyes. Max PC Safe can encrypt/decrypt any number of files, folders, pictures and documents in seconds. It is Easy-to-use password-protected security utility.

---
1584) Identity Knight 1.4
Holes in Internet Explorer software allow 3rd party programs to access your private data. Your credit card numbers, SSN, driver license and e-mails can be stolen easily! Download Identity Knight, the unique credentials protection software, today!

---
1585) PrivacyWatcher 1.12
PrivacyWatcher is the program for cleaning up the history of your activities on a computer and protecting it from the unauthorized access. It cleans up tracks of Internet Explorer, Windows, Netscape, Mozilla, Opera, MS Office and more.

---
1586) GUIDGenerator 1.01
The program generates GUIDs.

---
1587) B-Calm Privacy v1.0.40
Instantly hide what's on the screen by pressing a secret "panic" hotkey removing them from the task bar and task manager, then restore all windows later when the panic is over! Activate by secret hotkey, or clicking on a systray icon. Perfect bosskey

---
1588) AES Pro 5.2
AES Pro is the suite of encryption tools for personal and professional security.

---
1589) CD Secure 2.00
CD Secure prevents pirated copying and unapproved accessing your sensitive files and data in compact disk.

---
1590) Panda Enterprise Suite
Complete network protection.

---
1591) Security Check 1.0
SecurityCheck the most common security vulnerabilities Get corrective recommendations and easy remedies for Windows systems Unset or blank passwords for user and Administrative accounts Enabled Guest Account Unencrypted Wireless Network Shared Folder

---
1592) EXE Locker 1.00
EXE Locker password protects any program currently residing on your hard drive. An attempt to run a program that''s locked down will result in a dialoge box launching asking for the password.

---
1593) Antivirus Shield Pro - Antivirus & Firewall 2007
The Shield Pro 2007 AntiVirus and Personal Firewall - Essential Protection from Viruses, Trojans, Data Thieves, Hackers, and Online Threats. Powerful yet easy to use, you get both Virus protection and hacker security. Free support and updates.

---
1594) PC Record 1.0
PC Record is a security tool that allows you to monitor your PC EVERY single minute it is turned on! This application makes a virtual copy of EXACTLY what is on the screen at time intervals that YOU decide.

---
1595) Snare Micro Server 1.2
The Snare Micro Server is a program that provides a central collection facility for a variety of log sources, including Snare Agents for Windows, Solaris, AIX, Irix, ISA Server, IIS Server, Lotus Notes (and others), plus any syslog-capable device

---
1596) PAL Emergency Response 2006
New computer viruses can disable most Antivirus programs! PAL Emergency Response Anti-Virus works separate from other programs on your PC and will remove all the latest viruses, trojans, worms and online threats. FREE Updates. Special Offer 50% off.

---
1597) Safe n Sec 2.5.1989
Safe n Sec - Real-time Proactive Computer Protection against viruses, spyware, vulnerabilities and newly discovered threats.

---
1598) RegRun Security Suite Platinum 5.5
RegRun Suite is a complete computer security software. RegRun Platinum includes 24 system utilities for protecting a computer against Rootkits/Trojans/Adware/Spyware components, increase Windows boot-up process speed, help in computer management.

---

1599) FTP Password 1.0.296
FTP Password is an universal password recovery tool for FTP accounts. It recovers all FTP logins and passwords stored in your computer by your FTP software.

---

1600) Yahoo! Messenger Spy Monitor 2007 6.5.1
Invisible messenger spy software that records all Yahoo! Messenger incoming and outgoing chat text. Send reports to your custom email address or ftp. Use your hotkey to activate it from complete stealth mode and protect programaccess by password.

---


Browse Pages: [1] [2] [3] [4] [5] [6] [7] [8] [9] [10] [11] [12] [13] [14] [15] [16] [17] [18] [19] [20] [21] [22] [23] [24] [25] [26] [27] [28] [29] [30] [31] 32 [33] [34] [35] [36] [37] [38] [39] [40] [41] [42] [43] [44] [45] [46] [47] [48] [49] [50] [51] [52] [53] [54] [55] [56] [57] [58] [59] [60] [61] [62]