Top 2001-2050 Security & Privacy Programs (from 3088 category titles)
Order programs after downloads or name (currently are listed after downloads)



2001) AQL Secure Password Generator 2.00a
AQL Secure Password Generator( http://www.aqlsoft.com ) allows you to create random password that are highly secure and extremely difficult to crack or guess due to an optional combination of lower or upper case letters,numbers and punctuation symbols

---
2002) File and Folder Privacy 3.5
Password-protect and hide your files and folders with a click of mouse. The program supports Windows Explorer integration and upon installation creates easily accessible menu items in the context menu of Windows Explorer.

---
2003) Enigma Folder Lock 1.0
a security application to protect your most sensitive and secret data files or documents

---

2004) SHA-1 Password 1.0.292
SHA-1 Password is a tool for security professionals, which allows recovering a password if you know its SHA-1 hash. The fast recovery engine can recover up to 32,000 passwords simultaneously.

---
2005) A-Block 1.1
A-Block is purposed for protection of any kind data. The main purpose of program is to protect - confidential user's information from illegal actions of a virus, disk scanners or a criminal, who attacks computer through local network or Internet.

---
2006) Enigma encrypt_bit PLUS 1
Enigma encrypt_bit PLUS is a encyrption program

---
2007) Advanced File Vault 1.097
Hide or password-protect any file instantly by just clicking on it. The program works with all file types including pictures and movies. Once a file is locked or hidden, it is completely encrypted and none of its contents can be viewed.

---
2008) 2in1 Privacy Folder and Password Manager 8.3
PrivacyArea is a fast security software that have 2 components: "Privacy Folder" can hide and password-protect your files, folders, pictures, and documents in seconds. "Password Manager" securely stores your passwords and auto-fills.

---
2009) localTrezor 1.0.7
localTrezor program is a multiuser Windows-based application that creates a protected, safe store (a so-called vault or trezor) for the your data: the data are encrypted, password protected, and physically may be stored in several copies.

---
2010) Privacy_Defender 4.1.0
Privacy Defender seffectively scans your hard drive, memory and registry for different spyware and adware programs, and detects them automatically when it finds them. It includes over 13,000 Adware Spyware Removal Signatures

---
2011) The Shield_Deluxe 4.1.0
The Shield Deluxeâ"¢ provides complete protection from today's online threats. You'll get our award winning AntiVirus for protecting against viruses and Trojans PLUS you'll also get Privacy Defender 4.0 to protect from adware, spyware and much more.

---
2012) Cyber_Defender 2.0.0.6
Threat Central automatically analyzes threats and calculates risk levels. CyberDefender AntiSpyware Software releases, quarantines or deletes the tested file based on determined level on threat. This process takes place in real-time.

---
2013) PPedia Task Manager Svchost Edition 1.02
Free Task manager with process library. Do you know what process names like svchost, winlogon, taskmgr, rundll32, jusched or ctfmon mean? This software and http://www.ppedia.com help you with the removal of spyware, adware or keyloggers for free.

---

2014) SpyPal Email Spy 2008 5.4
SpyPal Email Spy software secretly monitors and records all emails opened in popular email clients. It runs in a complete invisible mode. You can check all recorded messages by simply receiving emails or opening a web page.

---
2015) Advanced Task Manager 4.0
Advanced Task Manager shows you all the programs running on your computer, including the hidden ones. It displays security rating, advice and details about each program, and helps you identify and remove spyware and other dangerous programs.

---
2016) Spy Ferret - Spyware Remover 5.03.717
SpyFerret detects Spyware, Adware, Trojans, Worms, Search Hijackers, Homepage Hijackers and more. SpyFerret offers the fastest, most reliable scan on the market. Remove ALL Spyware, Adware and Trojans in 3 Minutes. FREE PC SCAN.

---
2017) Spy Destroy Professional 1.0.9
Protect your Privacy, Stop Identity Theft, Popup Ads and Privacy Invasion. Download SpyDestroy to Scan your PC's Processes, Memory and System Registry for hidden Spyware, Adware, Trojans, Dialers, Worms and other Malware. - Scan your PC for FREE!

---
2018) Desktop Security Rx 4.0
Desktop Security Rx prevents users from deleting critical files and applications, making unauthorized changes to the desktop, saving unwanted programs, running disallowed programs, and downloading from Internet Explorer. Complete PC Lock-down

---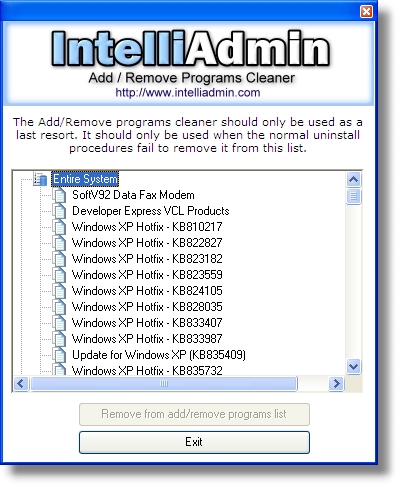 2019) Add Remove Program Cleaner 2.0
This program allows you to clean up the Add/Remove programs list in the control panel. It should only be used to remove entries that are broken and cannot be removed by running the uninstall program.

---
2020) Spy Destroy -Spyware Remover 1.0.11
Protect your Privacy, Stop Identity Theft, Popup Ads and Privacy Invasion. Download SpyDestroy to Scan your PC's Processes, Memory and System Registry for hidden Spyware, Adware, Trojans, Dialers, Worms and other Malware. - Scan your PC for FREE!

---
2021) !$ Free Spyware Adware Scanner and Remover 3.0.1
A spyware, malware and adware detection, removal, and prevention internet system security shield. Advanced features include instant kill and blocking. Free software trial version available to download

---
2022) aBhackPsw 3.0.1
Utility for recovering forgotten or lost passwords.

---
2023) TrustDefender Gold Edition 1.6.1
TrustDefender is designed to protect your computer from attack by online criminals, unknown software & crimeware, ensuring that your computer is safe & secure during an online business session.

---
2024) Sleepy 6.2
Sleepy gives users the ability to easily lock or shut down one or more computers giving security and peace of mind. Sleepy is the perfect solution to securing business, schools and libraries after hours, and allow parents to protect their family PCs.

---
2025) Ashampoo Firewall PRO 1.14
If you want the full functionality of a modern firewall you need Ashampoo FireWall PRO. Ashampoo FireWall PRO includes all the strong features of monitoring of incoming and outgoing Internet traffic, one-click protection and more.

---
2026) Aston Secure Desktop 1.9.6
Aston Secure Desktop is a security build of Aston 1.x branch. It possesses all the features of regular Aston shell, but constrains the ability to alter the admin-defined settings. You get a restricted but beautiful and powerful desktop enhancement.

---
2027) PCMesh Hide Files and Folders 1.0
Use PCMesh Hide Files and Folders to make your sensitive files and folders invisible. Even Windows will not know about the existence of your hidden files and folders.

---

2028) PC James Bond 2007 6.8.7
Secrectly monitor employees, spouse and children's keystrokes, websites visited, chats & emails on their PC. Logs Windows Live Messenger, MSN Messenger, Yahoo! Messenger, ICQ, AIM and Skype. Receive log reports remotely via emails or open a web page.

---
2029) eScan Web & Mail Filter for Windows 9.0.722.1
eScan Web and Mail Filter for Windows offers a combination of features Control access to Websites, Controls offensive e-mail, Advanced Content Matching Options, monitor & controls Browser actions, effective Anti Spyware, Pop Up Ad Filter

---
2030) Spyware Remover Comparison 1.1
Compare the top antispyware programs. Take advantage of free, trial downloads. Read full reviews along with screenshots of the spyware remover tools in action. At a glance spyware remover comparison chart.

---
2031) DotFix FakeSigner 3.5
DotFix FakeSigner means external protection for your applications. The encryption of code section and entry point of the program and insert in sections SEH frames strongly complicates disassembling and cracking your program.

---
2032) Stealth Chat Monitor 1.3
Stealth Chat Monitor is an invisible, easy to use surveillance application, designed to monitor and record all chat conversations that took place on a computer.

---
2033) ePrivacy Suite 3.1
Award-winning content encryption solution for data protection, featuring one-click encryption for maximum ease of use. Secure your files, folders, and email communications. ePrivacy Suite includes Secured eF2 and Secured eMail.

---
2034) Spy Destroy -Spy Remover 1.1.0
Protect your Privacy, Stop Identity Theft, Popup Ads and Privacy Invasion. Download SpyDestroy to Scan your PC's Processes, Memory and System Registry for hidden Spyware, Adware, Trojans, Dialers, Worms and other Malware. - Scan your PC for FREE!

---
2035) RecentCleaner 1.2
RecentCleaner is a personal privacy tool designed to clear recent files lists of various programs. It supports Word, Excel, PowerPoint, Front Page, Windows Recent, WinZip, WinRar.

---

2036) SpyPal 2007 3.3
SpyPal secrectly logs keystrokes, screenshots, websites visited, windows opened, applications, MSN IM, ICQ, AIM,Yahoo! IM, Skype, clipboard, passwords, emails, documents and more. Set hotkey and password. Auto send logs to a preset email.

---
2037) HS MailPerfect 1.1
Email filtering software which sits behind an email client such as Outlook Express. It wakes up when the client starts checking email messages from the account and lists messages classifying them in three categories: viruses, spams and useful emails

---
2038) Wndows Guard 6.5
Freeware program to Password protect programs, windows and dialogs. Encrypt your files and folders via Explorer. Password Windows at Boot, Task Manager, Software Installations and Internet Access and Downloads. Also available in Premium Edition.

---
2039) WGP Folder-Lock 1.1
Lock and hide your folders by making them appear as another part of your computer, such as the Control Panel. Folder locking is completed in seconds and your data is unmodified - no complicated encryption keys to remember. Plus disable folder delete.

---
2040) Access Recovery 3.1
SysTools Access Recovery is used highly advanced technology to recover & Repair Corrupt Access Database without lose of information. Access Recovery restores those database MDB files which are password protected & unable to open.

---
2041) Resolution Anti Cyber Crime 5.0
DO NOT BE FOOLED THAT YOUR SOLUTIONS NOW ALL WORK TOGETHER IN HARMONY. ANTI CYBER CRIME IS AN ALL INCLUSIVE SECURITY SOLUTION YOU CAN TRUST TO PROTECT AGAINST THE KNOWN AND UNKNOWN INTERNET BORN THREATS FACING COMPUTER USERS ALL OVER THE WORLD

---
2042) Word Recovery 2007
Word Recovery is a guaranteed password recovery tool for Word. Guaranteed Recovery recovers a document within a reasonable time frame regardless of the password.

---
2043) Cryptex - 100 GB Vault 2
Cryptex gives you laptop and information security by providing you with the ability to work directly out of an encrypted vault.

---
2044) RedHanded.Net: Record Instant Messages! 2.5.5
Now with FREE WEB ACCESS to all log files! Internet monitoring & parental control software records and monitors all AOL, Yahoo and MSN Instant Messages.

---

2045) ID Install Watch 1.2
ID Install Watch is an absolute monitoring guardian of all of your installations, securing the accurate installation and proper functioning of all of your programs.

---
2046) Xidea Online Protection 5.4.58
Xidea Privacy Enterprise completely and securely removes all data from hard drives or disk partitions before return of leased assets or computer disposal.

---
2047) My Privacy Tools 1.2.76
Protect your data and privacy and remove all evidence of your computer and online activity with My Privacy Tools, Web pages, pictures, unwanted cookies, and all traces of files

---
2048) Merry Privacy Suite 1.4.56
Merry Privacy Suite completely and securely removes all data from hard drives or disk partitions before return of leased assets or computer disposal.

---
2049) Password Generator Software 2.3
Password Generator is a software program designed to generate passwords of any length, which are very difficult to crack due to a random combination of lower, upper-case letters and numbers. Password Generator is very easy-to-use.

---
2050) Popular Spyware Remover 1.1.41
Popular AntiSpyware Easy Remover will remove 100% of your spyware, adware, hijackers, keyloggers, unwanted toolbars, dialers, trojan horses and malware or I will give you a free update in 24 hours

---


Browse Pages: [1] [2] [3] [4] [5] [6] [7] [8] [9] [10] [11] [12] [13] [14] [15] [16] [17] [18] [19] [20] [21] [22] [23] [24] [25] [26] [27] [28] [29] [30] [31] [32] [33] [34] [35] [36] [37] [38] [39] [40] 41 [42] [43] [44] [45] [46] [47] [48] [49] [50] [51] [52] [53] [54] [55] [56] [57] [58] [59] [60] [61] [62]