Top 2201-2250 Security & Privacy Programs (from 3088 category titles)
Order programs after downloads or name (currently are listed after downloads)


2201) East-Tec Eraser 2007 8.5
Keep what you do on your computer to yourself! Protect your privacy, remove all evidence of your PC and Internet activity and improve system performance. Get East-Tec Eraser 2007 today!

---
2202) 1-abc.net File Encrypter 2.00
1-abc.net File Encrypter protects files of any file type with a personal password. 6 symmetrical and asymmetrical encryption methods are available, and all of them can be combined with each other. Use this program to secure your privacy!

---
2203) DiskNumen 07.88
Firmlysoft-DiskNumen, will make everything intact after your reboot if there are virus, Hacker, rascal software, error operation or even your purposive breakage.Your computer can be prevent from any attack by installing DiskNumen.

---
2204) WinShield 1.0
WinShield is quickly growing to be recognized as one the easiest and most reliable security utilities in the world. With password encryption and system disabling, WinShield will protect your computer while you're away, sleeping or out to lunch.

---
2205) PasswordZilla 1.02
PasswordZilla is a powerful password and hash generator for any your projects. It's interface is simple, and easy to comprehend. It will be helpful for webmasters, system administrators and software developers.

---
2206) Advanced Crypto Drive 1.0
Provides security for files and folders to protect sensitive information from unauthorized access. ACDrive keeps your confidential data strongly protected on virtual encrypted disks that supports transparent on-the-fly encryption.

---
2207) HandyCrypto 3.0
HandyCrypto hides folders and secures files with on-the-fly AES encryption. With HandyCrypto, there is no need to decrypt each file before you use it and re-encrypt it again when you're done, you just use the encrypted files as normal.

---
2208) AntiSpam Engine 2.1
Spam wastes time, clogs mail servers, and is very difficult to get rid of. All mailboxes today are constantly flooded with SPAM - unwanted advertising of any kind.Today more than 50% of all mails worldwide are spam mails.

---

2209) Secure Folder Hider 1.2
A quick and easy way to protect sensitive information on your computer from children, employers, and anyone else who uses your computer, including hackers!

---

2210) Myplaycity Antispyware 4.2
MyPlayCity Antispyware is the award winning solution that will scan your PC for unwanted components and will suggest their removal. Real-time protection notifies you when spyware attempt to run in memory or install on PC.

---

2211) Outlook Mail Password Unmask Tool 3.0.1.5
Outlook mail password unmask software quickly reveals forgotten identity passwords from your MS outlook and outlook express MBX, DBX, PST files. Application recovers complex Unicode passwords of all email accounts like Gmail, Yahoo, Rediffmail etc.

---
2212) miniTrezor 2.0.3
The miniTrezor program is a free Windows-based application that creates a protected, safe store (a so-called vault or trezor) for the your data: the data are encrypted, password protected, and physically may be stored in several copies.

---
2213) 1st Security Administrator-Pro 10.51
Restrict access to Windows, protect PC, password-protect boot, apply access restrictions to PC, deny access to Control Panel, disable boot keys, context menus, DOS, Registry editing, Internet, network access. Hide desktop icons, disk drives, etc.

---
2214) The Shield_Pro 4.1.0
The Shield Pro 2006 provides essential virus protection from viruses, hackers, Trojans and privacy threats. Powerful yet easy to use, protect yourself, your family, and your PC online with The Shield Pro.

---
2215) Spyware Eliminator 2.04
Protect your privacy, data and confidential information with Spyware Eliminator. Quickly find and eliminate all traces of harmful programs: spyware, adware, data-mining scum-ware, key-loggers, trojans, premium number dialers, browser hijackers...

---
2216) AnVir Security Suite 5.6
Monitor processes, services, connections, CPU, disk, memory. Remove spyware. Speed up boot time and performance. Complement antivirus software. Descriptions for 70 000 startup programs and services, alerts on new startups. Security analysis

---
2217) PC Privacy 2.04
Eliminate the digital trail you leave every time you browse the Internet or simply use your PC. Wipe out your Internet Browser history, typed URLs and filled-in forms. Protect your privacy - and erase the clutter clogging up your computer.

---
2218) Best Spyware Remover Compare Utility 1.0
Comprehensive and detailed reviews of the best anti-spyware software and spyware removers on the internet. Also includes top 5 comparison chart of the most highly recommended spyware removers.

---
2219) Alert Spy 2006
AdwareALERT 2006 - Spyware and Adware Removal Software. - FREE DOWNLOAD. Adware Alert scans your computer for hidden parasites and removes them permanently. Our advanced system cleaner corrects errors and tweaks your PC for optimal performance.

---
2220) Anti Identity Theft 12.0
Anti-Identity Theft protects you from identity theft threats, while you use your PC. Simply install it - and forget it. Anti Identity Theft ensures you aren't infected by spyware threats and constantly clears private information from your PC.

---
2221) SpyOnThis 2.2.046
The Complete Spyware System that Works! SpyOnThis will scan your computer using the latest Spyware detection algorithms and definitions, and remove all Spyware, Adware, Dialers, Worms, Hijackers and other dangerous Malware on your PC. Easy to use...

---
2222) Internet Chat Monitor ICQ 1.2
ICQ Sniffer is a handy network utility to capture and log ICQ chat from computers within the same LAN. It supports messaging through ICQ server with format of plain text, RTF, or HTML. All intercepted messages are well organized by user with buddies.

---
2223) Privacy Patrol 3.1
Privacy Patrol is a secure and easy program to clean activity and history traces and securely delete online Internet tracks stored in your browser and in hidden files.Privacy Patrol can delete cookies, clean index.dat files, clean the cache.

---
2224) Spy-sherrif 2007 AntiSpyware 3.0
SpySheriff 2007 Anti-Spyware - The guardian against spyware.SpySheriff is a program that helps protect your computer against pop-ups, slow performance, and security threats caused by spyware and other unwanted software.

---
2225) Spyware IT 2.0
Spyware IT removes all the spyware, adware and malware from your PC for you. It offers total protection, and once installed, works around the clock to ensure constant real-time protection. Spyware IT protects you from over 100,000 threats!

---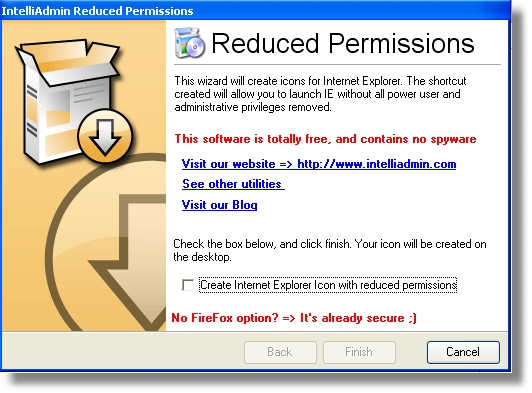 2226) Reduced Permissions 2.0
Allows you to run Internet Explorer in a reduced permissions sandbox. It removes the administrator, and power user groups from IE.

---
2227) Secure it Easy USB Port Firewall Lock 2.0.4.0
Protect your data and control what portable storage and USB devices are used on your PC. See what data has been transferred from or to your PC. Prevent others from stealing data through the USB port with a USB Flash Drive or other portable device.

---
2228) RegFix Mantra Cleaner 4.3.069
Extremely effective Registry Cleaner designed to fix Windows Registry Errors, Remove inconsistencies and enhance your PCs performance. Eliminate all windows registry errors, hence optimizing your PC. + Advanced System Management Features. Try it FREE

---

2229) SpyPal Spy Software 2007 4.6.1
SpyPal secrectly logs keystrokes, screenshots, websites visited, windows opened, applications, MSN IM, ICQ, AIM,Yahoo! IM, Skype, clipboard, passwords, emails, documents and more. Set hotkey and password. Auto send logs to a preset email.

---
2230) Folder Lock and Hide 1.0.4
Lock and hide your folders by making them appear as another part of your computer, such as the Control Panel. Folder locking is completed in seconds and your data is unmodified - no complicated encryption keys to remember.

---
2231) e Parental Control 2.0
e Parental Control Software is an comprehensive Web Filtering Software with Parental Controls. <B><a href="http://www.e-parental-control.com" title="">Parental Control Software</a></B>

---
2232) Active Keylogger 4.2.2.2667
See what happens on your PC when you're away. Protect your kids or catch cheating spouses by logging chats and instant messenger conversations. Email or FTP the results automatically to anywhere in the world with Active Keylogger.

---
2233) Auto Clear Cookies 2.1.4.8
Auto Clear Cookies, a powerful cookies cleaner, enables you to wipe cookies from a single website or domain name, or purge all browser cookies from Internet Explorer and Mozilla Firefox. It provides powerful protection guarding your online privacy.

---

2234) Act! Password 10.1.6805
Password recovery tool, which comes in very handy if you forgot, lost, or misplaced your password for Act! document. Act! Password enable you to decrypt your document instantly.

---
2235) RegAuditor 2.2
RegAuditor gives you a quick look at the Adware,malware and spyware installed on your computer including parasites and trojans. The tool is designed with a user-friendly interface and is easy to use.

---
2236) PassMem 3.0.0
PassMem is one of the latest solutions created for secure password storage and a reliable and easy way of safely managing passwords, sensitive data, access codes, crucial dates, figures, numbers, and more.

---
2237) ViPNet OFFICE 2.8.11 SP4
Implement VPN service, firewall and secure instant messaging within your network so that users and mobile clients, even from remote offices can communicate securely with central servers and databases over Internet.

---
2238) Security Desktop Tool 5.5.2.1
Security Desktop is a security utility that allows you to restrict access to Windows important resources. This utility limits kids time they spend in internet and playing games.

---
2239) ViPNet TUNNEL 2.8.11 SP4
ViPNet TUNNEL is designed for making protected virtual private networks between offices or LANs to communicate confidentially over a public network, like Internet or other network environment based on Internet Protocol (IP).

---
2240) Amelix FCL 1.0
Amelix FCL allows for the easy encryption and decryption of all your personal files. Encrypt and decrypt files of any type. Amelix FCL does not change a size and date of encoded files.

---

2241) Quicken Password 10.0.6745
Complete password recovery solution for Quicken (*.qdf) files. It is possible to break the transaction password instantly. To recover password Brute Force Attack, Dictionary Search and Smart Force Attack methods must be used.

---
2242) File Defender 1.1
File Defender is a powerful and easy-to-use software that allows you to protect your important files reliably.

---
2243) Ashampoo Security Pack 1.00
Total Windows security at an unbeatable all-in-one price!

---
2244) HSLAB Free Logger 3.4.25
The complete solution for the background control and logging the users activity. This software allows to record actions of the user (users) of a computer on start the applications, opening documents, access to the Internet and removable media.

---

2245) Internet Explorer History Eraser 3.0.1.5
Internet history eraser program eliminates typed URL list records from your browsers such as Microsoft's Internet Explorer. Computer privacy eraser tool remove browser path completely from your computer and protect the risk of accessing private files

---
2246) Spicy Pass 1
SPICY PASS allows you to safely and securely store and organize your passwords, usernames, and security-related notes. It works for both Internet sites and local applications, and stores the login information in an encrypted database.

---
2247) Secret Disk 1.12
Creates separate disk on your PC for your private files which may be locked and unlocked with a password within one second! Moreover, when locked it is invisible in the Windows system. In the meantime this disk can be used as usual disk.

---
2248) Shield Firewall 2008
The Shield Firewall 5.0 is a personal firewall that keeps your personal data private and safe from Internet hackers and data thieves. Free technical support.

---
2249) NOADWARE - Spyware Remover 4.1
NoAdware - Anti-spyware and Adware Protection for your PC. FREE DOWNLOAD. NoAdware is a superior Spyware and Adware removal program that removes internet parasites. NoAdware removes Spyware and ensure your computer is protected against new attacks.

---
2250) FusionDesk Pro 1.0
FusionDesk is lightweight project management and time tracking software for individuals and small teams. It offers advanced functionality hidden behind a simple and elegant user interface.

---


Browse Pages: [1] [2] [3] [4] [5] [6] [7] [8] [9] [10] [11] [12] [13] [14] [15] [16] [17] [18] [19] [20] [21] [22] [23] [24] [25] [26] [27] [28] [29] [30] [31] [32] [33] [34] [35] [36] [37] [38] [39] [40] [41] [42] [43] [44] 45 [46] [47] [48] [49] [50] [51] [52] [53] [54] [55] [56] [57] [58] [59] [60] [61] [62]