Top 201-250 Security & Privacy Programs (from 3088 category titles)
Order programs after downloads or name (currently are listed after downloads)


201) AVIRA Antivirus for Windows Desktop 1.00.00.80
Reliable antivirus solution, that constantly and rapidly scans your computer for malicious programs (such as viruses, Trojans, backdoor programs, hoaxes, worms, dialers etc). Repair, delete, block, rename and quarantine suspicious programs or files.

---
202) MG-Shadow: Computer monitoring software 1.0.1566
The most stable and easy to use software to secretly monitor anyone's computer. MG-Shadow records programs, windows, all keystrokes, websites, emails, chats, instant messengers, screenshots and more. 100% invisible and light on computer resources.

---
203) Stealth Activity Reporter 4.5
This is a monitoring tool for both networked and personal PCs. It lets companies and individuals track use and abuse easily and invisibly using password-protected encrypted log files. You can deploy this tool using e-mail.

---
204) Program Sentry 1.0.0
Provides access control and usage management. Allows you to either create a list of blocked programs or a list of allowed programs. Individual programs can be password protected.

---
205) Password Construction Kit 2.1
Generate 1 to 50,000 unique fixed/random length passwords with selectable characters, words and masking. Includes a WEP key and random byte generator.

---

206) Webroot Spy Sweeper 5.3
Webroot Spy Sweeper. The worlds most popular Anti-Spyware Anti-Adware software. Recommended by Experts and trusted by millions Webroot Spy Sweeper is the most updated and effective anti-spyware software created to protect you from malicious spyware.

---
207) Advanced Excel 95 Password Recovery 1.20
An utility for recovering lost or forgotten passwords for documents created in Excel 4.0, 5.0 and 7.0 (95). All asswords are recovered instantly; most non-English versions of Microsoft Excel are supported.

---
208) Protea AntiVirus Tools, Avast! version 2.00.04
Protea AntiVirus Tools for Lotus Notes/Domino automatically scans/cleans the message body, attached files, rich text fields and OLE objects in Domino mail, keeps Domino bases virus-free.

---
209) Audio Zone Trigger 1.2
Audio Zone Trigger was designed to do one thing: make the computer react to sound. This is quite simple, and can be used for many things: home security, house automation, games, experiments...

---
210) StatWin Pro 8.1.7
StatWin is a comprehensive computer activity monitoring solution for individuals and businesses. It offers valuable statistics and lets you analyze how effectively you or your employees are using computers. Get your copy now!

---
211) PC Tattletale
PC Tattletale parental control software allows monitoring and recording all actions that are performed with a computer.

---
212) Ardamax Keylogger Lite 1.2
Ardamax Keylogger Lite is a small, freeware keylogger that captures users activity and saves it to a logfile. The logfile can be viewed as a text or web page. Use this tool to find out what is happening on your computer while your away.

---
213) 123 KeyLogger 1.0.24
Track activities from all computer users: data typed, sites visited, applications launched etc. With this easy-to-use spy software you will learn more about your spouse, kids, colleagues, and employees activity.

---
214) 1st Network Admin 2.81
Comprehensive protection for Windows-based network workstations under a public environment. Restrict access to PC workstation, apply executable patches, and schedule reboots, shutdowns, and Explorer restarts remotely.

---
215) IMSurfSentinel 2005.5
IMSurfSentinel is spy software that allows you to secretly monitor and control Intenet and computer use. Spy Software that logs instant messenger, browser and keyboard activity. You can also record screen shots of all activity at set intervals.

---
216) Eye Spy Pro 1.2
and much more! Completely invisible and easy to use, all information captured is stored in an encrypted log file. The log file can be sentsecretly at scheduled intervals to any specified email address.

---
217) SocksChain 3.12.152
A program that allows to connect to any Internet service through a chain of SOCKS or HTTP proxies to hide the actual IP address. It also possible to work with a programs that are not designed to support SOCKS protocol directly.

---
218) Advanced Security Level 6.1
Secure your PC and restrict access to it with Advanced Security Level. It gives you an excellent administrative support to control the users access rights for your computer by setting up the desired access control level for each user.

---
219) Npust Homepage Guard 1.08
A really small anti spyware, It protects the IE Home page, Prevents the hijacking of your browser. Even if somebody already change it, this tool can change it back automatically, Download this Great Freeware now and you will be protected forever ...

---
220) Advanced Privacy Protector 1.00
Advanced Privacy Protector is designed to clean up unwanted data history and Internet tracks on your computer thus giving you complete security and reliability. With just simple clicks you can do wonders on your system.

---

221) Lotus Organizer Password 1.3
Lotus Organizer Password allows you to recover passwords which Lotus Organizer files (.or?) are protected with. Lotus Organizer Password recover passwords for all Lotus Organizer security levels (Owner, Assistant, Reader, ...)

---
222) ABC Security Protector 5.57
This nice free security utility enables you to protect your PC by disabling some features like: use of the MS-DOS command prompt in Windows and real mode DOS applications from within the Windows shell, and disable function keys on boot up like F5 F8

---
223) SpyRemover 2.74
Is someone stealing your information from your PC? Is your browser home page hijacked? Are you in danger of identity theft? Are you being spied on? Are you being watched and tracked? Find out with SpyRemover.

---
224) ASP Script Encoder 1.0.5
Encode your client and server side VBscript, JScript. Protecting it from prying eyes.

---
225) CleverCrypt Lite (Freeware) 1.5
Create a password protected, fully encrypted hard drive to store all of your private files in. Just copy your files into your CleverCrypt drive for total protection. Free!

---
226) Software Time Lock 1.0.1
Control when and how long the Internet, specific computer programs, and the computer itself can be used each day of the week

---
227) avast! 4 Home Edition 4.6.652
avast! 4 Home Edition is a free antivirus software for home noncommercial use. It scans for viruses, worms and Trojans on disk, CDs, in E-mail, HTTP, NNTP, IM and P2P. Incremental updates of virus database are small, fast and reliable.

---
228) ViPNet Safe Disk 3.0.1
ViPNet Safe Disk keeps your confidential data (files, folders, etc.) in a strongly encrypted form on your disk and provides you with a transparent access to it as if your files or folders are on the usual disk drive.

---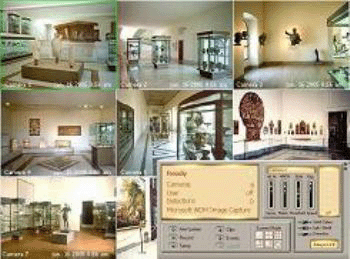 229) EasyCCTV 2.1
EasyCCTV captures images up to 30 frames per second from any USB video device. The program performs simultaneous recording. Your camera(s) can be used as part of a complete surveillance system.

---
230) StartGuard Pro 1.0
StartGuard Pro is the next generation spyware cleaner for your PC. Detects and blocks all kinds of spyware, adware, trojans, keyloggers, BHOs, toolbars, homepage changes, unwanted system changes, and all types of current and future malware.

---

231) EyeLine Video Surveillance Software 1.04
EyeLine is professional video recording software used to capture and store video from single or multiple cameras. It was designed for video monitoring of offices and buildings and logging of in-store cameras.

---
232) FOS Antivirus BETA
FOS Antivirus Free use the last technology in virus detection, updating his database online, it can detect and delete virus on your computer even if they are already presents (also virus blocking other anti-virus installation).

---
233) WinDentify 2.0
Windentify Beta Lite is a freeware voice biometric package. Includes fully working voice verified windows logon. Now start your machine with only your voice print.

---
234) Remove Netmeeting 1.2
Either for security reasons or just because you don't like it. Simply remove Netmeeting from your computer. This tool usesthe same scan and secure technology as The Computer Security Tool. Netmeeting Remover also allows the reinstallation.

---
235) TopSecret NxG 3.03
Keep your private data in your virtual safe and protect your files. Topsecret is a data protecting application, ciphering resources and applications in order to make the data unreadable for other users on the same computer. No password, no acces.

---
236) Security Administrator 13.41
Stop others from tampering with your PC. Password protect and deny access to Windows, restrict running applications, lock local, network and USB drives, control Internet usage, view statistics of working of your kids or employees.

---
237) Personal Passworder 3.8
Personal Passworder keeps more than just passwords! This award-winning password manager will keep your passwords, serial numbers, credit card numbers and other information safely and securely. You will never forget your passwords again!

---
238) WashnSweep a Complete Security Suite v2.2
Wash n Sweep puts the power back into your hands giving you the upper hand in the fight for privacy in the world of the Internet.

---
239) Miranda Password Recovery 1.0.210.2006
Miranda Password Recovery is a tool that is able to automatically find and decrypt Miranda Instant Messenger password information with a click of a button!

---
240) Lock Folder XP 3.4
Lock Folder XP is a new security tool that lets you lock your files, folders and drives with your personal password. The program uses advanced encryption algorithm approved by the US Government. Protect your files from hackers, viruses and mischief.

---

241) Abacre Antivirus 1.0
Abacre Antivirus is new generation of antivirus software. It reliably protects computers from internet viruses worms and Trojans, macro viruses and old executable viruses. It's reliable, stable, fast, low CPU load, and it has reasonable price.

---
242) RegRun Security Suite Gold 4.1
RegRun is a powerful tool kit against Trojans, viruses, spyware, adware components. RegRun is a must have tool that will prevent your infection and will remove parasites. Works with Windows 95/98, Windows ME, Windows NT4/2000/XP/2003.

---
243) Internet Kiosk Pro 6.22
Internet kiosk public access PC software to restrict access to system; allow only certain applications and features such as Internet Explorer. Ideal for Internet cafes, public libraries, information terminals or kiosks.

---
244) Lock n Safe 4.4.0
Protect and limit access to your computer.

---
245) Folder Password Guard 1.8
FPG can lock the specified folder, user who want to open the folder must input the admin password. FPG can hide specified folder too. User must provide admin password to unhide it.

---
246) Anonymous Surfing 2.04
Protect your privacy with Anonymous Surfing and browse the web undetected. Anonymous Surfing protects your privacy by hiding your location & identity from the websites you visit - without it the crooks can literally track you on the Internet.

---
247) Advanced Netstat 1.0
Did you ever wonder what program opened that strange port that suddenly appeard in netstat ? Then Advanced Netstat is what you need ! Many trojans,backdoors,viruses and worms open ports on your system to allow an attacker to access your system and re

---
248) Lockngo 2.1
Protects portable media such as USB keys and hard drives and SmartMedia

---
249) ComputerTime 1.0
Allows parents to set limits on the amount of time and time of day when children can use the computer. Use it to ensure children don't stay up past bedtime on a school night chatting online, and make sure homework is getting done. Try it for free!

---
250) XP Logon Password Logger 1.0
XP Logon Password Logger invisibly records user name and password at Windows 2000/XP logon to a file. Then you can easily review them later. This software is based on a low-level keyboard driver and is absolutely undetectable for end-user.

---


Browse Pages: [1] [2] [3] [4] 5 [6] [7] [8] [9] [10] [11] [12] [13] [14] [15] [16] [17] [18] [19] [20] [21] [22] [23] [24] [25] [26] [27] [28] [29] [30] [31] [32] [33] [34] [35] [36] [37] [38] [39] [40] [41] [42] [43] [44] [45] [46] [47] [48] [49] [50] [51] [52] [53] [54] [55] [56] [57] [58] [59] [60] [61] [62]