Top 2901-2950 Security & Privacy Programs (from 3088 category titles)
Order programs after downloads or name (currently are listed after downloads)


2901) Random Password Manager 4.81
Password randomization of your common accounts on all your systems. Web based interface allows your Help Desk to get the current password in effect for each system. SQL Server based solution.

---
2902) Enterprise Random Password Manager 4.81
Password randomization of your common accounts on all your systems. Web based interface allows your Help Desk to get the current password in effect for each system. SQL Server based solution.

---
2903) Easy Crypter 2010 3.12
Easy Crypter 2010 - a safe and convenient program which allows you to encrypt/decrypt single or multiple files as well as text, such as e-mail. Easy Crypter 2010 is easy to use and does not require any knowledge in the cryptography sphere.

---

2904) Spy Keylogger Download 5.0.1.5
Advance Keystroke recorder utility captures windows screen shots, online voice conversations, instant messages, browsed web pages and all clipboard entries. Advance keylogger tool provides step by step installation with systematic help manual.

---
2905) Protect Folders 1.0
Protect Folders is a software program designed to help you lock your folders with a password in Windows Explorer or through a built-in intuitive interface. Protect Folders supports Windows 7, Vista, XP, NT, 98, ME. Download Protect Folders.

---
2906) Wipe 2.51
Easy and powerful tool to clear user browsing history, clean index.dat files, remove cookies, cache, logs, delete temporary internet files, autocomplete search history and any other tracks that user leaves after using PC. Prevent data recovery.

---
2907) Xlinksoft Picture Encryption 2.0.1.258
Xlinksoft picture encryption software is an excellent picture encryption software which can encrypt all picture formats. The speed of encryption and decryption is fast. It's an easy-to-use picture encryption software. Protect your privacy everyday!

---
2908) HSLAB Access Control NESB 4.0.131
Access Control is a powerful and flexible system for the tracking of the staff working hours usage in a corporate networn or on a terminal server

---
2909) HSLAB Access Control PE 4.0.131
Access Control is a powerful and flexible system for the tracking of the staff working hours usage in a corporate networn or on a terminal server

---
2910) Auto Clear History 2.1.8.8
Auto Clear History is an effective computer evidence and web history cleaning tool. It could quickly clean all history of your web browsing and computer use to protect your privacy.

---

2911) Super Hide IP 2.1.0.2
Use Super Hide IP to change your IP address, surf anonymously, protect your personal information against hackers and provide full encryption of your online activity, all with the click of a button. You can also choose fake IP from different countries

---
2912) Password Unlocker Bundle 5.5 Build 170
Password Unlocker Bundle 5.5 Build 170 is overall password recovery solution to recover passwords for Windows, Word, Excel, PPT, PDF, email passwords in Outlook Express/Outlook, SQL Server/Access passwords, ZIP/RAR passwords, and IM password.

---
2913) Award Personal Monitor 1.3
Award Personal Monitor allows you to find out what other users do on your computer in your absence.

---
2914) PDF Password Remover 2.3
If for some reason you lost the password for your PDF document and now need to remove PDF encryption, PDF Password Remover is your perfect solution. It restores both "User" and "Owner" passwords and lets you open and modify protected PDF.

---
2915) Kid-Key-Lock 1.6.1
Kid-Key-Lock is a simple program to selectively lock specific keyboard and mouse functions. You can use kid-key-lock to lock specific mouse functions such as the right mouse button, double clicks, system shortcuts such as Alt-F4, etc.

---
2916) Online Sharing Toolbar 5.3.5.4
Online Share Toolbar brings you latest torrent trackers and direct torrents, online P2P resources, online videos, games, news and gadgets. Check your email automatically or listen to Internet radio. It's all here! Your browser will never be the same!

---

2917) Employee Desktop Live Viewer 10.02.02
Centralized location to view live desktop activities of each employee. Monitor many computers simultaneously from a Server and perform real time monitoring. Invisible monitoring of employee activities is easy now. Download free trail of 7 days.

---
2918) Win Monitoring Software 9.3 Pro 9.3
Win Monitoring Software Pro is a Complete Stealth Monitoring Software that can both monitor your Local PC and Remote PC. Win Software also includes Remote Install. Win Monitor Software will capture anything the user sees or types on the keyboard.

---
2919) JiJi AD Bulk Manager 2.0.0.7
Managing users, computers and contacts in Active Directory is a time consuming job for administrators. JiJi AD Bulk Manager helps to save administrators time by making AD Management process simple.Users can create/modify/delete users in bulk or batch

---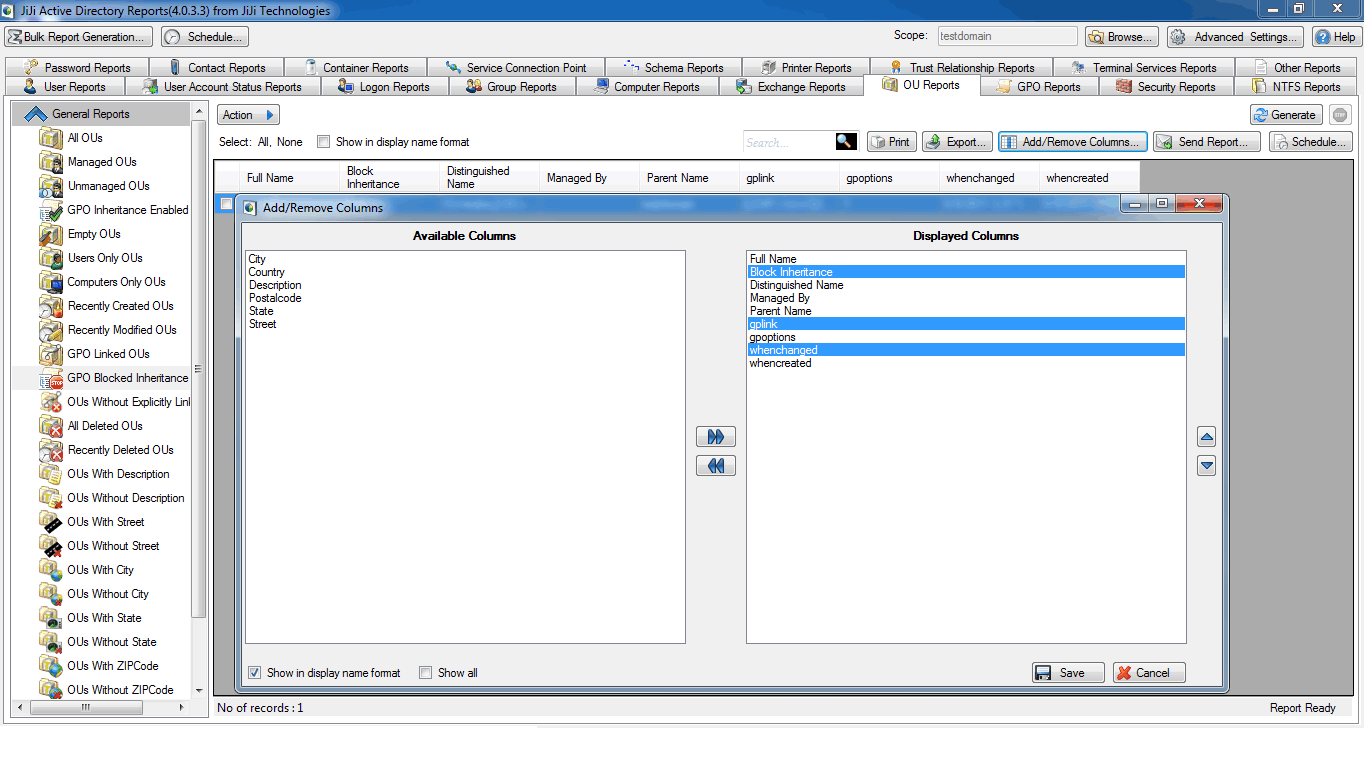 2920) JiJi GPO Search 2.0.0
JiJi GPO Search tool enables administrator to search GPOs with a user specified keyword. It extends the GPO search beyond the limit by providing individual settings level search.It resolves the search limit you had with Group Policy Management (GPMC)

---
2921) Super Clear Cookies 2.1.0.6
Super Clear Cookies could clear cookies from a single website or domain name, or wipe all your browser cookies completely from Internet Explorer or Firefox, preventing websites from tracking your online activities, all with a simple click of a button

---
2922) Super Clear History 2.1.9.6
Super Clear History could quickly and completely clear all history of your web browsing and other computer activities. By removing the track of your online and offline activities, Super Clear History gives you super privacy protection.

---
2923) Folder Encryption Software 2.5
Avoid identity theft and security breaches by password protecting folders containing important personal or work information on your computer. Download and install Folder Encryption Software for Windows.

---
2924) Ssh Tunnel Easy 1.0.0.1
Ssh Tunnel Easy is an innovative ssh tunnel software, it can make an encrypted ssh tunnel between your machine and ssh server host, then tunnel your program TCP connection automatically through this encrypted tunnel to data forwarded.

---
2925) Computer Spying Keylogger 1.0
Monitor other computer users activity without their knowledge. Computer Spying Keylogger utilizes state of the art tracking to secretly monitor children, spouse, employees and more.

---

2926) Keylogger Spy Monitor 5.0.1.5
Keylogger utility monitors keyboard typed activities performed on computer in user's absence. Keylogger helps to protect your computer from unauthorized users. Keylogger tool find out details of typed mail, chat, web URLs, files made on your pc.

---
2927) Employee computer monitoring tool 5.0.1
Key Logger KeyStroke Recording Software allows you find out what other users do on your computer in their absence. Key logger invisibly records keystrokes, emails conversations, chat records, website visited, password, voice chat conversations.

---
2928) Auslogics Antivirus 13.0.20
Auslogics Antivirus is a comprehensive antivirus protection tool that will keep your PC safe from known and unknown threats. It can detect all kinds of viruses, spyware, Trojans and identity theft in real-time without slowing down your computer.

---

2929) Encryption Tool 2.6.2.2
Allows you easily and quickly to encrypt and decrypt your important files or folders on you computer using strong encryption algorithm Rijndael (AES). It is integrated with Windows Explorer. You can secure files or folders with a right click.

---
2930) Access Password Recovery Software 4.0.1.5
Access Password Recovery Software is the most robust and rapid Windows compatible standalone utility to unlock and get back passwords of multiple password protected documents of MS Access database in very few two to three steps or clicks.

---
2931) Total Windows Password Reset 2.1
Total Windows Password Reset 2.1 could reset and recover lost Windows admin and user passwords. It's powerful Windows password recovery tool supporting all Windows versions, Windows 7, Vista, XP, 2008, 2003, 2000, etc.

---
2932) bio-iVault Biometric Encrypted Virtual Drive 2.1.37
bio-iVault uses your personal Finger or Face or Voice scan to enable you to create and manage personal encrypted virtual drives on a computer and other external storage devices. No Passwords to remember or have stolen.

---
2933) PC Monitoring 10.01.01
PC monitoring tool provides complete solution to track activities of computers remotely and helps in increasing productivity of the organization.

---
2934) Password Generator for Windows 4.1
You do not have to think how to create secure passwords for your accounts. Password Generator can create passwords for you. You click the Generate button and the program automatically displays your password. Download Password Generator now.

---
2935) PortableSafe 1.2
PortableSafe keeps all your passwords and other private information locked in a secure encrypted file. It is portable and requires no installation. You have complete flexibility over the data fields stored.

---
2936) Trillian and Trillian Astra Password Recovery 1.0.0.4
Trillian Password Recovery is a software that can find all the accounts on Trillian and Trillian Astra in your computer, extract encrypted passwords and decryption.

---
2937) Kapha Anti-Malware 2.5
Kapha Anti-Malware is in a user-friendly interface, it provides complete and custom scanning of hard drives, removable drives, individual folders. Effectively detects and removes trojans, rootkits, spyware, adware, and other type of malware.

---
2938) Privacy Photo Album 1.4.1.11
The Privacy Photo Album utility is designed for anybody who is looking for a most useful and powerful image encryption software which can encrypt private pictures. Nobody will see content of photo albums even he(she) steals them from your storage.

---
2939) Clear History Easy 4.1.5.8
Clear History Easy could easily clear all Internet history and other computer activity tracks from your PC, offering you a clean and safe computer use environment. It supports Internet Explorer, Firefox, Windows Media Player, Yahoo, MSN, Google, etc.

---
2940) Refog Mac Keylogger 1.2.94
With Refog Keylogger for Mac, parents and spouses have a tool more powerful than parental controls to protect their loved ones. By recording keystrokes, software gives an inside look at their child's or spouse's secret computer activities.

---
2941) SafeKuvert 1.0.1.1
SafeKuvert provides the user with the ability to encrypt, digitally sign, compress, and/or securely delete files. It uses the Public Key Infrastructure (PKI), and supports for AES, 3DES, DES, RC2, RC4 symmetrical encryption algorithms.

---
2942) vkartinke.ru 1
Video surveillance software. Supports IP cameras, web cameras.

---

2943) Fast File Encryptor 4.3
Fast File Encryptor is designed for fast processing of extremely large files. It can encrypt or decrypt files, contents of folders and contains a lot of additional tools. Presents a flexible user interface with detailed messages about all operations.

---
2944) Family Keylogger Pro 4.6
Family Keylogger Pro is a brilliant new keystroke recorder from Family Software Solutions. FKP is 100% safe and easy to use. Monitor children, Catch a cheating spouse.

---
2945) Personal Computer Monitor 1.2
Personal Computer Monitor allows you to find out what other users do on your computer in your absence. Personal Computer Monitor invisibly records keystrokes of every user activity performed on the computer in encrypted log files with option...

---
2946) DeskWatcher 2.3.1
Is somebody else using your PC? Worried about what your kids, students or employees are doing on their computers? You have a right to... and with DeskWatcher you can do something about it.

---
2947) Spy Software Download 10.01.01
Employee Desktop Live Viewer is highly efficient spy software that helps organizations to monitor their Employees' computer activities to improve decreased productivity.

---
2948) Family Password Manager 1.2
Family Password Manager is a brilliant new password management program from Family Software Solutions. Never forget a password ever again, our secure program keeps all of your passwords in one handy location.

---
2949) IWipe secure eraser 1.0.0.0
With IWipe you can delete your files with maximum secure. Based on the DOD 5220.22-M (US Department of Defense shredding method). The erasing process has 21+1 steps to maximum and full secure of eliminate.

---
2950) SpyKing Windows Spy 2010 3.4
SpyKing Vista Spy secretly logs all keystrokes, chats, emails, web sites and more. It takes screenshots like a surveillance camera. It displays exact activities, like MySpace, Facebook, PC games, online searches & shopping and webmails.

---


Browse Pages: [1] [2] [3] [4] [5] [6] [7] [8] [9] [10] [11] [12] [13] [14] [15] [16] [17] [18] [19] [20] [21] [22] [23] [24] [25] [26] [27] [28] [29] [30] [31] [32] [33] [34] [35] [36] [37] [38] [39] [40] [41] [42] [43] [44] [45] [46] [47] [48] [49] [50] [51] [52] [53] [54] [55] [56] [57] [58] 59 [60] [61] [62]