Encryption Tools - Security & Privacy Programs from 701 to 750 listed after downloads number (from 916 category titles)
Order programs after downloads or name or date (currently are listed after popularity)


701) Encrypt my Folder 1.2.0
Encrypt my Folder is a new folder password protected software which can help you lock your files, folders with your personal password. Prevent people from viewing, editing, altering your folders as easy as 1-2-3.

---
702) PDFProtect 2.3
PDFProtect is a stand-alone, fully automatic software application that can change, add, or remove security settings and encryption level in the PDF documents.

---
703) Encrypt and Go by WinGuard Pro 6.5
Password protect Windows programs and EXE files for free. Plus encryption for your files, folders and drives (via Explorer). Extra features to disable Task Keys, Software Installation, Downloads and more. Also available in Premium for optional fee.

---
704) Web Password 6.0.922
Web Password helps website owners to encrypt their HTML pages with a password quickly, easily and reliably. Web Password features easy-to-use interface. Web Password uses strong cryptoalgorithm. All hosting types are supported.

---
705) TrialWareMakerPro 1.0
TrialWareMakerPro, Shareware Trialware Protection Software: Award-Winning, Simple Interface Software Converter! Convert any application or e-book into time-limited shareware. A function library offering a flexible locking system with solid encryption

---
706) Atomic VBA Password Recovery 2.20
It will instantly remove or recover a VBA password to Microsoft Office 95-3003 documents (.xls, .doc, .mdb). It requires neither special knowledge nor additional learning. Just open your password-protected file and you will get your password at once.

---
707) Folder Password Protect 2.8
Folder Password Protect is a software program that lets you set a password on folders of your choice. Folder Password Protect is ideal for notebooks. If your notebook is lost or stolen, your sensitive data will not end up in the wrong hands.

---
708) CHAOS Generator 2.2
CHAOS Generator is an application designed to generate passwords of any length and character content

---
709) Abacre I-Worm.Sobig Virus Remover 1.0
This antivirus removes I-Worm.Sobig viruses directly from your mailboxes!

---
710) CRYPTOMATOR en 5.3
This program serves to encrypt files. It is based on symmetric encryption. The following keys can be used to encrypt a file: *Codewords, *Key disks,*Key files (any desired files can serve as keys).

---
711) Atomic Excel Password Recovery 1.60
Recover password-protected MS Excel 97-2003 spreadsheets - guaranteed! Atomic Excel Password Recovery pioneers brand-new algorithms to recover original documents no matter how long and complex a password is. Brute force attack not required!

---
712) UltraHide 4.0
UltraHide can immediately hide window (s) without closing them; and can instantly display them at the proper time,It can hide any program or window (for example, the browser window). It is designed to make it possible to safeguard your privacy.

---
713) PC Police Gold 1.0.0
PC Police Gold is a complete secret keylogger, Internet and folder tracker, and copied text for Microsoft (R) Windows (TM). It utilizes advanced and powerful features.

---
714) Security Folder 2.0
This application combines the ultimate power of industry-standard strong encryption algorithms with unique stealth technologies to protect your data from both unauthorized access and modification by malicious programs. Download Free Trial right now!

---
715) My Passwords 4.0.1.0
My Passwords is a secure, central repository for managing personal info for Internet sites, software licenses, and credit cards just to name a few uses. It stores category,service name, user names (IDs), passwords, hints, code words, URLs, comments

---
716) Stealth Web Page Recorder 1.1
Stealth Web Page Recorder is a simple spy software utility for web page recording. This program will be useful if you want to record e-mail messages of any Web Mail service. Also it can record contents of the password protected and HTTPS web pages.

---
717) File Secret 1.0
File Secret is a Unique Collection of File Base utility for Hiding, Protecting, Locking and safely destroying a File

---
718) Encryption Xpert 1.2
Encryption Xpert is a powerful and easy-to-use program that allows you to encrypt and decrypt your files using the strongest 128-bit encryption algorithm.

---
719) Recovery ToolBox for Outlook Password 1.1.12
The utility repairs forgotten or lost account details for Microsoft Outlook email client. Try Recovery Toolbox for Outlook Password, if you cannot remember your password for personal or corporate email account, it can be easily fixed with this tool.

---
720) Private Data Protector 1.0
The Private Data Protector scans your HDD and shows you all hidden information in your documents.

---
721) Masking Password Generator Pro 3.0.11.42
Easy-to-use random password generator for individual computer users or large enterprises. Pattern a mask after your corporate password policy and never worry about thinking up compliant passwords again. Great tool for system administrators!

---
722) OpenOffice Writer Password Recovery 1.0.0
Writer Password Recovery offers a winning combination of attack methods to recover a lost or forgotten password to a protected document that has been created in OpenOffice.org Writer. It can remove all possible types of document protection.

---
723) OpenOffice Impress Password Recovery 1.0.0
Impress Password Recovery provides you with a friendly interface to recover OpenOffice Impress passwords and remove document ReadOnly protection. A powerful combination of proven recovery methods ensures successful recovery results in most cases.

---
724) SecretDrive 1.21
SecretDrive is a small, efficient and reliable program that allows you to create up to 8 encrypted virtual disks. Virtual disk is protected by one of five modern encryption algorithms: AES (Rijndael), GOST 28174-89, Blowfish, Twofish, CAST 256.

---
725) My Computer Vault 2.1
Safely store sensitive files in an encrypted Vault file on your computer. My Computer Vault uses the advanced 256-bit AES encryption algorithm. Vault files are password-protected and are impervious to keylogger attacks.

---
726) Amelix FCP 1.1
Amelix FCP allows for the power encryption and decryption of all your personal files. Encrypt and decrypt files of any type. This is symmetric-key cryptography program.

---
727) SafeLogon 2.0
SafeLogon is a multi-user and password-based access control utility that enhances and complements the Windows built-in logon and authentication system. It allows you to protect your system at home and office from unauthorized access, and much more...

---
728) Anonymizer Privacy Analyzer 1.0.3
Anonymizer Privacy Analyzer is your personal private detective. Anonymizer Privacy Analyzer counts and displays all privacy threats like Pop-ups, cookies and scripts in an easy to read, real-time list.

---
729)
FireCode 2005 2
---
730) U-Wipe 2.0
U-Wipe is a very easy-to-use utility that allows to automatically clean all your PC tracks. In new version 2.0 you will find an inventive option: Pop-up killer mode. Now you can freely surf the Internet without any annoying pop up windows.

---
731) Genie 2013 1.16
Genie 2013 is a new innovative and powerful wizard based file encryption software. It can create selfdecrypting archives and encrypted file containers that can hold hundreds of files and folders. It can also compress and email the created files.

---

732) ShareCrypt 2.1
ShareCrypt has been designed to effectively and transparently encrypt shared network drives or folders by allowing simultaneous data access to different users and preventing unauthorized access from non-authorized people

---
733) Atomic Trillian Password Recovery 1.10
Atomic Trillian Password Recovery is a program to expose usernames and passwords saved in Trillian (stored locally) instantly and 100% correct regardless of password length.

---
734) BlueCipher 1.1
Automatically encrypts data using Bluetooth mobile phone as a key. When you leave the range of the signal (typically 10 m distance) it encrypts your files. When you return your data is decrypted . No need to type passwords anymore.

---

735) DriveCryp Plus Pack 3.9
Offers AES 256 bit, full disk encryption and pre-boot authentication. Able to protect the entire computer including the operating system(OS), in real time. DCPP is the only one able to hide the entire OS, and also works with external USB-Token.

---
736) Accent WORD Password Recovery 3.00
Instantly remove protection or recover original passwords to encrypted Word 95-2007 documents. Accent WORD Password Recovery removes passwords to modify and passwords to VBA macros while retrieving the original passwords to open from encrypted docs.

---
737) Privacy Defender 7.0.2t
Internet Vulnerability Profiling and Removing tool. Secure your online privacy.

---
738) GetPDF Encryptor Decryptor 2.00
Encrypt PDF files with passwords and gives you a high degree of control, letting you allow or disallow such actions as changing, printing, copying, extracting, signing, filling, assembling or merging a PDF file. You can decrypt PDF files as well.

---
739) Track Eraser Deluxe 4.2
Have you ever had such experience that others sit before your PC and find out where you've been on web, what media you played, and what applications you've used? It can be embarrassing, isn't it? Now, use Track Eraser Deluxe, let the trouble go.

---
740) Chop 1.504
Program for splitting large files for easier distribution with CRC, CL access and simple Encryption. Files can be split by either the number of files that you want, the maximum file size, or you can use preset common sizes for floppies, CDs, etc...

---
741) AV EAGLE Secuity Testing Suite CD .ISO 1.02
AV Eagle Firewall and Virus Scanner Testing Software, test your firewalls security level and virus scanners ability to detect test files. Stand Alone Security suite for testing large numbers of computers without installing to each computer.

---
742) SALVADOR 2.7.1
The program for cryptographic protection. Includes 13 algorithms of enciphering, 21 algorithm of the electronic-digital signature and 3 algorithms of compression. The highest level of reliability. Optimized for daily use theinterface.

---
743) EncryptDrive 2.4.2
EncryptDrive is an application that will encrypt and decrypt data on your removable driver, like: memory cards, pendrives, zips, floppy, card reader/writer, digital camera.

---
744) ViPNet Safe Disk Mobile 1.2
ViPNet Safe Disk for Pocket PC provides your PDA with a totally encrypted and password-protected environment for your files. In case your PDA is stolen or lost, no one will be able to compromise your personal information or corporate secrets.

---
745) Data Security Wizard 20
EASEUS Data Security Wizard is an easy to use data security program, which is able to encrypt your personal files and sensitive data securely. In addition to encryption, Data Security Wizard still is a shredders that will help you securely wipe data.

---
746) Cryptex - 60 GB Vault 2
Cryptex gives you laptop and information security by providing you with the ability to work directly out of an encrypted vault.

---
747) Xidie Security Suite 2.1
By combining cryptography with steganography, by using strong compression algorithms, well recognized and new encryption algorithms, classic and new steganographic techniques, Xidie Security Suite is one of the top steganography and encryption tools

---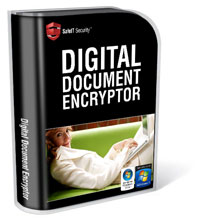 748) Digital Document Encryptor 2007
Digital Document Encryptor is a certified and awarded software product suitable for both the enterprise and private user. Encrypt sensitive documents and other private digital information you have on your computer.

---
749) Lizard Safeguard PDF Security 2.6
PDF document security software with DRM controls. Control who can view PDF documents & how they are used. Prevent copying, sharing, modifying, screen grabbing. Control the number of views and prints & when documents expire. No useless passwords.

---
750) ZAiD 1.1
Program ZAID stores our personal data like logins and passwords in a password protected file. Data cannot be read without providing valid password. We can use the program even if someone is standing behind us!

---


Browse Pages: [1] [2] [3] [4] [5] [6] [7] [8] [9] [10] [11] [12] [13] [14] 15 [16] [17] [18] [19]