Macro Recorder - Free Download of Related Softwares
1) Smack 1.0.33
Upload to YouTube and MySpace super fast. !SMACK! compresses before the upload. Select the thumbnail image of your video. Simple drag and drop editing. !SMACK! makes uploading video fun! Upload to many SMACKB!Z video library sites. Choose your skin.

---
2) PTFB Pro 3.4.1
A macro recorder, mouse auto-clicker and program monitor for automating repetitive tasks and handling confirmation screens and other windows that interrupt your workflow.

---

3) Macro Scheduler 8.0.1
Save time and automate your PC. Record macros and build scripts with the powerful, easy to use scripting language. Assign macros to schedules, hotkeys or desktop shortcuts, or compile to standalone EXEs. Automate those mundane, repetitive tasks.

---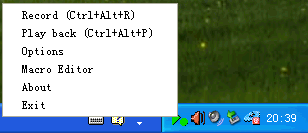 4) Easy Macro Recorder 3.75
Easy Macro Recorder is a handy utility that makes your computers automatically do work for you. It records all operation of mouse and keystrokes and saves them as macros, then Easy Macro Recorder can play back recorded macros to automate your work.

---
5) Workspace Macro 4.6
Ease your workload. Delegate repetitive tasks to Workspace Macro. Keyboard macro & mouse macro. SMART Macro Technology ensures high reliability. Simple, intuitive, user-friendly. Just record & replay. Macro recorder & Macro program for Windows.

---
6) Workspace Macro Pro - Automation Edition 6.5
Automate & schedule tasks easily. Reliable macro program & Windows automation software with task scheduler. Record keyboard & mouse, use the macro editor or create macros using pre-defined macro templates. Easy to use macro recorder & windows macro.

---
7) ME Desktop Operation Sensor 6.1
Designed for scalability and integration between machine and supervisory levels, ME DOSensor could allows user to trigger and monitor many window processes at the same time (Real Time Synchronization).

---
8) Automation Anywhere 4.0
Automation Anywhere is an intelligent automation software for business & IT processes. Record keyboard & mouse or create scripts using wizards. Automate & schedule complex tasks in minutes without any programming. Premier license allows task to exe.

---
9) AIM Keys 5.00.0910
AIM Keys for Windows XP/2000/NT is an all-in-one, macro utility. This major release features improved macro recording and playback, text replacement, task scheduling, scoping, internet macros, and enhanced performance.

---
10) ME Macro Independence 17
Macro Independence lets you create macros to control your Windows applications, automate program processes and assign tasks to scheduled events. With keyboard-mouse macro recorder, and player designed to help you eliminate repetitive operations.

---
11) Journal Macro 1.82
Journal Macro is an easy-to-use mouse and keyboard macro recorder, player and editor designed to help you eliminate repetitive operations. It is the easiest way to make working in Windows faster, easier, and more productive!

---
12) Auto Macro Recorder 4.3
A useful macro recorder for you to record what you operate and create a replayable script. Very easy to use! Just Record -- Save -- Replay 3 steps.Do not need you have any program experiences.

---
13) Hot Keyboard Pro 3.1
Using Hot Keyboard, you can record and play keystrokes, mouse actions, launch applications, paste text, open documents and more

---
14) RemoteKeys 8.7.2
Automate complex control systems as well as small jobs like inserting text phrases, form filling etc. by a simple click on one of the 2500 assignable buttons only. Macro recorder, timer, clip history, image memory, networkable, no install., manual.

---
15) AutoMate 5.5.2.1
AutoMate is a software tool for Windows computers that enables users to build custom automated solutions, in most cases -- without writing a single line of code.

---
16) Desktop Macros 2.03
Desktop Macros is an advanced macro recorder that relieves you from monotonous recurring operations. Record keyboard and mouse moves into a macro and play it back when the need arises. The unique macro technology guarantees accuracy of performance.

---
17) Qotizer 1.1
Qotizer helps you automate your everyday repetitive tasks. It saves your actions in a a file so you can execute it later as many times you want. With the help of dozens of actions you can automate almost everything.

---