AES - Free Download of Related Softwares
1) WinZit! 1.3.10
WinZit!® is a fast and easy-to-use cryptographic / compression / decompression utility that includes built-in support for standard algorithms such as DES/Lucifer, BLOWFISH, GOST, AES, TEA and TWOFISH.

---
2) Advanced Archive Password Recovery 3.01
A program to recover lost or forgotten passwords to ZIP, ARJ, RAR and ACE archives. Implements fast and customizable brute-force attack, dictionary-based attack and very effective known-plaintext attack. Supports WinZip AES encryption.

---
3) Chilkat Digital Certificates Component 2.0.3
Chilkat Certificate makes it easy to get information about the security certificates that are stored on your computer. It also allows you to easily add certificates to a certificate store, remove certificates from a store, or find a certificate that

---
4) Cryptainer LE Free Encryption Software 8.1.0
Encrypt any file or folder on any Windows PC. Any Media, any type of data. Cryptainer LE Free Encryption Software. Password protect any file or folder with strong Encryption. Send secure e-mail. Protects data on USB Drives, CDs and HDDs. Freeware.

---
5) WinZip 10.0
Powerful, fast, easy-to-use Zip utility with AES encryption, Wizard and Classic interfaces, tight integration with Windows, e-mail support and more. Now available in Standard or Pro, offering new Explorer-style view and Zip task automation.

---
6) iPIG WiFi Hotspot VPN Security 2.06
iPig creates a secure VPN connection that protects your communications (Email, Web, IM, VOIP, FTP, etc.) at any Wi-Fi hotspot or wired network. iPig works with any kind of Internet connection (Wifi, WLAN, wired ethernet). NO configuration required

---
7) PowerZip 7.06
PowerZip makes zipping / unzipping quick & simple while providing advanced compression & security features: - Easy to use Wizards - Strong encryption (256-bit AES) - Supports 12 types of archives - Create PowerZip Macro files to automate backup

---
8) ZipONE Deluxe 3.1
ZipONE Deluxe v3.1 - Specifically designed to take advantage of Brand New Features in WindowsXP Editions (Home, Professional and newer): Support for WindowsXP Color Themes: Blue, Green(Olive) and Silver, ZIP and AES Encryption, Dockin Toolbars, etc

---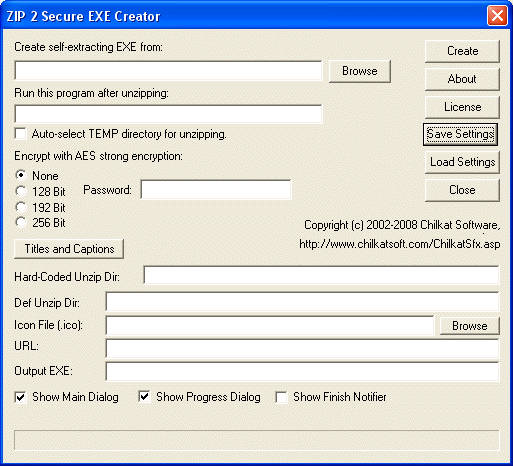 9) Chilkat Zip Self-Extractor 8.1.0
Create self-extracting ZIP files optionally with unbreakable AES encryption.

---
10) Backer 6.5
Back up, synchronize, archive and transfer your directories and files by media like USB sticks, CDs and DVDs, network, another hard disk, cable, Internet, VPN, dial-up and leased lines. Backer keeps all your computers and disks up to date.

---
11) Privacy.FILE v6.0 02.0808.0012
Privacy.FILE is a high performance data security solution for Windows. It is one of the most comprehensive encryption applications on the market today. Privacy.FILE has smartcard based key storage for additional security. Manage your own keys & certs

---
12) HDD Password Protection 3.2
HDD Password Protection is the program intended for restriction of access to a computer and protection of the information on hard disks from non-authorized access.

---
13) 1Crypt 1.03
A quick and professional way to add strong encryption to your application. 1Crypt is a function library (DLL) which allows you to easily encrypt files, strings, and buffers using 256-bit Advanced Encryption Standard (Rijndael) encryption.

---
14) Ana's CryptMate LE 1.0.7
An ideal utility to store encrypted images and other files and view them easily and securely.

---

15) Cryptocx v6 6.2.9
Cryptocx is an Open PGP and AES compatible encryption component dll designed for use in any modern development environment. Cryptocx encrypts and decrypts data using standards compliant algorithms to make sure that your data is completely secured.

---
16) Acubix PicoBackup for Outlook Express 2.1
PicoBackup Outlook Express Edition is an easy-to-use Outlook Express emails backup utility packed with many powerful features. Features integrated scheduler, CD/DVD burning, 256-bit AES/Blowfish encryption, standard ZIP compression, FTP support.

---
17) Interscope BlackBox 4.2
A modular, extensible and easy-to-use security suite that smoothly integrates into the Windows and your e-mail client, making your desktop a safer place.

---
18) Invisible Secrets Encryption Software 4.4
Keep those prying eyes out of your communications and prevent unwanted people from reading your private files. Invisible Secrets encrypts and hides data in places where not even your wife, boss, or a hacker would look for sensitive information.

---
19) Chilkat Encryption .NET Component 2.2.0
Chilkat Crypt is an advanced .NET encryption component that offers both RSA public-key encryption with digital signatures as well as symmetric encryption algorithms including AES (Rijndael), Blowfish, and Twofish. Works with C#, ASP.NET, VB.NET.

---
20) DeepCoder 1.0
DeepCoder is a program to encrypt, decrypt and/or digitally sign e-mails and files using secret keys (passwords) or public keys. It can be used with any e-mail program or wordprocessor program. No plug-ins are required. Very easy to use!

---