Alarm - Free Download of Related Softwares
1) Active WebCam 11.6
Active WebCam broadcasts MPEG-4 live video up to 30 fps from any web camera. The captured video can be viewed with any browser. It can be used as a surveillance system; on motion, records video and e-mails you captured images.

---
2) PalmaryClock for Treo 600/650 3.2.1
Palmary Clock is a customizable alarm clock, with integrated stopwatch, world time, and many other features.

---
3) Webcam Zone Trigger 2.370
Traditional software simply alerts you when motion is detected within the camera`s view. Zone Trigger lets you decide what will happen when motion is detected in an unlimited number of "Hot Spots" located anywhere within the camera's range.

---
4) AlarmWave 1.0.1
AlarmWave is a program that will allow you to turn your computer into a customizable alarm clock! You can set different alarms at different times of the day, great for waking up to your favorite tunes, or as a timer! Supports Midis, Mp3s, and Waves.

---
5) Remote Performance Observer 3.5
Distributed system providing detailed information on computers in a network. It performs real-time monitoring of system-critical parameters making it possible to diagnose existing and potential bottlenecks on Windows 2000/XP computers.

---
6) Router IP Console 3.3.0.407
Router IP Console is a simple in usage SNMP-based tool intended for management and control of active network equipment (such as IP routers, repeaters etc). "Router IP Console" can raise an alarms via email on critical situations. And more...

---
7) KeyText 3.12
Keyboard macro program with multiple clipboard and Windows automation features. Stores texts for typing or pasting into any application, run programs, set alarms, completely automate password dialogs and more. Elimate those repetitive tasks!

---
8) 1Time 2.0
Stopwatch / Countdown timer / Alarm. Play any media file as an alarm, or silent alarm. Simple and solid. Freeware

---
9) Alarm Clock 1.0.62
This program is a customizable alarm clock. It allows you to set a different alarm for each day of the week as well as disable the alarm for that day. The alarm sound can be set to any .wav sound of your choice. The display is large and easy to read

---
10) Convenient Clock 1.1
Convenient Clock is a small, fast and free alarm clock. Plays MP3, MP2, MP1, OGG and WAV sound files. Minimizes itself to the system tray and supports both 24-hour and AM/PM time formats. Also has an egg timer feature for shorter-term alarms.

---

11) Cool Timer 2.1
Count-down timer with a cool, customizable interface. Can be set for up to 100 hours and plays any WAV, MP3, or Midi file when time expires.

---
12) Magic Notes V3.3 Build 3206
Write down ideas, to do lists or anything you can think of regardless of what application you're running with this easy to use sticky note application. Includes a vast number of useful features including repeating alarms, internet support.

---
13) PalmaryClock Wireless Edition for Treo 600/650 1.0
PalmaryClock Wireless Edition s not just an improved clock, it is a technological breakthrough. The latest currency information, weather forecasts and exact time are seamlessly integrated for you!

---
14) Audio Zone Trigger 1.2
Audio Zone Trigger was designed to do one thing: make the computer react to sound. This is quite simple, and can be used for many things: home security, house automation, games, experiments...

---
15) Multilingual Speaking Clock 2.5
Speaking alarm clock which announces the time in over 30 different languages. Includes alarm that can announce the time and play any WAV-file. Full graphical display with two sizes. Online help and full install/uninstall support.

---
16) Desktop Calendar XP 4.52
Desktop Calendar XP is a lightweight and simple to use calendar, which provides an easy on eye interface. Features include Calendar for 200 years, XP Visual Style, Wallpaper Manager, downloadable Image Packs, Customizable Alarm, Tray Icon and more.

---
17) Alarmbelle 1.0
PC alarm clock with stopwatch, timer and metric conversion. Set multiple alarms with music, graphic or video alert. Stopwatch with record keeping.

---
18) Flex Notes 3.1.5.0
With Flex Notes you will never be disorganized or lose any last minute ideas. Flex Notes allows you to create little sticky note like notes on your desktop that can be customized with many features.

---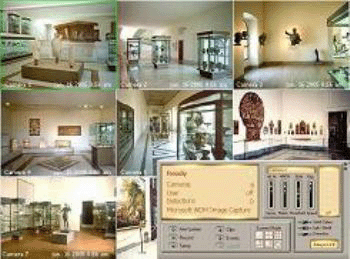 19) EasyCCTV 2.1
EasyCCTV captures images up to 30 frames per second from any USB video device. The program performs simultaneous recording. Your camera(s) can be used as part of a complete surveillance system.

---
20) A Better Calendar 1.94
A versatile desktop calendar which keeps your notes, schedules and audio in a classic "paper calendar" format. The simplest Windows calendar!

---