Camcorder - Free Download of Related Softwares
1) CDRoller 8.80
CDRoller recovers lost data from CD/DVD/BD/HD-DVD and flash cards. Key features: 1. Effectively retrieves the data from the "drag and drop" discs. 2. Recovers video data created by digital cameras, camcorders, DVD recorders. 3. Burns new discs.

---
2) HT TV Plus 4.0 Gold
honestech's HT TV Plus 4.0 Gold offers an integrated suite of 7 MPEG video applications for digital TV experience on a PC-HT TVR2.0,Internet Electronic Program Guide,HT VideoEditor 6.1,HT MPEG Encoder7.0,HT Burn DVD3.2,Photo Editor and Digital Album.

---
3) Firestreamer 1.5
Firestreamer allows you to use your digital video camcorder or VCR as a reliable computer data storage device. You can store up to 15 Gigabytes of files and folders to a Mini-DV cassette, or more with the built-in compression enabled.

---
4) Camera Plus 2.0 Gold
Camera Plus offers an integrated suite of 8 MPEG video applications to PC Camera owners. Launched from an integrated shell, Camera Plus brings video mail, video surveillance, web casting, the ability to record video and photo, video editing, etc..

---
5) WebcamMail 2.0
WebcamMail makes the video file very small and easy to transmit even with a 56k modem with an impeccable image quality. The streaming video files created by WebcamMail are Windows Media compatible and can be opened on receiver's computer easily.

---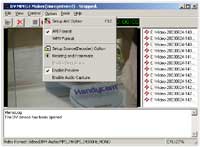 6) DV MPEG4 Maker 2.6.0
DV MPEG4 Maker Real Time mpeg4/divx/avi/wmv/mpg(vcd)/mp4(quicktime) Video Converter/Recorder,Capture from digital camcorder(1394 interface)

---
7) Cam to DVD 2.0
The recording function in HT Cam To DVD receives digital video data. The editing function allows you to cut, paste and make several effects on to your video file. The burning function makes it possible to save VCD, SVCD and DVD.

---
8) CamPanel Digital Surveillance 2.5
CamPanel lets you monitor and record from many camera feeds at the same time. Use webcams or camcorders, directly connected to your computer or accessed via Internet or LAN. Motion detection and tracking, video capture tools, pan/tilt capability.

---
9) DVdriver 1.0
Lets you use your camcorder in software designed for webcams.

---
10) Home DV SenseCapture 1.0.2
Home DV SenseCapture is digital video capturing software which has been designed for capturing video through FireWire connection. It has some unique features with advanced capturing controls that have never been seen before.

---
11) River Past PlayDV 5.2.3
DV camcorder player/recorder software. Resizable playback window with full control over the camcorder, - play, pause, stop, rewind, fast forward, step backward, and step forward. Support hot plug. View the video in full screen. Record to AVI or DV.

---