Computers - Free Download of Related Softwares
1) Hidden Camera 250-in-1 2.18
Employee monitoring software Hidden Camera 250-in-1 is intended for remote control and observation over computers (up to 250 computers simultaneously) in a local network or via the Internet with or without recording.

---
2) Softtanks Security Software 1.2
You can Start the security system whenever you leave your computer. · It will not allow others to view your data and update them in your absence. · It will stop viruses comming from other people when you are away

---
3) FmPro Worksheet 1.04
FmPro Worksheet - A free graphical utility for sending SQL commands to FileMaker 7/8 databases. FileMaker developers can use all supported SQL commands including CREATE TABLE, DROP TABLE, SELECT, INSERT, UPDATE and DELETE.

---
4) Active Kill Disk - Hard Drive Eraser 2.0
Active KillDisk is a quality security application that destroys data permanently from any computer that can be started using a DOS floppy disk. DoD 5220.22-M compatible

---
5) Secure Disk Pro 3.0
One of the world's best security and computer hard drives cleansing tools!

---
6) Learn Computers With Video 5.0
See how to identify every computer component using photos and videos of real components inside a Pentium 4 system.Understand all about the Hard Drive,its components and its location in any computer.Learn about the modem,monitor,and other components

---
7) PM Master 2.8
Scheduling Preventive Maintenance is an essential element of any maintenance management.PM Master makes it quick and easy.Also prints Work Orders.

---
8) Downtime Manager 6.5.1
DownTime Manager keeps track of your equipment downtime.Use it for industry,fleet maintenance computers,etc.Easily track downtime and find the problems areas with equipment.Plots downtime by month,type of downtime and what shift the downtime occured

---
9) FavSync Perl 1.0
Together with the FavSync program, you may View the contents of your Internet Explorer Favourites menu on your web server.

---
10) RUST FRKN Demo 1.0
2 rockets and a chain-gun are good enough. Right? But now the time has come for you to worry about shield indicators turning too red. You desperately search for a repair kit in the arena. You luckily remember that you've installed one on your vessel just in case. 5 more challengers are heading your way

---
11) Pranksters: Treasure of the Indians 1.0
In Pranksters: The Treasure of the Indians our little hero and family moves into a new town. Everything appears to be perfect at the outset. But the peace in the town was too fragile. Vandalism started to increase at the hands of a gang of Pranksters.

---
12) SOS Crash Recovery 5.0
SOS is a software application that protects your system and files in a virus proof image file that can be used to restore an entire system or select files in the event of a system failure of system crash with ease and speed.

---
13) MonitApp 1.1
MonitApp is a monitor tool for windows computers. It can be used for one-time network audit or for maintained updated an asset management, or for tracking changes.It monitors everything since bios version to password status.

---
14) The Loona Base RTS Demo 1.0
The Loona Base is an economy strategy game with elements comparable to SimCity. Colonize the moon. There are plenty of levels to play.

---
15) System Care Center 5.0
All of the necessary tools for maintenance your computer are not included with the operating system. System Care Center is a set of all of the necessary tools to keep your system running smooth, fast, error free and to maintain your personal privacy.

---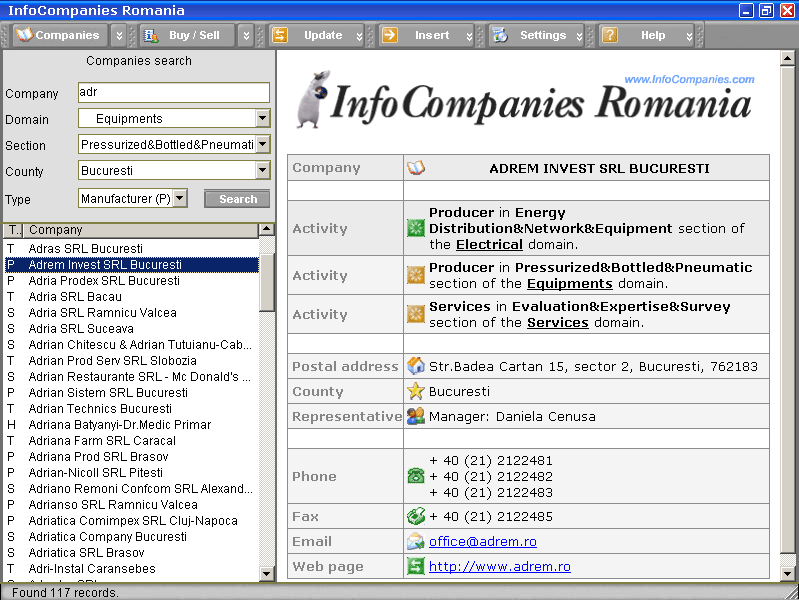 16) InfoCompanies Romania 1.0
InfoCompanies Romania - the offline Romanian Yellow Pages software provide 100.000 major companies contact details and daily updated Romanian business opportunities. No spyware. Easy to use. Free daily updates. English/Romanian language available.

---
17) Evidence Killer 2005 1.0
Evidence Killer 2005 completely eliminates all hidden evidence of activites on your computer. Protect your privacy with Evidence Killer 2005 and completely eliminate sensitive data!

---