Management - Free Download of Related Softwares
1) Super Soccer Manager 2005
Super Soccer Manager is a soccer (football) management game. Try being a coach in National Leagues and international competitions such as Champions League of Europe, Libertadores Cup, Intercontinental Cup, etc.

---
2) # 1 MySQL Gui Admin Tool - Navicat MySQL Client (support Access to MySQL) 7.2.4
Navicat (MySQL Client - a GUI Tool for MySQL admin and Access to MySQL, Excel to MySQL conversion). Navicat is a set of graphical database management, reporting and monitoring tools for MySQL database systems. Navicat is easy-to-use and powerful. The latest version supports HTTP connection.

---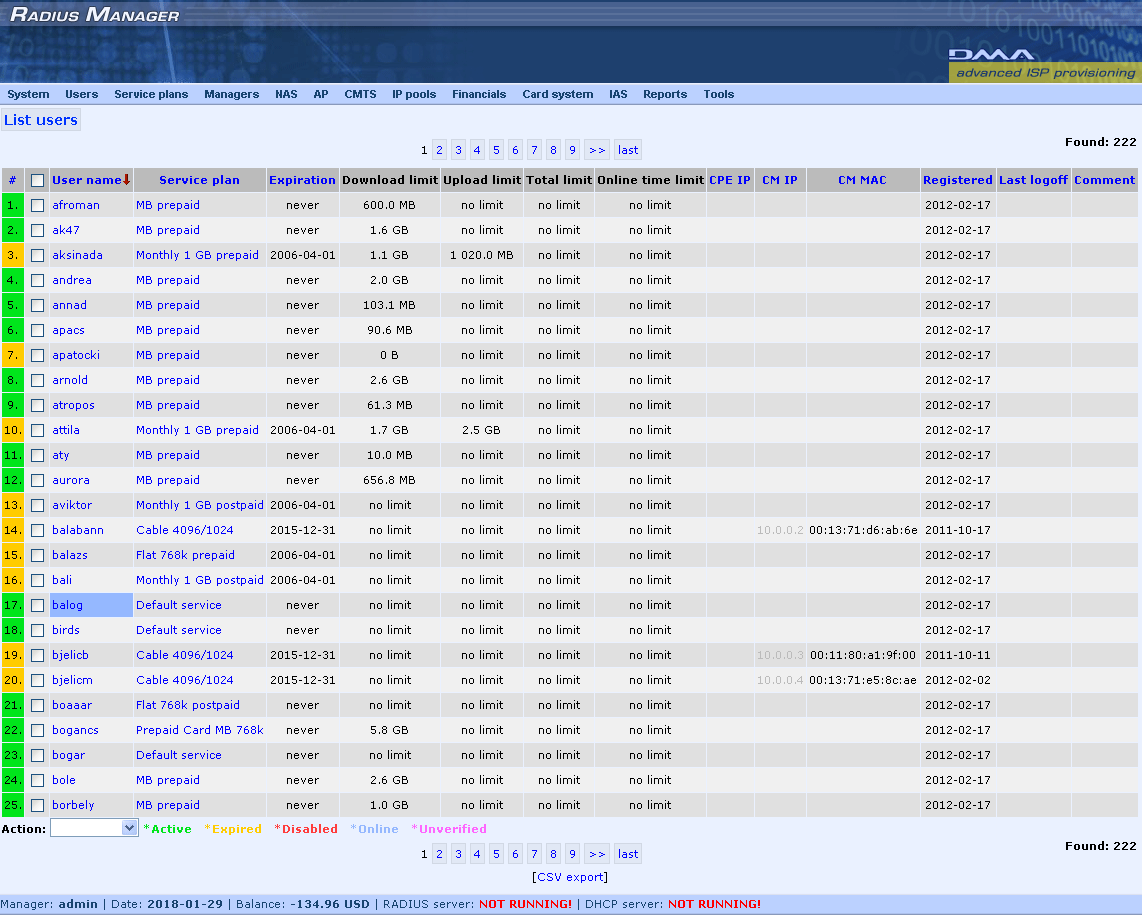 3) Radius Manager 3.1.2
Radius Manager is a easy to use web based administration and billing solution for Mikrotik Routers, Wireless Acces Points and Dialup systems. It provides centralized accounting system for multiple wireless APs and NASes.

---
4) EMS SQL Manager 2005 Lite for MySQL 3.6.5
EMS SQL Manager Lite for MySQL is an excellent freeware graphical tool for MySQL Server administration. It has minimal required set of instruments for those users who are new to MySQL server and need only its basic functionality.

---
5) BPSNMPUtil 1.0.2.3
BPSNMPUtil is a SNMP (Simple Network Management Protocol) tool that allows you to monitor hardware and/or software processes activity and information. Using BPSNMPUtil you can use Get (GetRequest) OIDs or Walk (GetNextRequest; SNMPWalk) MIBs.

---
6) ASP/PHP Web Application Builder 7.01
Builds sophisticated, secure ASP/PHP Web Database Apps without programming, but unlike many wizards, it does not sacrifice flexibility for advanced users/programmers. With these applications you can add/search/edit/delete data in your web database.

---
7) Household 1.00
Multidimensional household money management software. Review your previous months spending habits and budget the future ones. Gain insight to money matters and make your money decisions more efficiently. Find out where the money is going!

---
8) PSTCompactor - Home Edition 2.5.4
Shrink Microsoft Outlook email PST files up to 38% and avoid the 2gb limit - don't let Outlook corrupt your email. Zip attachments, force compaction, removing deleted content and more! Makes Outlook faster, more reliable and less prone to corruption

---
9) Customer Invoice Template 1.0
The customer invoicing system is an Excel invoice template with ability to store created invoices, products and customer details and perform advanced order sales reporting.

---
10) Blaiz Enterprises - PC Diagnose 1.00.039
Determine actual speed of computer hardware components in realtime. No installation.

---
11) PC Diagnose by Blaiz Enterprises 2.00.162
FREE - Determine actual speed of computer hardware components in realtime: CPU (MHz) RAM (MHz) Hard Disk (Mb/sec) Video (fps) *Sizeable *Integrated Help - (See also left panel Links / Help for online Help) *Multilingual interface - see our Select

---
12) PSTCompactor - Professional Edition 2.5.4
Reduces Microsoft Outlook PST file sizes up 38% across the Corporate network. Compress & zip attachments, automate compaction, etc. Suitable for management and implementation of Enterprise Email Policies. No Exchange changes or dependancy

---
13) CafeTimePro -Internet Cafe Software 5.0
CafeTimePro converts a desktop computer into a secure Internet/Application kiosk for public access. Includes CafeShop P.O.S. Simple Interface, Multiple Languages, Timers, Security, Variable or fixed rates, Prepay or Cash, or Bill/Coin Acceptor ready

---
14) WBTExpress 5.1
The WBTExpress is designed to create advanced e-learning courses, tests, tutorials, etc. compatible for AICC- or SCORM-based LMS platforms. The application enables the creation of courses in a quick and effective way, just with several mouse clicks.

---
15) Router IP Console 3.3.0.407
Router IP Console is a simple in usage SNMP-based tool intended for management and control of active network equipment (such as IP routers, repeaters etc). "Router IP Console" can raise an alarms via email on critical situations. And more...

---
16) Cyberprinter 1.6
Monitor one or more laser or ink jet printers. Retrieve and export page count, document name, Time and date of printout, and printer name to your favorite spreadsheet.

---
17) eTunes 2.8
With eTunes you can easily and quickly search, edit ID3, and organize your music.

---
18) ShopInvo 3.99
Automptive repair shop complete Point of Sale software. Inventory, customer history, income, commission, spell check, end of day, backup and restore, fasy billing, Wrenchead parts and Mitchell labor guide.

---
19) YearPlanner 2.4
YearPlanner manages, organizes, and presents calendar based events-data for individuals, groups, and organizations. It can be used as a diary, scheduler, or project management tool. It uses the classic Year Planner layout.

---
20) Fast Cleaner 4.5
A fast,poweful,skinnalbe and easy to use disk clean utility to free up your valuable disk space by cleaning up those error-making and useless garbage files!

---