Photography - Free Download of Related Softwares
1) The Panorama Factory 4.2
The Panorama Factory creates high-quality panoramas in a highly automated fashion from a set of overlapping digital images. You can add image hotspots, export to VR formats and create web pages that link your images into virtual tours.

---
2) PocketLoupe 1.70
PocketLoupe is the photographer's Pocket PC image viewer. Examine JPEG images and large thumbnails from RAW files, including NEF, CRW, CR2, RAF, MRW, PEF, and more. Zoom in to check sharpness, check exposure via RGB histogram, delete, plus more.

---
3) Animatricks 2004.4
Program for creating movies from static image, such as a photograph. Can be used to make business presentations, cartoons, educational aids, or bring life to your favourite images. Animations can be exported as video clips or series of images.

---
4) Digital PhotoRescue Professional 5.6
Recover lost images from a host of multimedia devices ranging from digital cameras, PDAs and mobile phones to CD/DVD and PC Hard Drives. The program can recover a wide range of file formats: JPEG, GIF, BMP, CRW, etc.

---
5) PanaVue ImageAssembler 3.3
PanaVue ImageAssembler is a powerful digital image stitching software. It assembles a set of photos into a single 360 degree panorama. It seamlessly stitches together images from a scanner into a large mosaic. For beginners up to professionals.

---
6) Camera Module for Pocket PC 1.1.0
The Camera module for the Pocket PC contains depth of field, angle of view and other calculations for photographers.

---
7) FlipAlbum Suite 5.5
FlipAlbum 5 Suite automatically creates 3D page flipping photo albums that can be shared online or through Cds.

---
8) Zoner Photo Studio - Classic 8
Zoner Photo Studio 8 is a digital photographer's best friend! Bring in pictures from any digital photo source, correct defects, organize them, use and manage picture information and archive them.

---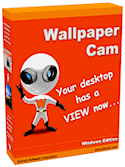 9) Wallpaper Cam 1.0
WallpaperCam brings the world of webcams to your desktop as live wallpaper. It provides a huge list of high quality webcams from all over the world to choose from and puts the selected one on your desktop background as windows wallpaper.

---
10) Photo Frame Show 1.0.16
Add stylish frames to digital photos and enhance your online photo albums, projects, websites and more with remarkable ease! Choose from an extensive variety of frames, add them to your digital pictures and give them an impressive look.

---
11) Fly Album 2.3
Fly Album is a tool for creating attractive digital photo albums. With it you can create digital albums or web albums with background music within 3 steps. It also allows you to turn your favorite pictures into a slide show screen saver.

---
12) FxFoto 5.0
A single tool to organize, archive, enhance, and create collages with your digital photos. It gives novices to advanced amateurs easy and complete software with unique ways to publish and scrapbook photo memories. The Standard Edition is Really Free!

---
13) FlipAlbum Pro 5.5
FlipAlbum 5 Pro lets you create and sell 3D page-flipping digital albums on CDs that run on both Mac and Pc.

---
14) WW2 Warbirds 1.1
31 professional aviation photos. Use this versatile screen-saver engine which rotates 31 photos of the aircraft of world war 2 and an optional soundtrack of MIDI-based tunes. Features include your choice of up to 23 transition effects

---
15) ActivAlbum 1.0
ActivAlbum is available in two language solutions; English and Italian. Organise all your images and video files into categories of your choice and then flip through the thumbnails, give your images titles and descriptions.

---
16) B-Jigsaw 7.7
B-Jigsaw is the electronic version of the classic jigsaw puzzle game, with pieces shaped like the real jigsaw pieces. B-Jigsaw allows you to create and play jigsaw puzzles with your own pictures.

---
17) BlackMagic 2.x
BlackMagic may be used to colorize Black & White, Sepia, or IR (infrared) photos. It may also be used to color-correct/ re-color photos with dull, faded, or inappropriate hues.

---
18) The Cataloguer 1.0
Super easy way to organise all your collections of Photos, Music CD's and DVD's with loads of bonus extras. Great for individual and business use. The friendliest way to Catalogue anything in your PC.

---
19) HandyAvi 2.03
Use almost any webcam to make time-lapse, motion-detect, or planetary movies. Use for science, surveillance or astronomy. HandyAvi has a built-in movie viewer, movie editor and Meade telescope control system for astronomy users.

---
20) PhotoStory 2005 - Organize Your Photos 2005
PhotoStory 2005 is a digital photography organizer that allows you to organize your photos, sort them, classify and describe them using full formatted text and OLE objects, filter them by date and keywords, create your own photo gallery and more.

---