Surveillance - Free Download of Related Softwares
1) Free Key Logger 1.6.14
Free Key Logger records everything that has been typed on a computer's keyboard. It works in two modes: normal and stealth. In stealth mode it is virtually undetectable!

---
2) Active WebCam 11.6
Active WebCam broadcasts MPEG-4 live video up to 30 fps from any web camera. The captured video can be viewed with any browser. It can be used as a surveillance system; on motion, records video and e-mails you captured images.

---
3) ActMon STARR Computer and Internet Monitoring *PRO Edition* 3.27a
All-round, Computer and Internet Monitoring software tool. It allows companies and individuals to track the use of PCs easily and invisibly. It logs screenshots, keystrokes, BOTH sides of a CHAT conversation. With Network (LAN) and email support.

---
4) e-Surveiller spy software 1.6.4
Monitor the activities of local and remote computer users. e-Surveiller allows you to view the screens of monitored users on a LAN or across the Internet LIVE! Also records keystrokes, web sites visited, chat conversations, etc. + MORE!

---
5) WebCam Monitor 4.24
WebCam Monitor turns your PC into a video surveillance system, that allows you to monitor your home/office from a remote location.

---
6) SC-KeyLog PRO 3.2
SC-KeyLog PRO is the ultimate stealth surveillance tool for recording computer usage. Secretly spy on remote computers and receive all keystrokes, system logon passwords, chat sessions, visited web sites and much more periodically by e-mail.

---
7) SniperSpy 4.0
Do you suspect your child, employee or anyone else is using your remote computer inappropriately? No physical access to the remote PC is needed to install this invisible spy software. Once installed you can watch the screen and view all activities.

---
8) OverSpy 2.0.02
OverSpy captures all online conversations, web sites visited, passwords, all emails sent and received, all keystrokes typed, all computer operations and opened documents, and takes screenshots every few minutes. Total surveillance!

---
9) Spytector 1.3.7.5
Spytector is the ultimate invisible keylogger (spy tool) used to track all PC activities. Features include keylogger filter, advanced firewall bypass techniques, email log delivery, clipboard monitoring, extremely configurable server etc.

---
10) BlazingTools Perfect Keylogger 1.68
Perfect Keylogger helps you to find out what they are doing on their PC. With this key logger you will receive their keytrokes, chats, websites, screenshots and passwords by email or FTP. Covert surveillance - as easy as never before!

---
11) WebCCTV 2.7.3.8
WebCCTV is a web based webcam surveillance application. You can simultaneously view and record. The cyclical recording is optimized through activity detection. It allows for an easy conversion of the recorded movies to an AVI format for use with WiMP

---
12) The PC Detective SE 2.9.3
monitors your PC, logging all activity including websites visited, applications run, all keystrokes, chat conversations, Instant messages and regular screen captures all in complete stealth.

---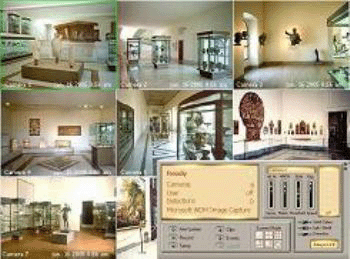 13) EasyCCTV 2.1
EasyCCTV captures images up to 30 frames per second from any USB video device. The program performs simultaneous recording. Your camera(s) can be used as part of a complete surveillance system.

---
14) NetVizor 5.0
NetVizor is the latest in powerful network surveillance. Monitor your entire network from one centralized location! NetVizor allows you to track workstations and individual users that may use multiple PC's on a network.

---
15) Your Camera 2.6.7.0
Remote video supervision system for home and firm. Remote access from: cellphone, PC or PocketPC. MPEG-4 and steaming support. Detection of motion and notification: SMS, email, FTP, voice. Interaction with USB cameras and TV tuner cards. User friendly.

---
16) Webcam Tracker Live! 1.2
Webcam Tracker Live! is a video and audio capture software that can broadcast captured data via internet (or local area network) to other users in real time (streaming).

---
17) AceSpy Spy Software 5.0
Monitors and blocks PC usage of your spouse, children or employees.After you install, it will begin secretly recording EVERYTHING that is done on your PC. AceSpy is COMPLETELY hidden from others. They won't know it's running unless you tell them!

---
18) HandyAvi 2.03
Use almost any webcam to make time-lapse, motion-detect, or planetary movies. Use for science, surveillance or astronomy. HandyAvi has a built-in movie viewer, movie editor and Meade telescope control system for astronomy users.

---
19) PC Spy Keylogger 2.3
PC Spy Keylogger is a top-rated, invisible and easy-to-use surveillance tool that records every keystroke to a log file.

---
20) Winvestigator 2.4
Winvestigator starts on boot, and runs undetectable in Windows capturing keystrokes, URL's, mouse-clicks, and screen shots to an encrypted log file (can be auto emailed). A web style interface and thorough help make it easy to use this powerful tool.

---