TTS - Free Download of Related Softwares

1) Reallusion CrazyTalk Home Edition 3.5
Create animated, speaking photos in minutes with CrazyTalk. Images are brought to life by displaying emotions and lip-synching with your own voice, imported audio or text messages. Send animated images as talking greeting cards & talking messages

---
2) Text-to-Speech Master 2.3.5
Text-to-Speech Master is very powerful and interesting program that lets you listen to documents, e-mails or web pages instead of reading on screen or even convert them to audio files!

---
3) VipSes Turkish Text To Speech Engine 2.0.0.2
VipSes Turkish Text To Speech Synthesis Engine can synthesize all kinds of documents written in Turkish. It can also synthesize numbers, currency and date expressions.

---
4) TextSpeech Pro Ultimate 2.0.0
TextSpeech Pro Ultimate is a professional text to speech software that converts Outlook emails, web pages, and documents (incl. PDF) to speech or audio files.

---
5) Say-It-Now! 3.0
Java text-to-speech system, Say-It-Now!. This text-to-speech system converts English into speech in real time that you can incorporate on your webpages, with no recorded speech! (It is not streaming audio!). And, it loads extremely fast!

---
6) Language Reader 1.0
Language Reader takes advantage of Microsoft speech technologies, provides a richer on-screen reading experience with multilingual voices enabled. Support voice: English, French, German, Italian, Spanish, Portuguese, Dutch, Russian, Japanese, Korean.

---
7) TxReader Professional 1.0
TxReader converts documents into spoken words meaning you can listen to your electronic documents instead of having to read them. TxReader can read many types of document this includes e-books, web pages, Microsoft word documents and more.

---
8) Adaptive Home Logic 1.01
Enter the future; use your Windows XP system to computerise & automate your home. With this new, easy-to-use yet powerful application you can very easily control your lights, appliances & HVAC automatically, by speech or remotely.

---
9) SpeechExpert 1.05
SpeechExpert is the software which can read and manage the articals for you. Besides reading the articals in the web pages, emails, documents and others, it can also help you with managing the articals reading and read for you.

---

10) Voicent VoiceXML Gateway 5.1.0
Open Standard VoiceXMLTAPI development SDK for interactive telephony apps. High level development platform based on W3C VoiceXML. Supports text-to-speech, voice recognition, DTMF tones for both inbound, outbound apps. Works with VOIP, voice modem.

---
11) MS-Agent Scripting Software 2.3
MASS is an easy to use tool to create MS Agent scripts with animated, speaking characters. You can easily create agent scripts by dragging the character on screen, selecting a few options and clicking buttons.

---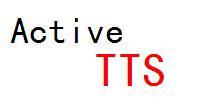 12) Active TTS Component 4.0.2010.401
Directly convert text to wav, mp3, wma, ogg, vox, au and aiff format on the fly without temporary files created. Convert text to speech at high speed Support SAPI4 or SAPI5 compliant voices. A lot of examples are provided.

---
13) A1 SpeechTRON 1.0
A1 SpeechTRON is a powerful Text to Speech Voice Synthesizer application that is extremely useful for converting English Text to Speech. It can be used to read notes, documents, e-mails, e-books etc. It can convert any type of English text to speech.

---
14) TextSpeech Pro 1.0.0
TextSpeech Pro is a professional text to speech software that reads any document (PDF, MS Word, etc.) aloud, easily converts documents to speech audio files, converts any copied text to speech, utilizes XML for better voice tuning, and more.

---
15) Key2Speak 2.1
One of the best writing tips you could ever receive is to have text read aloud to you. Hearing the written word is often more revealing than reading it on a computer screen. This program is a handy companion for whenever you're writing.

---
16) Reallusion CrazyTalk Media Studio Edition 4.0
CrazyTalk morphs your photos into talking 3D animated characters for video, web, mobile or messaging projects.

---
17) NextUp Talker 1.00
NextUp Talker is a Text To Speech application specifically designed for people who have temporarily or permanently lost their voice. With natural, human sounding voices and convenient shortcuts to quickly enter commonly used sentences and phrases.

---
18) m9P Editor Plus 1.0
This complete rich text editor builds rich text executables using DERT. You can use it as rich text to web page or text to PDF converter. Also, Text To Speech is supported. A unique solution that combines advanced features into a fun to use program.

---
19) ReadingBar 2
Full-featured, easy-to-use, natural sounding text-to-speech toolbar for Internet Explorer ®. ReadingBar 2 is multi-lingual and compatible with the AT&T Natural Voices speech engine. Comes with a built-in Reading Window similar to ReadPlease 2003.

---
20) Talking Translator Pro 1.9.2
Talking Translator Pro is a 4-in-1 language utility can translate text between 8 languages, find word meanings, read file and clipboard contents, and edit and save your work in multiple formats. It also includes a built-in text-to-speech feature.

---